Day 7 (April 24, 2019 – Los Angeles, California): "Right Moves and Wrong Moves"
It was about 5:15am when I awoke. There were still some errands to get done before leaving Santa Clara (e.g. packing, finishing up most of the food in the refrigerator, blogging, etc.).
I took advantage of the included breakfast at the Hyatt House so I got the omelet of the day (some kind of pesto and cheese mix this time) plus finished off the goat kefir and some of the fruits.
With all the cleaning as well as packing that I had to do to help Julie out, it wouldn't be until about 8:30am when we finally loaded up the car and were ready to go.
There was one annoying thing about being unable to find the iPod so I wouldn't be able to play the music that Tahia wanted to hear (especially B-52s). So instead, she had to settle for KNBR sports talk radio 680, which I found to be a little more interesting than the LA-based sports talk that I was used to.
The drive out of the San Jose area was very heavy on the US101 north. However, we were actually going south on the US101 and it didn't seem to be so bad. In fact, we were making pretty good time with relatively light traffic until we'd ultimately start showing up in Monterey.
Then, the amount of cars seemed to have multiplied as a result. I guess there were still lots of people on Spring Break or something because I couldn't have imagined this many people would be in Monterey nor Big Sur in the middle of the week!
The plan was to visit the Andrew Molera Falls, which was in the Andrew Molera State Park. Actually, this was an obscure waterfall despite it showing up in a later edition of Ann Marie Brown
's book.
I already suspected it wouldn't be an easy waterfall to visit, however, given the lack of literature devoted to this particular waterfall out on the interwebs. So I already knew that success with this waterfall wasn't a guaranteed thing.
I had also originally wanted to visit the Pinnacles National Monument afterwards, but given how late of a start we had plus how much driving we already had to do to get to this point, I realized that perhaps doing the Pinnacles on this day (which included the long drive home) might not be realistic.
Anyways we made a stop at the famous Bixby Bridge in Big Sur since there were plenty of spaces to pull over and take photos. We showed up at about 10:10am, which seemed to be an agreeable time to take good photos though I'd imagine the lighting would be better towards the afternoon.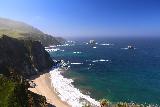 But with the fickleness of fog in the coastal areas, we had to capitalize on this development first before trying to time it for better lighting. I recalled Julie and I tried that back in November, and it actually backfired.
At about 10:25am, we resumed the drive as there was definitely pretty high traffic volume throughout this part of Big Sur.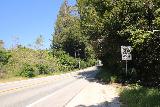 Eventually, we found a fairly sizable roadside pullout at 10:45am. It was actually about 0.2 miles further away from the unmarked gate that I suspected was the trailhead for the Andrew Molera Falls (or some people called it the Highbridge Falls).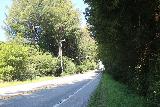 While the car was parked in that fairly sizable pullout under a shade, Julie and Tahia were tidying up the car while also trying to find the missing iPod.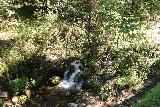 Meanwhile, I geared up and started the walk along the road to get to the unmarked trailhead.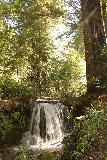 As I approached that landmark, I could clearly see that there was water in the seasonal creek. There was also a pair of tiny cascades that seemed to be photo worthy. However, I knew this wasn't the main waterfall that was shown in Ann Marie Brown
's book.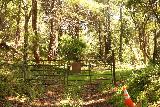 So I went past the gate then followed the 4wd road uphill as it initially followed the creek. But as it climbed higher, it seemed to veer away from the creek. I could see that this road was definitely on the verge of being overgrown as the road itself was starting to become indistinguishable, especially past some rock on the road.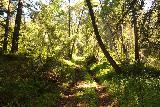 It was getting hot as I climbed higher, and I was thinking that I was doing the right thing by skipping out of the Pinnacles National Monument on this day as it would have been fiendishly hot over there if it was already quite hot at Big Sur.
Sure enough as the road climbed higher, I was sweating beads. Eventually at 11am, the road got out of the shade and into the hot sun around a clearing.
At this clearing, there were a couple of picnic tables as well as some small signs with numbers on them. I wasn't sure what all this was for, but at this point, it appeared that the 4wd road ended.
Now, I went looking around the perimeter of this clearing in search of any possible clues of a contination of the trail that might lead to the Andrew Molera Falls. However, everywhere around me was overgrowth.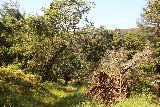 So then I wondered that if I returned back to the stream, I might be able to stream scramble my way all the way to the waterfall.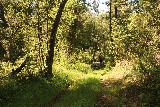 Thus, I backtracked down the 4wd road and then when I returned to the waterfall near the road, I then tried to see if it was possible to stream scramble my way to the taller waterfall.
But alas, there was way too much deadfall and overgrowth around the creek to effectively get anywhere. Plus, there was lots of poison oak growing all over the place.
At this point, I was sweating even more beads plus getting some mosquito bites. Clearly, stream scrambling wasn't the way to go in this case.
And with the long drive still looming ahead of me in addition to the lunch in Monterey as we were still some 26 miles south of there, I had to call it a defeat on this day. Maybe one of these days, I might finally figure out where I should have scrambled to find the falls, but on this day, I wasn't going to push my luck any further.
The walk back to the car felt like a walk of shame. Though I wondered what the motorists passing by must be thinking about a lone hiker walking along the road around here.
Regardless, when I got back to the car at 11:25am, I changed out of my shoes and back into Chacos. Meanwhile, Julie and Tahia told me that they didn't find the iPod either. I guess this little detour to pursue the Andrew Molera Falls was a bit of a lost cause and I now wondered whether I should have just gone straight to the Pinnacles National Monument and skipped this whole Big Sur and Monterey part.
Well, what's done is done. Now, I had to continue with the long journey home. But at least I now had a pair of stops to look forward to – all in the name of avoiding the LA rush hour.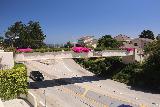 Eventually at 12:15pm, after following a caravan of slow drivers rubbernecking the Big Sur Coast (and not using the pullouts), we finally arrived at the nearest parking lot for the Old Fisherman's Wharf in Monterey.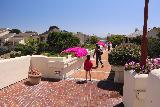 I believe this was the first time we got to take Tahia to it as the last time Julie and I were here just 6 months prior was strictly for Julie's birthday and so it was just a Mommy and Daddy trip.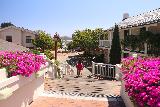 Anyways, we went from a sheltered parking lot where they were charging $1 per half-hour, and we walked across a nice bridge flanked by bright flowers, and then we went right into the Old Wharf area.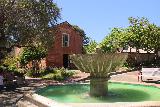 We passed by an Old Whaling Station (which was basically an old house) as well as the First Brick House. Then, we walked into the large clearing area between the Custom House as well as the mouth of the colorful pier flanked by restaurants and shops.
On this day, this pier was a bit on the quieter side compared to the last time Julie and I were here on a Saturday. Regardless, we had no problems returning to Domenico's where we got to sit with a view of the marina where Tahia also noticed some cute seals swimming in the water.
Julie wound up eating fresh Alaskan sockeye salmon while I was eating a Bouillabaise. Tahia got some crab cakes, and we all shared in a house salad. At least Julie wasn't reacting too hard to the food she was eating (unlike other places we had eaten at earlier), and that was always a good thing.
Hopefully, we can help heal Julie's gut once again, especially in time for the big Norway trip coming up in about 6 weeks.
At 1:35pm, we were done eating at Domenico's, which was still a pricey meal despite not splurging like we did the last time with the Alaskan King Crab Legs.
And then we slowly made our way back to the parking lot but this time checking out both the marina, the outdoor parking lot (which also charged $1 per half-hour), the First Brick House, and the Old Whaling Station (which was closed but apparently could support weddings or other functions).
By 2:10pm, we were back in the car just in time before we were about to be charged another $1 for the next half-hour.
And we left paying a fairly pricey but reasonable $4 for our 2 hours of parking.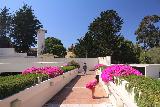 Next, we made the very long drive down the 101 Freeway, which was fairly smooth going. We did run into a few traffic spots around the San Luis Obispo and Arroyo Grande area as well as Pismo Beach. However, for the most part, the drive was quite smooth and it seemed to be a nice alternative to the featureless I-5.
That said, if we were short on time, I-5 would still be the preferred route, but the 101 route was perfect for quaint stops and to avoid the LA rush hour, which was the goal of this particular day.
Finally at around 6:30pm, we found parking in the downtown area of Santa Barbara. Given the amount of fog in the area, we decided against returning to Arroyo Burro to catch the sunset. Instead, we went to the downtown area to check out the Savoy Deli and Cafe, which served up quite a few organic and paleo/keto fare.
Julie wound up eating another round of wild salmon while Tahia and I both tried the turkey fritters as well as some pretty delicious coconut curry chicken. We also got sides of pesto green beans as well as sweet potato.
And we finished off our dinner with some keto walnut brownies as well as gluten-free chocolate chip cookies and some kind of snicker doodles.
By 7:40pm, we left Savoy and paid $1.50 for the just-over-75-minutes of parking. Then, we headed home in the dark. However, the drive along the 101 Freeway then I-5 Freeway was quite smooth.
And we eventually made it home by 9:35pm. Indeed, we made the right move by taking our time with our long drive home, and once again, we created more memories that we hope we will cherish (especially Tahia) as time goes on and we all get older…
Visitor Comments:
Got something you'd like to share or say to keep the conversation going? Feel free to leave a comment below...
No users have replied to the content on this page