Day 21 (November 2, 2016 – Yilan, Taiwan): "Covering A Lot Of Ground"
It was about 5am when I awoke up to my alarm. Mom had already been up but was complaining about the AC being too strong. At least our clothes were dry (thanks to the reduced humidity) and so we spent time to wrap up our packing and getting ready for a long drive ahead of us.
But before we were leaving Sun Moon Lake, Mom and I decided to go for a little bit of a morning walk since last night's walk onto the pier was pretty much devoid of views due to the darkness. So in this morning, we walked back to the pier area and looked across the lake towards the west. That was where we saw that there was still fog clouding over the far western side of the lake. Meanwhile, there were clouds surrounding us as well as pockets of clear skies.
So we just aimlessly wandered for a bit getting to some lakeshore trail before we realized that it was 6:30am and it was time to return to the Skyline Bed and Breakfast for our brekkie. Back at the pier, we saw a group of about 20 people or so doing Taichi in unison. It was kind of a cool thing to see, and we noticed upon further inspection that this even included a handful of foreigners who got in the act. This brought back memories of when Julie and I saw entire villages (say hundreds or thousands) of people doing Taichi together in China. Mom was telling me that it was all about focus and balance as well as helping out with flexibility, which was especially why we tended to see the elderly do this.
When we returned to the accommodation, the manager was at the front desk and told us that we could go up and start breakfast right now if we wanted to.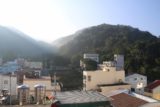 And so we did that, where there were already fruits laid out on the tables and the manager started to work on Mom's western style brekkie while I got myself a more Taiwanese style brekkie. It was funny how I wouldn't touch this stuff when I was younger, but now here I was having what Mom and Dad would usually have and Mom having what I would have in my younger days.
During brekkie, Mom was socializing with the manager about this business and about our travels. As this was happening, the sun came out and the fog had burned off. Now, we were getting a nice view over the lake from the breakfast room.
At 7:30am, we were done with brekkie and then we headed down with our luggage. Mom went to the nearby 7-11 to mail back the room keys that she had forgotten from Shanlinhsi while I went to recover the car while putting the luggages in.
Mom decided to take the early shift of driving, and so off we went. The drive was pretty uneventful except for one confusing part where we got off the expressway in favor of the Route 3 instead of staying on the Expressway 3. Other than that, the next 3 hours was a blur for me as I was pretty much asleep.
It wasn't until about 11:20am when we approached the Xiaowulai Waterfall. It was a little confusing at first that there were about a dozen cars or so parked alongside the road near the lookout for the Xiaowulai Waterfall. It didn't look official and they were partially taking up the driving lanes of the Tai 7 road.
So we kept driving a little further past a fork and then down towards a paid parking area. Sure it probably costed us about 100 TWD or $3 USD, but at least we had the piece of mind of knowing our car was supervised and safely parked without the risk of someone crashing into our parked car.
Once we finally got out of the car, we walked back alongside the road and then got to the Xiaowulai Waterfall observatory. It was basically a viewing platform where we were able to look down at the impressive Xiaowulai Waterfall, which was in a shadowy cove while we were looking against the sun. Looking in the other direction, we were able to view a wide river with a red road bridge spanning it.
It seemed like the area was in and out of clouds as apparently we were right on the edge of the rain storm that was hitting most of Northern and Northeastern Taiwan. We knew that we were heading into that storm after our visit to the Xiaowulai Waterfall.
After getting our fill of the falls from the top, we then went down a bunch of steps in the observatory before getting down to where the toilets were, and then we went down a trail leading down to a couple of closure areas. There were a couple of people leaving from the closure areas so we crossed over and did a little exploration of that forbidden area.
Well, when we got to a red footbridge, we saw that there was a landslide that bent the bridge and forced us to squeeze by the hardest hit part of the bridge. Then, we continued along the river on the metal path ultimately leading to a concrete bridge fronting the base of the Xiaowulai Waterfall.
It was hard to photograph the falls from here because we were looking against the sun as well as the falls being very misty. The path on the other side of the footbridge was blocked as it led to a pagoda or observation tower. However, we could clearly see that the tower was rotting and there'd be no way we'd even think about trying to go up as it seemed to have been closed for quite a while.
Anyways, as Mom and I were trying to photograph the falls as well as trying to capture a rainbow further downstream, we eventually had our fill of this spot and headed back up towards the observation tower.
We'd eventually get back to the car at 12:50pm, where we opted not to bother with the sky walk (basically a bridge with a glass floor) back down a different road another 500m away. Since time was short, we had to stick with our priorities, and this sky walk was definitely not one of our priorities on this trip.
And so we left Xiaowulai and drove towards Yilan. We had to make a decision whether to visit Wufengqi Waterfall, which was northwest of Yilan, or visit the Xinliao and Jiuliao Waterfalls, which were southwest of Yilan (actually closer to Su'ao).
We had plenty of time to make this decision since the drive was said to take another 3 hours or so. But as we left several tunnels (including a 12km tunnel) along both the Expressways 3 and 5, we ultimately decided to go for the Xinliao Waterfall at least before it got dark.
When we left the last of the tunnels, we continued driving south of Yilan, but the weather quickly turned from overcast and drizzly to rainy. And I was starting to regret the decision to keep going south towards Xinliao Waterfall. But in any case, we had to commit to our decision as we weren't going to come back down this way tomorrow. Instead, we'd be looking forward to returning to the Taipei vicinity and stay there for the remainder of the trip as we'd return the rental car either by the end of day tomorrow or the following morning on Friday.
Anyways, it wasn't until avout 3:05pm when we found the Xinliao Waterfall visitor center. Indeed, it was still raining at the time, and after getting some much needed restroom breaks, Mom asked the worker there about the conditions, and she recommended that we could do the Xinliao Waterfall trail but the Jiuliao Waterfall trail was not as feasible given the swollen state of the streams and rivers as this part of Taiwan had been seeing day-after-day-after-day of rains.
So after getting the information that we needed, we then drove off again at 3:10pm, and by 3:20pm, we finally made it to the Xinliao Waterfall car park. Apparently, there were four other parked cars here prior to us, and we figured that these folks must have been crazy enough to do what we were doing and visiting a waterfall in pretty miserable weather.
Mom was bringing out her umbrella while wearing her heavier jacket. Meanwhile, I was wearing my waterproof pants as well as rain poncho and holding onto the clear umbrella that we had bought while in Japan.
Mom registered with some lady working in the shelter near the trailhead. Apparently, there was a 350 hiker limit at one time on this hike, though I'm quite certain this rule would not be applied on this soggy day. In any case, once those formalities were out of the way, we promptly followed a pretty straightforward hike for the 1km (each way) trail. But since it was raining, trying to take trail photos while holding an umbrella made things even tougher in terms of keeping the DSLR dry.
Anyways, the trail was pleasant as the surface as mostly wood chips and dirt. It was quite unlike most of the trails in Taiwan where they primarily made the trails concrete or stone, and essentially made it easy for a lady to rock up to a waterfall in high heels. But in this case, it was the simple and low-maintenance trail that made sense, and perhaps the 2009 typhoon that caused the old trail to be destroyed in the first place that got the local authorities to realize the error in the previous ways.
The trail actually had split off somewhere along the way where one path snaked through a garden area where some of the plants were flowering. The other path was more straighforward. Either way, they all followed along one side of the banks of the Xinliao River (they spelled it Sinliao River).
There were a handful of people with umbrellas going the opposite direction that we were going. And when Mom and I finally made it to the Xinliao Waterfall, which was rather short but gushing in a lovely mountainous backdrop (though the low lying clouds had a bit of a Crouching Tiger, Hidden Dragon
effect), all of the sudden, it got a bit windy.
So spray from the waterfall was going everywhere while at the same time, the rain was coming down pretty hard. So we hastily took our photos and videos, and then promptly headed back down the trail to the car park. We got there at about 4:25pm.
Next, we drove to some kind of pretty popular restaurant in Jiaoxi, which was near Yilan. Apparently, Mom ate at this place before, and she wanted a real dinner this time around, and she thought this restaurant was the place to be. Since this place didn't have any English, I didn't know what to call this place. But their claim to fame was their crispy roasted whole chicken, which by itself was easily more than a meal's worth per person between Mom and I.
Mom also got eggplant, squid, and some greens as well as some soup. When we left the restaurant at 6:35pm fully stuffed, a lot more people were showing up to the restaurant. So it was a good call by Mom to come here first and then check in at the last minute to a good hotel with an onsen.
After a little difficulty finding the parking garage for the City Suites Hotel, we finally managed to find it and park the car at 7pm. We then promptly checked in, got settled, and at about 8:30pm, we each went upstairs to the roof for some time to soak in an onsen. There was one on the roof (one men-only and one women-only), and the garden fronting the onsen areas were Japanese influenced.
It's things like these that made me wonder whether the Japanese introduced the concept of onsens to Taiwan during their occupation of the island during the late 19th and early- to mid-20th century. Well, one deviation from the Japanese concept was that apparently the Taiwanese frowned upon going into the onsens buck naked. And so Mom and I spent a few minutes soaking in the rooftop onsen, which was actually pretty hot as the temperature held steady at around 41.8C.
One thing about this onsen was that it was outdoors so when it was raining (albeit lightly), I was getting these cold droplets falling on my head and shoulders while I was heating up with the onsen waters. It was an unusual sensation, but one I didn't mind at all.
When I had my fill of staring at the walls while sitting and relaxing in the hot water, I then showered again and dried off before heading downstairs. But just as I was about to return the keys, I saw that there was another spa area on the first floor. And after exploring that one, I saw that its onsen area was far more extensive with multiple pools and fountains.
So I did another round of soaking in the onsens down here before I finally returned to our room at about 9:25pm. At that point, I Facetimed Julie and Tahia again, and wrapped up that call really missing them. But I knew that in a few days, I'd get to go home once again though I did have a reunion with a former high school classmate later this weekend, once we figure out what waterfalling activities would be left once we return the rental car either late tomorrow or first thing Friday.
Whatever the case, this concluded this day that was dominated by driving. Indeed, we covered a lot of real estate on this day, but at least tomorrow, the coverage should be much less though we'd also be engaging in a lot more activities than on this day. Hopefully, the weather would improve…
Visitor Comments:
Got something you'd like to share or say to keep the conversation going? Feel free to leave a comment below...
No users have replied to the content on this page