Day 20 (November 1, 2016 – Sun Moon Lake, Taiwan): "Up Down Up Mountains"
It was about 4:55am when we awoke just before my alarm. We took most of the next hour packing up and getting ready to load up the car. We intended to load up the car so we wouldn't be forgetting or needing to go back to the room, but we still wanted to go on a hike to the Chinglong Waterfall before showing up for breakfast and then leaving Shanlinhsi towards Sun Moon Lake with a stop in Dongbu, where we expected to visit a pair of waterfalls.
At 5:45am, we loaded up the car. Mom said that she couldn't find her iPad. I speculated that she might have left it in her bed at one of the prior accommodations, but we didn't pay much mind to it figuring that it might turn up later in the morning when there would be more light. Right now, it was still a bit low light even though the daylight was getting brighter with each passing minute.
Then, we started walking towards the Chinglong Waterfall. We first took the road figuring that with the low light at the time, there wouldn't be as much interesting stuff to see or photograph. But by about 6am, we arrived at the toll booth, where nearby was a small shrine with some prayer music being played.
We then continued walking along a narrower road alongside the river as it led past a suspension bridge with a lookout towards the stream where we saw potholes in the bedrock. There was also a little lookout before the suspension bridge, where there was a rock formation that was supposed to resemble a couple of turtles (or at least their heads protruding from their shells, I guess).
There were a handful of people already on the trail with us. And as we crossed the suspension bridge, we then continued further downstream as we still had around 1.6km to go to reach the Chinglong Waterfall.
A short distance past the bathrooms, we were then treated to nice views down the canyon where we could see that we were above the clouds in the distance. There was also some town clinging to the mountain in the distance though we weren't sure what town that was.
As we continued walking, we started to see the deep gorge below as well as views of the Chinglong Waterfall. There were a couple of upper lookouts – one from a small wooden deck and the other from a wider lookout area with a more direct and less overgrown view. It was a good thing we got to see the falls when we did because we could see that later in the day, we'd be looking against the sun.
Continuing on in the hike, we then followed the signs for the main lookout of the Chinglong Waterfall. It first went past some kind of tilted building called the Energy House. It turned out that it used to be a bathroom before an earthquake caused the building to tilt. When we stepped inside, it left us with an uneasy feeling as the tilted floor made us think that this thing could slide down at any moment. I guess it made sense why the bathrooms now were further up the trail where it was flatter.
Continuing down the trail, we were treated to more partial panoramas of the valley below. Indeed, with us being above the clouds, this was the most comfortable hike in Taiwan that we had been on so far as the air was cool, crisp, and clean. Even though Mom and I had been walking for about an hour or more, we still didn't break a sweat. I don't think we could have said that for any of the waterfall excursions that we had been on in Taiwan thus far.
At about 7am, we finally made it to the lower lookout for the Chinglong Waterfall. Even though there were a handful of people on the trails with us earlier on, Mom and I were the only people enjoying this waterfall. It was still quite cool down here as the waterfall's light spray went our way, but with the air still a bit on the chilly side, my fingers started to get a bit cold as well as my cheeks.
After having our fill of this falls, we then went back upstairs to the junction. Once done with this ascent, Mom wanted to take a break so I took a spur trail towards the second Chinglong Waterfall (after seeing signage on the map signpost).
I got there at about 7:30am and I could clearly see that this second falls was much thinner and lighter flowing than the first. However, there was a more open panoramic view down towards the valley as well as the buildings or homes from some other nearby town across the valley.
Then, shortly thereafter, I rejoined Mom and we continued hiking back to the hotel. We'd eventually get there at about 8am, where we could finally have some brekkie. As we were headed to the restaurant, we couldn't help but notice the crazy line of people apparently waiting for a shuttle bus to take them higher up the Shanlinhsi Nature Reserve. I guess they were waiting for the first shuttle bus of the day.
The breakfast was actually a surprisingly varied and decent affair as there were plenty of veggies, ground meat in oil over white rice, toast with nutella spread (or any other spread you want), eggs, and picked veggies. I guess I had started to grow fond of Taiwanese brekkies where I remembered that I could avoid them like the plague when I was younger. But Mom was telling me when she noticed this that when you get older, you tend to go back to your roots. I guess that was certainly the case when it came to me.
At 8:45am, we were done with brekkie, and then we headed out. It was a beautiful day as it appeared to be cloudless where we were at. I knew that we were going to miss the nice cool air and beautiful scenery. It was definitely a good call to spend the night at Shanlinhsi, but Mom and I also knew that we were headed to lower elevation spots like Dongbu (Dongpu) and Sun Moon Lake. We definitely weren't looking forward to another round of sweating profusely as we were returning back down below the inversion layer.
So we began the long drive towards the Rainbow Waterfall near Dongbu. It was said to be at least a two-hour drive to get there since we had to go down the mountain from Shanlinhsi and then cut across towards Shuili, and finally back towards Yushan National Park near Dongbu.
Sure enough after the long twisty drives, we'd finally got to Dongbu. Along the way, we got past an area where it seemed like an entire mountainside was bare as it was clear that it had to have suffered a pretty extensive landslide. Further along the drive, there were a pair of bridges, where we could see the top of Yushan (Jade Mountain), which was said to be the tallest on the island.
When we got to the small turnoff leading up to Rainbow Waterfall, we saw how steep and narrow the road was that was leading up. So we weren't sure if it could be driven or not. So we opted to park the car on the main road then walk up.
But that steep road also meant that walking up was pretty tough. The initial stairs were damaged and rotted, but afterwards, we walked a combination of stairs and road. We'd eventually get to a part where we saw how much further the Rainbow Falls was, and we also continued to see more car parks along the way.
At this point (it was a little past 11:15am at the time), we decided that perhaps I should go back down and go get the car then drive up where Mom would be waiting. We ought to at least drive up to the point where we couldn't drive anymore.
So that we did, as I trail ran my way down the road (being careful not to slip and fall where water was running down the road from leaking or broken pipes), I eventually regained the car less than 10 minutes later. Next, I put the car in low gear then proceeded to drive up the road (hoping no one would be driving down the same way as there were very limited places to pull over and let people pass). Had there been another car coming down while I was coming up and vice versa, I wouldn't know what to do given how narrow and steep the road was.
Luckily, no one was on the road except me. Five minutes later, I eventually picked up Mom and then we parked at some spot where there was no way we'd be continuing the drive. There were people chilling out at some tables though the shops and cafes here were closed (probably only open on weekends).
Clearly I wouldn't even consider visiting this waterfall (or at least driving this part) had it been raining. I also wouldn't even consider driving that road if it had been the weekend when for sure there'd be more people driving in both directions.
Anyways, after parking the car, Mom and I promptly walked up the trail behind the shops. We were already hot and sweaty from the initial hike that we did, but now we were even more committed to finishing the job as people were coming back down and seeing us struggle. They encouraged us by saying "jia you" (add gas), which is like saying "keep it up!"
And indeed, the trail continued to climb as we went past some smaller cafe before crossing a long suspension bridge. At least there was a breeze while on the bridge, and that felt quite good against the hot and sunny weather. Beyond the suspension bridge, the trail kept climbing as we'd pass a small waterfall (fronted by lots of hideous pipes probably for water diversion).
It wouldn't be much longer before we finally reached the end of the trail at the base of the Rainbow Waterfall. There was no rainbow to be seen at the time (it was around 12pm when we showed up), and I figured that we wouldn't be seeing it because we had to either be here later in the day (provided shadows wouldn't get in the way) or somehow hike further up the mountains to get a more top down look at the falls while the sun would be behind us. That latter thing was clearly not an option at the time.
While the waterfall itself was pretty nice, especially when juxtaposed against the clear blue sky, the part we didn't care much for were the plethora of diversion pipes or hoses that got in the way of our line of sight. Those things kind of took away from the beauty of this place. There was also a lookout platform behind the police tape, where apparently that part of the trail was closed due to what appeared to be rotting planks of wood (probably from the moisture from the waterfall).
After getting our fill of this falls, it was pretty much all downhill from there. By about 12:35pm, we finally made it back to the car. The panoramic views while hiking back down the trail were majestic. Anyways, what was on my mind now was whether we'd have to deal with bi-directional traffic while on the narrow and steep single-lane road back down into the town of Dongbu.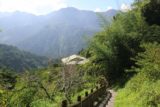 Fortunately for us, no one was coming up the road as we were coming down (in the lowest gear possible as brake failure was likely without the help of the engine slowing the car down on the steep descent). We'd eventually get down to the town of Dongbu and then drove over towards where the GPS told us where the Yunlong Waterfall Trailhead was supposed to be.
As we made the drive further south of Dongbu town, we went past a tunnel and just on the other side of the tunnel, we could see the trailhead as steps were ascending above the main road. There were a couple of cars parked next to the trailhead (occupying one of the two lanes of the narrow road). We saw that it would be hard to park immediately near the trailhead so we backtracked towards a shelter in front of the tunnel where there was more space to park the car and get out of the way of traffic.
So by 12:50pm, we got out of the car and strapped up our gear in anticipation of a pretty long hike ahead of us. The folks chilling out at the trailhead tried to scare Mom by saying that there were snakes (Mom had a phobia of snakes) along the trail, which prompted her to go back to the car and turn our shorts back into long hiking pants. She also went to get her trekking pole to try to scare off the snakes or something.
Now there was also a sign in Chinese saying something to the effect that the trail was closed. The folks there said the sign didn't mean anything and said it should be ok to hike. And so eventually we'd make the steep climb up the steps where the climb was pretty relentless.
The trail then joined up with a paved but narrow path that might have been ok for scooters but definitely not for cars. Along the way, we caught a view towards Yushan, but by this time, the clouds had grown to the point that they started to obscure the peak of Yushan.
As we continued hiking up the concrete path, we'd eventually get to a temple. There was a group of hikers there where Mom was conversing with them and learned that these hikers went 2km beyond this temple and said that they couldn't get a view of Yunlong Waterfall as the trail was cut short due to landslide. Apparently, the typhoons that had occurred throughout this Summer and Autumn ensured that the mountain remained unstable even through now.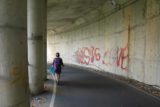 I'm sure that was the kind of news that Mom wanted to hear as she was quite ready to head back. And so we headed back and eventually returned to the car at 2:05pm. I guess with the Yunlong Waterfall (like the Baiyang Waterfall), it just wasn't meant to be.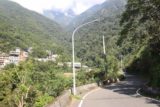 So with that, we drove towards the Sun Moon Lake. Along the way, we made a stop at the 85C in Shuili at 3pm as Mom wanted to make a stop there for a bathroom break as well as a little sweet tooth break. It turned out that the selection of this 85C wasn't nowhere near as extensive as what we were used to back at home nor what we would anticipate in Taipei.
Still, we wound up with some kind of Pudding Milk Tea (Mom had them also add black pearls or bobas in there) as well as a couple of little cakes and lemon egg tarts. Mom also made calls where apparently the accommodation at the Shanlinhsi had Mom's iPad as well as some paperwork. So she had them send it to a relative's address in Taipei. Meanwhile, we also learned that Mom forgot to return the room keys as well. So we'd have to have one of the hotels mail that room key back as well.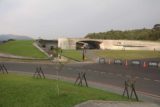 So with that squared away, we started driving again. But there was some initial confusion as we somehow ended up at some place called Checheng. But once we finally picked a better waypoint for the Sun Moon Lake on our Garmin GPS, then we were finally on our way to the correct place at about 3:45pm.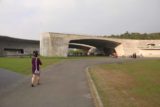 Mom took over the driving and the drive was pretty uneventful as we'd eventually arrive at the visitor center for Sun Moon Lake at 4:10pm. Daylight was running out as we probably only had about an hour to go before sunset. But during this time, Mom was fielding suggestions for accommodations in the area as we were booking at the very last minute again (both for flexibility and in hopes of getting a discount).
Meanwhile, I was busy taking photos from the visitor center area towards the Sun Moon Lake. The photos from this spot was a little on the awkward side. But I did pick up an English Map of the Sun Moon Lake, and after Mom was done with her questions, we asked the same staff lady what was the best spot to take photos with the limited amount of sunlight we had left.
She suggested the Wenwu Temple, and so that was where we were headed next before making our booking on the fly for the accommodation for tonight. At 4:30pm, we were back in the car, and at about 4:45pm, we finally arrived at the front of the Wenwu Temple, which had a bit of a grand gate entrance as well as seemingly plenty of parking spots alongside the road.
We promptly started taking photos over the lake towards the sinking red globe sun. Mom told me that I should go up to the temple and keep taking my photos while Mom would take care of the accommodations business via phone.
So with that, I promptly went up the stairs of the temple and took what photos I could before continuing towards the back of the pretty big complex. I noticed there were stairs towards the so-called Sky Deck, but I opted to go up to where most of the people where at the top of the Confucius Memorial, which as at some series of arches or gateways at the very top of a series of terraces and steps.
The problem with the view from here was that the temple blocked most of the views towards the lake. So next, I headed back down the steps and then quickly went up the stairs to one of the Sky Decks. It would turn out that I would get my lake and sunset photos from this Sky Deck as I watched the red globe sun sink below the neighboring hillside.
I then headed back down the steps and then up the other steps towards the other Sky Deck. When I got up there, I was all alone but I also saw that perhaps this was the better spot to view the sunset as I could see more of the lake (as I didn't need to look across the temple rooftops towards the setting sun). Oh well, I had a 50/50 choice to make and I guessed wrong.
That said, I got my snaps, then headed back downstairs. I tried to take a few more photos of the interior of the grand temple here before I finally had my fill of this place with the fading daylight. Eventually, I'd meet up with Mom again, where she introduced me to a pair of guys that were here visiting by bicycle.
One guy was Dutch and the other guy was Taiwanese who I guess was kind of traveling with him while also acting as a translator for him. Mom was telling them about the World of Waterfalls website while we were trading stories about the language barrier, our travels so far, and our next steps.
As it was getting quite dark, it was time to part ways (those guys now had to ride their bikes in the dark). Meanwhile, we had to find our accommodation and check in while also trying to find parking. But eventually, after some night driving along the lake (while tour buses were going the other way), we'd eventually stop in front of the Skylight Bed and Breakfast where Mom checked in and asked them where we should be parking.
We actually drove through some narrow streets flanked by businesses in another night market type atmosphere though this one was pretty dead compared to the others we had been on. I felt awkward driving through one of these things, but we had to do what we had to do in order to figure out where to park while also checking in.
Eventually at 6:20pm, the owner of the hotel rode his scooter and pointed us to park at the right spot (which I guess was his personal spot behind a chain blocking any strangers that didn't know better from parking there).
Then, after dropping off our luggages and belongings in our pretty spacious and nicely decorated room (I guess there was a reason why this place got 4.5 stars out of 5 in terms of accommodation ratings on Booking.com), we then promptly headed back downstairs at 6:35pm to find dinner.
We eventually went to this recommend spot called Fu Yuan Fan Guan (Rich Garden Restaurant), and for once, we'd be having a sit down dinner without having another night market dinner – something that we had gotten tired of after having it for 3-4 days in a row.
The dinner was a very filling affair as we had a five-course dinner with an additional side order of tofu. Mom said the tofu was the best one she had tasted. Meanwhile, the chicken was tender and fresh as was the fish, though it had lots of thin bones so we had to be careful of how we ate that fish. Meanwhile, there were picked spicy veggies, pig, and soup, among others.
After the filling dinner, Mom and I walked towards the pier area and then back through the streets of the main part of this section of Sun Moon Lake. After getting the rest of the stuff we needed to get from the car, Mom was having me read a bunch of different signs on the way to the Skylight Bed and Breakfast. This was to help me practice my ability to read Chinese (even though the words written here tended to use traditional characters as opposed to simplified characters).
Eventually at 8:15pm, we finally made it back to our room after briefly socializing with the owners at the front desk. We were both fully stuffed (we couldn't think of food anymore), and we spent the remainder of the evening getting cleaned up and ready to go to bed.
Tomorrow, we anticipated a very long day of driving as well as some rain in the Taipei area…
Visitor Comments:
Got something you'd like to share or say to keep the conversation going? Feel free to leave a comment below...
No users have replied to the content on this page