Day 18 (October 30, 2016 – Tainan, Taiwan): "Misunderstandings"
It was about 4:15am when we awoke. Mom had been awake earlier than me, and I was also surprised that I was able to wake up so early without needing the 5am alarm. Anyways, Mom noted that it had been raining outside, but now it had appeared to have stopped.
So after taking some time to get ready for the day then wrap up our packing, we checked out of the Sunnyside Hotel and lugged our luggage over to the car park a few blocks away. Along the way, there were a few night market stalls still in business working hard. We wound up getting gua bao, which was something Mom would make for the family at family gatherings. But this time around, we wanted to try the Tainan version and see how it would compare to Mom's cooking.
Mom said that their gua bao was not as good as the one she'd make. But in any case, this was something we hadn't had all trip long, so the change in dishes was very welcome.
At about 5:05am, we finally picked up the car. The first order of business was to check out the stuff we should've visited last night but didn't. This included both the Dragon and Tiger pagodas as well as some neighboring shrines around the Lotus Pond. Apparently, these attractions were still 20 minutes away from where the hotel we stayed at in Kaohsiung was, which was the main reason why we didn't just go there by cab straight away yesterday evening.
Anyways at 5:50am (after circling the pond), we took advantage of the light traffic and managed to score a street parking spot just a few paces away from one of the temples and new pagodas here. I was eager to see this part and was struck by the size and somewhat cartoony appearance of the buildings. I kept thinking to myself that in hindsight, we should have spent our night here instead of the Liuhe Night Market.
However, during our visit here, Mom wasn't exactly keen on seeing this area nor did she seem all that keen on seeing any of the other city sights in Kaohsiung. The MRT in the city center area also served to reinforce her negative perceptions of this city and the current government in charge which was actively trying to move the center of government activity from Taipei to Kaohsiung (where the current gov't was from).
I thought Mom was unusually negative about this visit to the Lotus Pond, and it turned out that she remembered when this place was pretty natural and consisted only of an old school temple. Now, there was a Dragon and Tiger Pagoda as well as another pair of pagodas built onto to bridges extending onto the pond as well as each containing temples fronting them across the street. She thought they were modern and untastefully done, and to her, they were obvious tourist traps. Perhaps she didn't like the fact that I might have been spending too much time falling for these tourist traps because of something I had read about in LP
or TripAdvisor.
And indeed, upon reading the signage explaining some of these structures, there was no date associated with them. Normally, if it was culturally important, you'd see something about when it got started as well as its historical significance. Such verbage was noticeably missing here, which corroborated Mom's position.
So with these things being camera fodder, I went ahead and took the photos, and then we returned to the car at 6:20am. There were a handful of Chinese visitors here each with tripods and wanting to take photos of the same structures that I was taking. So I guess these things weren't totally tourist traps. Then again, they could have just been as duped as I was.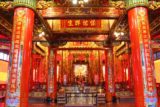 Regardless, with the daylight starting to take over for the darkness, we now headed east towards the mountains. On the way out, we entertained visiting the Shi-Lai Temple overlooking a large river (which Mom said the waters originated from the mountains of the Maolin Recreational Area) as she said that was a religious structure in Taiwan that was more tastefully done and much larger than the one in Hacienda Heights back at home.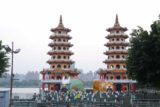 That said, the temple was closed until about 9:30am and we weren't going to wait around until its opening since this was not the priority of this trip. Instead, we wanted to visit the waterfalls of the Maolin scenic area before we would head back towards the city but towards Tainan city center instead for a bit of culture. The idea was to mix in some culturally important and scenic attractions since we had been doing the Nature thing for several days in a row now.
However, with Kaohsiung feeling chaotic and we didn't really have important sights to show for it (as they weren't around the Liuhe Night Market where we were staying), all we really had for this city was their strangely dead MRT stop as well as these kitschy pagodas and temples around the Lotus Pond.
So Mom kept mentioning that we weren't going to be staying in the city center for Tainan, and my thinking was that it's fine as long as we can catch public transport or taxi into the city center to spend most of our time there. She kept mentioning something about the Anping Fort that we were staying by, but I kept thinking that it would be close to the city and we could make our rounds of the city without having to self-drive in the chaos of the city ourselves.
So that was the plan. And back we went along the 3 freeway then along some signposted main roads following the brown signs towards Maolin Forest Area.
Eventually at 7:30am, we made it to the car park for the Dajin Waterfall. This spot was pretty well signposted from the town of Dajin though there was one little confusing part where we made a turn towards the falls per the GPS instructions but I didn't recall seeing any more follow-up signage for the waterfall.
Regardless, we were in the right spot, and right off the bat, we could feel the steaminess of the foothills of this mountain area. Once again, the mountains were difficult to see through the steam, and my camera lenses were showing signs of condensation as a result of going from an AC environment to the steamy jungle.
There were a handful of cars already parked here with people getting an early start to the day. We always go by Mom's saying that "the early bird gets the worm" but it appeared that lots of other Taiwanese people go by the same saying as well. So it was surprisingly busy at this time of the morning.
The hike was mostly uphill up a lot of steps. Right off the bat, it was inducing sweat but we were also starting to get panoramic views over Dajin on the way up. We'd eventually make it up to a shelter that had quite a bit of activity as some locals were doing some kind of Buddhist meditation or some kind of psychout session (one guy kept yelling to himself while doing calesthenics or something). I noticed that we were able to see the Dajin Waterfall from here though Mom kept going on the trail as it now descended towards the base of the falls.
There was also a junction with some mountain trail continuing from here, but there would be no way we'd be doing that.
Finally, when we got to the bottom of the steps, we were in front of the fairly tall waterfall (probably something I'd give a 2.5 for), and we had a moment where we were taking what photos we could despite the low lighting. There were other folks that kept going downstream on the trail, but it dead-ended at the top of some lower tiers of the falls that couldn't be seen well.
Some additional folks were bringing supplies and doing some kind of trail work. Mom said that they were building barricades so people wouldn't be tempted to get too close to the edge of these lower falls and risk falling.
A few minutes later, a pair of guys came to the plunge pool of the falls and were doing more calesthenics before going into the plunge pool and ultimately beneath the falls. They seemed to have to psych themselves out to get in.
We used them as subjects for picture taking, but then we had our fill of this spot as more people were showing up. And eventually by 8:40am, we were back at the car park, where the closest lot was now full.
Next up, we were targeting the Qingren Waterfall. Mom said that it was not far from here as she was pretty familiar with this area. So we promptly followed the GPS directions, which had us following a couple of very slow tour buses. Fortunately, they were going up to the Maolin Village but we were veering off towards the Qingren Valley (or Lover's Gorge Valley), and that was where we caught signs of the Qingren Valley Waterfall then drove across a long single-lane bridge and eventually reached a part where the narrow single-lane road suddenly stopped at a landslide area.
Clearly, I wasn't going to attempt driving across this pile of rocks so we backed up and wound up parking along what appeared to be an unsigned driveway of someone's shack or something. It was 9am when we stopped the car and proceeded to walk back towards the landslide (trying to ignore the striped mosquitos and all).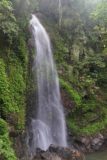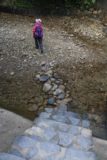 The walk was quite easy as all we had to do was to traverse the landslide part and then on its other side was what turned out to be the first Qingren Waterfall. This one was pretty small by the standards of what we had been seeing so far on this trip, and we spent a few minutes walking down a short steps onto the bedrock of the stream for a more frontal look.
Then, after getting our fill of this spot, we followed the sign suggesting that there was a second waterfall further up the steps. So we promptly did that and got really hot and sweaty once again. Eventually, after crossing a bridge and then climbing up past a shelter before reaching a dead-end with a viewing deck of the falls, we had reached the second Qingren Waterfall, which was much bigger and more attractive than the first.
So far, we had been making good on time, and we had a couple of waterfalls to show for our efforts. So Mom suggested that since we were already here, we mind as well go right for the Maolin Waterfall before heading towards Tainan.
It was about 9:35am when we got back to the car, and it was just as we started to see some folks scootering or walking towards the falls. There were also a couple of cars trying to figure out where to park, and they had momentarily blocked us from getting out. But luckily, they were there just as we were showing up, and they eventually let us go.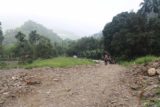 As we were driving out, there was a large tour group that was approaching the falls, and they had to part from the road like the parting of the Red Sea, and then we were able to pass through and get out of here before we'd have more single-lane road complications.
Now since we had trouble trying to find this place on the Garmin GPS, we had to rely on Kirk Beiser's instructions. So we did as he said and drove through the Maolin Village, and then turned right across the street from a fire station, where there was a sign for "Maolin Valley" or something like that.
Then, we descended down some switchbacks before getting onto a narrow single-lane road (right off the bat, there was a tricky bypass with a couple of cars trying to squeeze by each other), but then we'd eventually get to a part where we parked off the shoulder of the narrow road instead of going all the way up to park at the paid part of the car park. We got there at about 9:55am.
We didn't see signs explicitly for the falls on the way in, but we had followed one car that seemed to be headed the same way as we were so that was how we got here. Once we got out of the car, we grabbed a couple of bottles of water each, and then our backpacks as we were preparing for a fairly long hike. That said, the trail appeared to be pretty developed, and it was also quite popular.
So we followed a group of purple-shirted hikers, who were apparently from a local camping group. The hike (like with the other two hikes) were steeply uphill along a series of steps. But the difference with this hike was that it was like the Liangshan Waterfall hike in that it was hugging cliffs and gave us that feeling that we were walking high up.
It didn't take long before we had to cross the first suspension bridge, which was long and traversed the gorge over the river down below. It gave us kind of that Indiana Jones feeling as we were going across.
After a few minutes more of hiking up and down the stair-stepped trail, we then crossed a second suspension bridge, which was even longer than the first and really made it feel like we were in an Indiana Jones movie.
After that suspension bridge, the trail undulated a bit more while generally going uphill, and then went over an arched bridge before climbing up more steps and ultimately reaching a crowded sheltered lookout towards the Maolin Waterfall.
Compared to the other waterfalls that we saw, this one wasn't particularly tall (maybe 100ft or 30m or lower), but it provided an opportunity for lots of people to cool off and go for a swim. In fact, there was a steep rope-assisted scramble path leading to the base of the falls, and I had to wait in a queue before making my turn to go down.
Mom decided not to do this scramble and instead socialized with the purple-shirted group. So while I did the descent, it was very tricky towards the bottom as the rocks were smooth and slippery with the mist of the falls. One guy helped me out by suggesting where to place my feet on the more jagged rock ledge amongst the slippery slope.
But eventually, I'd make it to the base where I saw quite a few people (including a few kids) swimming and just having fun at this falls. Indeed, even though it wasn't the greatest falls in terms of size, it was just the perfect spot to seek relief from the steamy heat of the hike and the weather in general.
Once I had my fill of this spot (I didn't join them and swim), I scrambled back up to the shelter, where Mom introduced me to the purple-shirted group and we briefly talked about the waterfalls we had been to before we said our good-byes and headed back down to the trailhead.
The youngest folks of the camping group actually passed us on the way back out, and it turned out that they went to a different swimming hole closer to the trailhead. So this place provided all sorts of ways to beat the heat in majestic mountain settings.
By 11:35am, we were finally back at the car, where Mom and I couldn't wait to get our sweaty and messy selves into the air conditioning of the rental car. And with that, we started to drive back out of the Maolin area in the general direction of Tainan, where we looked forward to spending the rest of the day.
The drive felt surprisingly long, and when we were getting close to Tainan, at around 1:15pm, I thought it was just a matter of time before we'd be at our hotel and be in position to just walk about town seeing the city's main sights. However, we had trouble entering into the Taiwanese Garmin GPS the accommodation that Mom had booked on Friday night, and when she finally started getting a handle on the location of the accommodation on her iPhone, that was when I realized that we weren't staying within reasonable reach of the city center of Tainan.
Instead, Mom thought that we should be staying around Anping Fort as she somehow latched onto this place thinking that I was interested in it though I had no idea how she came to that conclusion. So when we finally got to the accommodation called the Wei-Yat Grand Hotel at 1:55pm, we were then told that check-in wasn't until 3pm so we just left most of our luggage at the lobby then quickly headed out as time (in terms of daylight and attraction closures) was running out. It was frustrating that what we once perceived as having a lot of time when we had finished the Maolin Valley Waterfall was now a race against time…
So at 2:10pm, we left the hotel and Mom insisted that we should go visit the Anping Fort. She said that no one goes to Tainan and not visit the Anping Fort. I hadn't planned on visiting it, but I was game to give this place a try. The problem was that there was heavy congestion near the fort area.
It wasn't until about 2:30pm when we finally found parking at the fort. For as long as it took to find parking, we were probably better off doing the 20-minute walk from the hotel to the Anping Fort. Anyways, we were quite lucky to even find a spot as lots of other cars were marauding about looking for space.
We then quickly walked through what appeared to be some park, but it wasn't the Anping Fort. We still had to walk a couple more blocks to get there. And as we did so, we found ourselves in yet another crowded area that was surely going to be a night market. It was atmospheric, but Mom and I were pretty yeshi'd out.
Anyways, we quickly walked towards the entrance to the Anping Fort, then we walked about on the premises checking out the white tower (though we couldn't go up due to Typhoon damage) as well as the main building where there were historical relics and signage. There were also views looking out towards some ornate temple, which we didn't have time to visit.
Mom wanted to impart on me that this place was historically significant because it was where a general from China took back Taiwan from the Dutch, essentially letting Taiwan stay Chinese. I'm sure it was a source of pride for the Taiwanese people, and I'm sure Mom must have felt that way. But my mind was still on checking out central Tainan, and all that time we thought we would have today was quickly dwindling away.
So after seeing what we needed to see at the Anping Fort (which really deserved more time and attention than what we gave it), we quickly got back to the car at 3pm, where another lucky person managed to snatch our parking spot just as we were luckily able to snatch the previous person's parking spot at the right time.
Next, we drove through the heavy city congestion (especially of scooters) as we headed towards the Confucius Temple. We were told that without traffic, it would be about a 20-minute drive from our hotel to the city center around the Chihkan Towers. However, it wasn't until about 3:45pm when we finally parked the car in a huge and sprawling underground parking lot several blocks from the Confucius Temple.
I was probably about as frustrated as I could be on this trip as a supposedly relaxing time in the "cultural center" of Taiwan was now a stressful race against time (before closing and missing out on lunch in town). But it was what it was, and now we had a little over an hour or so of daylight left before we'd have to do a little night touring of Tainan with the limited time we have before returning to Anping to check in and end the day.
As we exited the parking garage by foot, we were very lucky to hail a taxi that just happened to be passing by. Mom socialized with the taxi driver asking what was good to eat around here, and we got the answer that it was pretty much some hole-in-the-wall joints near the Confucius Temple as well as the Chihkan Towers.
By about 4:40pm, we were finally dropped off at the front of the Confucius Temple. I had read that this place closed at around 5pm or 5:30pm so as we walked in, we saw that there was a little local concert going on at the doorstep of the main palace, and we promptly got into the paid main palace where we visited each important room or building within the main palace.
Mom was kind of acting as my tour guide as she was explaining some of the things we were seeing. We'd eventually get our fill of the main palace area, then we checked out all the floors of one of the towers in the corner of the complex before having our fill of the overall temple complex and then leaving for dinner.
We wound up picking up a couple of baos as well as shave ice from this seemingly popular local joint. When we had our fill of this initial helping of food, we then sought out a taxi to take us to the Chihkan Towers as daylight was running out. It was now after 5pm.
But we were having difficulty gettng a taxi driver to stop for us (it was nowhere nearly as busy nor as convenient as what Mom had been used to in Taipei). And so we wound up walking several city blocks before finally reaching the Chihkan Towers at 5:45pm. By now, twilight was fading fast and we quickly paid our admission and tried to take what photos we could as twilight had faded away.
Next, we walked throughout the pretty extensive complex starting with the pair of towers as we went up each floor and tried to savor the experience. Like with the Anping Fort, this tower complex was also important regarding the Dutch and Japanese occupations. And just like the Anping Fort, this place seemed to be a source of pride in terms of the Taiwanese.
Eventually, we were done with our visit at 6:15pm, and now we went looking for more local Tainan foods before visiting the Matsu Temple, and then seek out our parked car.
We wound up eating at a few joints near the Chihkan Towers. The first place had some kind of noodles called danzaimien. We also tried coffin cake in another joint nearby as well as fish stomach soup. When all was said and done, Mom and I were quite stuffed. Now, we had to walk off all this food.
And we'd do this by visiting the Matsu Temple, which sat fairly hidden away from the main city streets. So we made our visit of the pretty extensive temple, which was still open. The strong scent of incense made me keenly aware of the toxic smoke filling the temple, but I took the time to visit each room and try to take photos without disturbing the people praying. There were also a handful of folks buying moon blocks and tossing them (bwah bwey) in the hopes that the blocks would answer whatever fortunes or questions they had in mind as they tossed them. It was kind of like the Taiwanese version of the Magical 8 Ball.
At 7pm, we were done with our Matsu Temple visit, then we walked along some alleyways and city streets that seemed to be quite happening. Had we stayed here, we could have soaked up the atmosphere and energy of the city, but since we were staying way in Anping, we now had to use this time to worry about logistics.
Finally at about 7:30pm, we regained the car after walking still more city blocks looking for the right place. We wound up walking several blocks on Haian Rd, and eventually, we'd finally drive up to pay at the main office underground, and then finally leave the joint. But wasn't until we had a bit of difficulty with the parking bar and had to have Mom talk to the parking attendant over the speaker to rectify the situation. Indeed, this whole ordeal with driving in the downtown area seemed like it would never end.
Finally at 7:50pm, we parked at the underground Wei Yat Grand Hotel's parking area, and we quickly checked in and recovered our left luggages. So finally at 8:05pm, we could crash at the spacious room, get cleaned up, and get settled down after yet another very long day of touring.
With tomorrow being a seemingly ad hoc day, I figured that we both could figure out where to go next and where to stay next after having all these successes along the trip doing things unplanned and at the last minute. What we were paying by doing things this way as well as self-driving had ultimately saved us a significant amount of money as well as culturally enlightening me.
In any case, I guess we'll play it by ear how things go tomorrow…
Visitor Comments:
Got something you'd like to share or say to keep the conversation going? Feel free to leave a comment below...
No users have replied to the content on this page