Day 17 (October 29, 2016 – Kaohsiung, Taiwan): "Corruption and Perverse Incentives"
We woke up to my alarm at about 5am. Mom was upping the urgency because she wanted us to get to the Eluanbi Lighthouse by sunrise thinking that we ought to be able to see the sun rise from the Pacific.
So we quickly got ready knowing that we'd be coming back to the hotel to finish packing as well as having breakfast. And by 5:30am, we got into the car.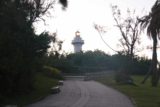 The lighthouse was said to be about 7km away, and we'd eventually get to the car park for the lighthouse barely 10 minutes later. At that point, no one was collecting a toll, but the parking lot seemed to be accessible. Also, no one was manning the individual toll booths for foot traffic as well.
So my Mom and I quickly went to the entrance to the lighthouse. It wasn't open, but we did manage to take photos of the functional lighthouse, which was still rotating its light. However, we realized that we wouldn't be seeing the sunrise because it was all foliage to the east of us, and there wasn't much of an ocean view from the lighthouse gate entrance either.
So we next walked a footpath that went to the shoreline, but it was damanged by typhoons. When we backtracked and followed a different trail, the shoreline access remained closed due to typhoon damage. This got Mom and I to observe that they might have gotten a bit too overzealous with putting wooden plank trails instead of something more natural like dirt.
You see, the parts that were damaged were the parts that were man-made. If it was just dirt trails, then the only damaged parts would be from falling trees or rocks, but the trail itself would be fine. Maybe the Taiwanese folks doing the trails could take a page out of what was done in other parts of the world. It doesn't necessarily have to concrete everywhere or wooden planks prone to rotting.
Anyways, Mom and I nearly completed an unexpected loop hike by the time we made it to the Sunshine Pavilion or something like that. From there, we saw the Kissing Rocks as well as a handful of fisherman doing their thing on the coast though we weren't sure exactly how they got there.
After getting our fill of this pavilion, we then retreated to the car where people started to trickle into the park. With today being a Saturday, we could rest assured that no matter where we were going today, it was going to be busy.
Mom was recalling (she said she was 3 or 5 the last time she was here) that she didn't remember there being so much development as it seemed to be a far different place than it had been over 60 years ago. I guess times change, and you can't stop the onslaught of change (for better or for worse).
We returned to the car at 6:30am. We then drove back towards the Howard Superior Resort with one roadside stop near the Sail Rocks, which were coral reef sea stacks within view from the main drag through Kenting. With the morning light, it made for some decent photos, but perhaps what was more eye catching were some of the hotel facades that we saw across the street from the Sail Rocks.
One hotel in particular looked like something out of a Gaudi building in Barcelona, where it seemed like the building was made from earth. Flanking that Gaudi-like building were a couple of white and blue painted facades that reminded me a lot of the buildings we had seen in Santorini, Greece.
Indeed, it seemed like they were really going after European tourist dollars with these facades. There was even modern one that could've been reminiscent of something we had seen in the UK or in France.
Anyways, we were back at the Howard Superior Beach Resort at 6:55am, and that was just in time for their buffet breakfast, which was included in the room rate. At least for brekkie, the food was varied and decent compared to last night's buffet, but it was quite hit and miss. What do you expect for a buffet meal anyways, I guess?
After finishing the brekkie, we were back in the room at 7:55am. This was after doing a little exploring of the property before checking out. Right after checking out, we went to check out the property's beach, which involved us going downstairs into some kind of "Fun Arcade" that was dead because nothing was open. Then, we passed through the "tunnel" which was really nothing more than an underpass beneath the main Kenting Road. After getting around the "foot bath", which was nothing more than a shallow pool of water meant for rinsing off sand, we then promptly got onto the beach a short time later where we finally got to wade in the calm waters of the protected cove.
The secluded beach was nice though the beach itself was more on the rocky and pebbly side possibly as a result of the protected cove where the absence of strong wave action wouldn't pound the rocks into fine sand. Nonetheless, Mom and I took our photos, and felt the cool water before finally regaining the car at 11:05am.
We would eventually get to our car by 8:55am, and at that point we were finally on our way to the Keyoufeng Waterfall, where we still had some doubts about its accessibility (one of the tour operators we were getting quotes from wanted to cut out this waterfall completely due to typhoon damage). And so far on our travels, we hadn't heard anything about whether the road to this falls was closed or not. So we were going to give it a go regardless until we're turned back.
The drive north was pretty uneventful though we did notice lots of tour buses heading south towards Kenting. Mom was glad that we had gotten our Kenting fix when we did because that would not be the place to be when it would be overcrowded on Saturday (which was today).
Eventually, the GPS had us turn right on a road that didn't appear to be signposted for the Keyoufeng Waterfall. So at first we had some doubts about whether we were going the right way or not. But after reaching one of the intersections along the small farm road, Mom noticed some signs pointing the way to Keyoufeng Waterfall (actually sounds more like "ka-you-fong" in something closer to pinyin Chinese), and that was when we were pretty confident about being on the correct path to the falls.
We'd eventually catch up with a caravan of slower cars in front of us, but the farm road was essentially single-lane most of the way. So in one particular hairy stretch where there were no pullouts or shoulders, there were two caravans of cars going in opposite directions, and we all had to squeeze past each other without doing any car damage from hitting each other or from scraping trees or other obstacles.
Mercifully, we made it to the Keyoufeng Waterfall at 10am. There were already a lot of cars parked here, but I'm sure with this being Saturday, there could easily be a lot more. The sun was out and quite intense but so was the humidity.
So we donned our backpacks and brought some waters, and then promptly went up the trail, which was pretty much all steps and stairs. Given the heat and humidity, Mom and I were sweating bullets. But after going up about 500m, we finally got in front of the beautiful Keyoufeng Waterfall, which I'd imagine was in the neighborhood of 200-300ft with a fanning out shape.
My gut told me that this waterfall had to be at least a 3.5 or 4. After all, we saw a slight rainbow at its base when the sun had shown itself, and it had gorgeous jungle scenery along the way. And given how its spray cooled us off from the steamy hike to get to this point, I felt that this place had a lot going for it, except for the narrow farm road to get here.
At 11:05am, Mom and I had our fill and we made it back to the car. We next drove further north in search of the Liangshan Waterfall. The GPS had us go through several towns along the 187 en route to the falls. These towns were part of Pingtung County, and Mom was telling me that Pingtung was where Dad essentially grew up as he spent most of his middle school years here.
One of the biggest things that Mom and I noticed about driving north into Pingtung County was that the mountains were now barely visible (if at all). It was almost as if the haze in the skies were as if we were driving into steam. Or it was either that or pollution from the heavy industry that was going on in this part of southwestern Taiwan (or a combination of both).
So we knew that no matter where we were going, it was still going to be muggy and sticky. By the way, where on earth was the Taiwanese Autumn? It was now the very end of October and the weather remained very Summer like!?!?
It wasn't ideal following the GPS route which had us driving through the congestion and the crazy aggresive scooter riders as well around Pingtung City. Still, it gave Mom an opportunity to educate me a little more on all the beetlenut plantations (kind of goes to show you the perverse incentives forcing people to make money doing the wrong things which can be traced back to corruption in the highest levels of government), which were narcotic-like fruits that people would chew on before their mouths would become reddish and their teeth would get all messed up.
Mom noted that a lot of the bettlenut stands and shops would typically have a scantily clad lady to attract business (and perhaps something more).
Eventually at about 12:40pm, we finally arrived at the car park for the Liangshan Recreational Area. It looked quite popular and developed from the outset when we parked the car and walked towards the ticket office. So we figured that the hike couldn't be all that bad, right?
After paying 60 yuan each, we then promptly followed the wide and well-developed walkway leading to the first of the Liangshan Waterfalls. It was said to be only a 15 minute walk before reaching the first falls, and it turned out that that first falls was near a bridge and some open-air cafe.
We caught our first glimpses of the falls from downstream from the bridge as well as the bridge itself. However the shelter or lookout area before the trail started going up steps in earnest didn't have that great of a view of the first falls.
Regardless, we went up the trail, which turned out to be relentlessly climbing and thus inducing lots of sweat. As the climb started flattening out (though it never really flattened out completely) the trail narrowed considerably as it followed along cliffs as well as ascended even more steps.
After around 15 minutes beyond that first waterfall, there was a signed fork in the trail. The left fork went down a series of steep steps eventually leading to a vertical rope-assisted descent where there was the second waterfall tumbling into a plunge pool that lots of young locals were enjoying.
Given the verticality of the descent, Mom opted not to do it as she went ahead and continued the hike towards the base of the third waterfall. Meanwhile, I waited my turn to go down as there was quite the bottleneck at the rope-assisted descent or climb.
I didn't linger for too long at the swimming holes beneath the second waterfall, and so we continued the relentless climb and careful trail walking along cliff-hugging ledges before the trail really became more of a rock scamble right after the dam crossing.
At the end of the scramble, there were lots of people frolicking about the base area at the third Liangshan Waterfall. Unlike the first two we saw, this one was by far the tallest and most impressive. We even saw a handful of foreigners checking out this falls, which was quite unusual as we thought not many locals would come here.
It then dawned on me that perhaps these foreigners were part of the same custom tour group, where we managed to get quotes from such companies since we weren't sure we wanted to self-drive the island. That said, we were doing perfectly fine so far, and by going independent with Mom's local knowledge, we managed to save significant chunks of money (the custom tour operators suggested a cost of around 200-300 USD per person per day), and we barely spent that much on our first three days of this part of the trip alone!
Regardless, Mom and I chilled out at our well-deserved reward for being at the foot of the lovely Liangshan Waterfall. We even got to experience the coolness of the waterfall spray as well as some of the waterfall's self-generated weather in the form of winds. I wondered if this was what they had in mind when they named this falls as such as "liang" meant something to the effect of "cool".
The hike back down to the trailhead felt like it took forever, but it did yield nice views towards the steamy valley below. There were lots of people still going up the other way even though it seemed like this park would close not that much later. Mom theorized that these late arrivers came from large tour groups who were probably made to waste a lot of time at affiliate restaurants and affiliate shops before finally making it here. I'm pretty sure that her taste in tour groups went south real quick after having spent some time with me on our independent waterfalling runs.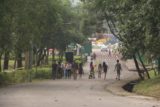 After rewarding ourselves with some cold ice and jelly (from jellyfish?) swimming in ice tea lemonade (ala Arnold Palmer), we were finally back at the car park at 3pm. Next, we were headed to Kaohsiung (pinyin = Gaoxiong) though the GPS at first insisted on taking us on back the way we came via local streets and Pingtung congestion. But we rebelled and followed the motorway on the Hwy 3 then Hwy 10.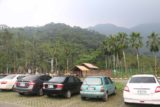 We'd eventually be passing through the congestion and chaos of the downtown Kaohsiung area, and when we finally got in front of our hotel (the Sunnyside Hotel) at 4:05pm, we found ourselves having to drive through part of the Liuhe Night Market. So while I waited patiently in an illegal spot, Mom talked with the hotel as she checked in, and they explained where the best spot for overnight parking was.
So after dropping off our heavier luggages at the hotel lobby, Mom joined me back in the car again, and we'd eventually find the cheap parking that was on the order of about 100 yuan for overnight parking (over $3 USD, which you can't be that). By comparison, we almost parked at this place charging 25 yuan per 30 minutes. Imagine how many thousands of yuan that would be had that added up overnight!
So at 4:30pm, we finally left the car and brought out our other smaller belongings. That was when I realized that the belt strap on my backpack had broke, and so I guess I wouldn't be getting much weight distribution anymore. I guess things just aren't buit to last these days, especially with how cheaply made the plastics have become.
At 4:50pm, we were finally checked into our hotel room, which was small but decent, especially being in such a central location. The Liuhe Night Market was already starting though, and we were very hungry as we looked forward to sampling what they had down here. I guess the Lotus Pond and pagodas were too far out of the way from here, even by taxi. So perhaps we'd have to squeeze that in first thing tomorrow morning.
At 5:10pm, we finally made it downstairs right into the Liuhe Night Market. A lot of the stalls weren't quite open yet so we took our time slowly walking towards the far end of the night market before going back the way we came. Along the way, we sampled some dan dan mien, cold chicken feet, stinky tofu, grilled squid, beef noodle soup, and that same bao we had at Raohe Night Market in Taipei (just for comparison; where the Kaohsiung version was inferior).
Tropical light rain came and went during our time in the night market. It wasn't really a big deal though there was one squall that went through while Mom and I were eating dan dan mien and cold chicken feet in one of the sheltered cafes and tables well away from the rain action. Speaking of the action, we saw how adaptable many of the food stalls were as they quickly made their operation more weather proof by extending their tents and protecting their wares or foodstuffs.
After having our fill of the night market and food, we then walked over to the Kaohsiung metro station nearby. Mom wanted to see what the fuss was about regarding this train station because apparently millions of Taiwanese Dollars were spent building this thing up.
Well, after walking downstairs to the underground station, the first thing that we noticed was how dead it was inside the station. Even the shops that were supposed to line the way to the main part of the station were all shut. Considering this was Saturday night, that was really saying something about how badly these shops down here must be doing.
We quickly drew the conclusion that this subway line didn't really go anywhere useful and thus no one was really taking the mass transit here. Mom had this incredulous expression saying to me that this was a prime example of poor management and expenditure of public resources where a lot of the funds were spent on useless aesthetics and none of it on the usefulness of the subway line in this city.
At 6:45pm, we were back in the hotel room exhausted and sticky from the day's activities. And now, we could finally try to use the AC to dry off our sweat-drenched clothes while also getting cleaned up. Tomorrow was shaping up to be a similar day of waterfall touring in the outskirts of the city to the east, then heading back to the city in the afternoon for cultural sightseeing as well as night market festivities. Except this time, we'll be spending our time in Tainan instead of Kaohsiung…
Visitor Comments:
Got something you'd like to share or say to keep the conversation going? Feel free to leave a comment below...
No users have replied to the content on this page