Day 16 (October 28, 2016 – Kenting, Taiwan): "How Are Things On The East Coast?"
It was about 4:55am when we awoke to my alarm. It took us some time to get ready as Mom was trying to make last-minute bookings for accommodations this coming weekend in Kenting (pinyin = Kending), Kaohsiung (pinyin = Gaoxiong), and Tainan, respectively. By the way, I was starting to get annoyed with the Taiwanese romanizations of written Chinese so I'm going to insert pinyin where I can to bring us one step closer to being more phonetically accurate than the current accepted Romanizations. Thus, Taipei really should be Taibei. Anyways, so far, our last-minute bookings have yielded some pleasant surprises in terms of both the quality of the accommodations and their prices.
This East Town Hotel that we were staying at only costed us about $60 USD yet it was a clean and fairly spacious room that was centrally located close to the old and new night markets in the heart of Hualien (pinyin = Hualian). They did a pretty good job at this spot.
As for the itinerary, Mom made a suggestion that instead of driving all the way to Kaohsiung from here, we should spend the night in Kenting instead. I was a little fuzzy on the consequences of this move to our overall itinerary so I had to make some adjustments to the waterfalls we were targeting.
Anyways, when all was said and done, we were booked for accommodations in all three cities, starting with Kenting (Kending) tonight, which was said to cost us under $100 for the night. But this was supposed to be a luxury hotel and we were both going to get big large-sized single-person beds.
Mom was looking forward to checking out the beaches in Kenting, but I was concerned about hitting the first of the legitimate waterfalls of our Taiwan leg of the trip let alone getting to Kenting to enjoy the beaches before it gets dark.
When we had our belongings together, I went to retrieve the car, which was parked a few blocks away. And as I was doing so (as the city streets were pretty quiet, relatively speaking), I noticed that the temple near the car park was open! So I went through the gates and up the stairs to check it out.
While at the front of the temple, I noticed that there was some kind of prayer music being played. There were also a handful of people inside already praying or doing something. So I discreetly took photos and soaked in the atmosphere of this miao (temple) before heading back down the steps and recovering the car.
At about 6:20am, I got the car, then drove it to the hotel. We were told that we could leave the car parked in front of the hotel for breakfast. Then, we went ahead and ate the included breakfast, which was a surprisingly diverse mix of traditional Taiwanese hot and cold stuff as well as some Westernized stuff. I guess this particular hotel must have its share of Western customers, which was surprising to me since it was not exactly the easiest spot to find. Perhaps it was because we felt like we had gotten a good value at this place that maybe budget-conscious foreigners might have felt the same.
Anyways, it was just Mom and I eating the brekkie at the time, but Mom was comfortable conversing with the employees here in Taiwanese (and some Mandarin mixed in). She told me that the elderly lady tending to the breakfast area kind of reminded her of her mom, where she was hard at work but had that can do attitude.
The breakfast was pretty filling, but we went ahead and ate plenty here since we knew that today was going to be a full day of driving. And so by 6:55am, we were back in the car, and then we promptly drove south on the Tai 9, which would take us well south of Hualien along the East Coast. But before we would leave the city limits of Hualien, we couldn't help but notice the impressively tall mountains backing the town with nice morning light on them.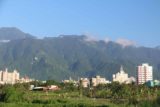 So we made a brief stop at a city park at 7:05am and snapped photos at will. Then, we continued driving south on the Tai 9 in the direction of Taitung (Taidong or Tai East). But the first waterfall we targeted on this day was the Fenghuang Waterfall.
As we made our drive south of Hualien, I saw more of the inaccurate Chinese romanizations, and it annoyed the heck out of me, especially if I didn't happen to recognize the Chinese characters. As mentioned before, Taitung was supposed to be Taidong (i.e. Tai East). I theorized that when the Taiwanese first dealt with Americans, the language was probably so foreign to them that their guesses at Romanized pronunciations were either half-hearted attempts or they really did think they heard something else compared to the real thing. Regardless, their guesses at the Romanizations reflected mostly incorrect pronunciations. Whatever the case, the pinyin system that since came out from China after the Red Revolution led my Mao Zidong was way more consistent and should have been switched over by Taiwan. I suspect the pride of some scholars or those who wanted to break ties with China probably wanted to stick with this crappy Romanization to stay different or something. No foreigner would have a prayer of trying to use these Romanizations and get somewhere with a local who didn't know English using this Taiwanese Romanization system.
Anyways, it turned out that there was some decent signage for the falls once we got into the town of Fenglin (I think), where we then got off the main road and headed towards the waterfall along an initially wide and well-developed road before veering right near a shrine and going up a steep and narrow paved road getting us right to the waterfall at about 7:50am.
There was a little shelter near the shoulder where we parked the car at a hairpin turn. And from there, we walked barely a couple of minutes up a narrow concrete path leading us right to the 20-30m tall Fenghuang Waterfall.
This was a satisfying waterfall in that it was both tall and had decent volume. It was also nice that Mom and I were enjoying this spot without others. We were only able to try to photo the falls from its very base as parts of the falls would be obstructed by trees the further away from this spot we went. So that presented a little challenge in terms of how best to frame this waterfall in our photo.
We had our fill of this falls before getting back to the car at 8:15am. Mom and I both felt this was way too easy of a visit, but we weren't complaining as this was definitely a time saver in terms of how much time I thought this waterfall would take.
Next, we drove back to the main highway and headed towards the Tiefen Waterfall. Unlike with the Fenghuang Waterfall, we didn't start to seeing signs for this waterfall from the main road. In fact, it wasn't before we crossed the large bridge over a wide river before turning left into some reserve. We then eventually picked up the waterfall signs (in Chinese), which ultimately led us to the Tiefen Waterfall.
Unfortunately, the road was actually obliterated by a landslide near its end. When we first saw the obstacle, we didn't have enough space to do a three-point turn so I had to backup some 200m to get to the car park. So once we stopped the car near the falls at 9:40am, we got out and walked the last 200-300m to get up to the falls.
The walk was at first very straightforward, but then the trail led us to the concrete banks of the waterfall's stream. Beyond this section, we then had to scramble up and over some dam. Mom and I had expressed concern about accessing the falls given this obstacle.
Once we figured out how to climb over the dam walls then go across the stream without drenching our hiking boots, we were finally at the impressive Tiefen Waterfall, which featured a tall drop as well as some pretty cool surroundings.
When we had our fill of the secluded Tiefen Waterfall, we then walked back along the stream before veering left and rejoining our parked rental car at 10:20am. So far, so good as we had visited two of the four waterfalls we had targeted and it was still fairly early in the morning.
Next, we briefly returned to the Tai 9 before going onto the Tai 30 leading us into the Yushan National Park. We were pretty merrily driving the Tai 30 until we saw some kind of closure stuff saying that the road to continue on the Tai 30 would eventually dead-end.
Without knowing full well how far I needed to go before reaching the waterfall's car park, we went past the partial barricade then we drove up the mountain towards the dead-end where there were quite a few cars already parked here. We got up here at about 10:50am. But when we saw the signs here where none of them indicated the Nanan Waterfall, we figured that we had gone too far.
So Mom went ahead and entered the Chinese text in the Garmin GPS, and it turned out that we were a little under 5km overshot so we backtracked at 11am. And when we finally reached the car park for the Nanan Waterfall, Mom and I kept asking ourselves how on earth did we miss this falls?!?!
Well, it probably had something to do with the closure infrastructure right in front of the waterfall's car park. I guess we had paid too much attention to what was in front of us, and didn't realize that the waterfall was right here!
So naturally, we stopped the car at 11:05am, then took ten minutes to briefly walk to the view of the Nanan Waterfall, and then finally got our frontal views of this falls. Unfortunately, there was a hideous sign that was in a spot not far off from the lower part of the main drop of the falls.
There also appeared to have been a way to cross the stream via bridge or something in the past. But now, there was too much rock fall danger so they didn't let anyone go for this spot. So overall, we had spent a few minutes trying to document as much of the falls as possible. There were a couple of bicyclists sharing the view with us though we weren't sure if they were part of the apparent bike race that led to the Taroko Gorge that we were told about at brekkie this morning (good thing we did our Taroko Gorge visit yesterday afternoon).
We got back to the car at 11:30am. This visit was way easy, and we still couldn't figure out how we could've missed this falls, especially since it was visible from the Tai 30 Road!
So we resumed our drive and now we targeted the Luoshan Waterfall. We'd eventually get to the fairly well-signed car park at 12pm. It had a spacious car park and some people were having a lunch at the local cafe there.
When we parked the car and got ready, Mom was talking with some of the locals, and one person in particular was here visiting onsens (hot springs) and waterfalls, and he was giving us suggestions about the waterfalls he was familiar with and which ones we should check out. He even suggested where we should go to check out this particular waterfall that we were at.
But better than his suggestion, he said he was going with us up the steps. It turned out that the wooden stepped "trail" was closed, but we ducked through the barricade and went up. He told us to stay in the middle of the path because there were concrete supports beneath each plank of wood. The further up we walked, the more we realized that the wood was rotting in most places and some had already collapsed.
I could see why they closed this trail.
In any case, we ultimately went up to about the third level of the steps (already starting to sweat bullets due to the heat and humidity) and we got a partial view of the upper tier of the Luoshan Waterfall. I was still curious about where Kirk Beiser got his photo from where he got to see the lower tier as well as the upper tier of the Luoshan Waterfall.
The guy who was with us said going up further was more dangerous. So I went back down first and checked out the more established path. However, after crossing the bridge (there was no view of the falls from down there), the trail went up some steps and seemed to be a bit overgrown.
The trail continued further up even more overgrowth and it was definitely steamy in this part of the jungle canopy. Still, I was holding out hope that this trail would ultimately lead me to a better view of the falls. But after about 15 minutes or so of going up the trail, the GPS track log was telling me that I was still going away from the falls. And so I gave up knowing that this trail was not going to get me a better view of the falls.
By the time I got back down to the car park, I saw Mom and the guy talking with the cafe owner. I went ahead and went back up the wooden steps to explore further to see if this trail would offer up better views than when we were getting initially.
And so I made it back up to the familiar lookout before continuing further up the steps. This time, I made sure to step on the parts of the planks with nails on them since I knew that was where the concrete supports were.
The further into this trail I went, the more the fallen leaves were conspiring to cover up and make it harder to distinguish where the nails were on the planks. Whenever I was in doubt, I stayed in the middle since that was where the concrete supports were (or so I hoped).
Yet throughout the walk, there seemed to be a constant canopy of foliage making it hard to get a clean look at the Luoshan Waterfall. Eventually, I got to a part of the trail that was obliterated by huge rock falls. I managed to scramble through the rock fall to see where the trail went, but eventually it went back down to the shelter near the bridge.
At that point, I knew that I had finished the loop, but there would be no better view of the falls than what we were able to get in the very beginning. And so ended this rather disappointing visit that took much longer than expected. So for all intents and purposes, I guess this waterfall attraction was essentially closed.
It was about 1pm when I rejoined Mom and the guy we met. We had a lunch, and Mom told me that the owners of the cafe here told her that they no longer wanted to maintain the trail since there was an accident that took place here. The only way now to get closer to the falls would be to do a river scramble from the bridge. There was no way I was going to do that given the circumstances.
Then at 1:55pm, we were finally leaving. We definitely stayed here an hour longer than I had hoped, and I doubted that we'd make it to Kenting before the sun would set.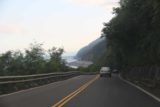 Mom took over the driving, and that allowed me to take a nap. She woke me up around a couple of hours into the drive to show me that we had reached a part of the drive where we were essentially driving along the cliffs somewhere south of Taitung (or Taidong). It wasn't a dicey drive as it was almost always two-lane highway as we were still on the Tai 9, but there was a lot of road work being done for a very long stretch.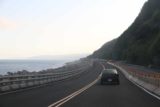 I guess that was the effect of the typhoons that hit the island three times in the span of a couple of weeks (and this wasn't counting the other typhoons that hit the island earlier in the year).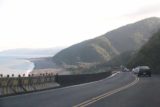 We'd eventually, hit a part of the road that cut through the mountains on the way to the west coast. This winding drive was fairly uneventful as we followed a caravan of cars, but there was one guy who was laid out on the ground unconscious. We guessed that he must've fallen or been struck by a car while riding his scooter on this mountain road.
Once we got on the west coast road (Route 26), we headed south towards Kenting (or Kending). The sunlight was fading fast as the clock struck 5pm. And so we eventually found a large parking lot or pullout at around 5:10pm where we watched the red globe sun sinking into the clouds in the distance.
I guess this would have to do in terms of our sunset experience. Once we got our fill of this, we then continued the drive eventually getting through an already lively night market scene on the main road in Kenting before arriving at the Howard Superior Hotel (or Howard Beach Resort) at 5:45pm.
After getting to our room, which was quite a hike from the reception desk, we spent some time to get settled as well as get used to the large room size. If there was an opportunity to hand wash underwear or dry sweat soaked clothes, it would be this place.
So it wouldn't be until about 6:50pm when we finally started to head out, but since Mom was hungry, she was passive aggressively insisting that we have dinner at the buffet place here (thinking that with a hotel this upscale (by Taiwan standards I guess), that the food should be better than the night market fare).
Well, we wound up eating the buffet dinner, and I think Mom finally came around to admitting that the food was terrible. At least we got to catch the last bit of some live performance, but other than that, it was probably a waste of money and time.
So it wasn't until about 7:50pm that we left the restaurant and took the golf cart shuttle to the front of the property where we then started walking in the westerly direction towards the Kenting Night Market. At that point, the night market started off slow as there were a handful of food and curio stands, including one that was the so-called Reggae Cafe or something like that with lots of Bob Marley pictures and seemingly aiming to attract foreign customers.
And we went further west along the Kenting Road, the night market became more crowded and atmospheric. One thing that Mom and I noticed about this night market was that we were definitely one of the older people strolling around. So while Kenting had a youthful vibe to it, we were definitely feeling like something akin to two old fogies rocking up to a Gwen Stefani Concert or something like that.
Even though we were fully stuffed, we did manage to pick up an ice cream soft serve (which was icy and not very good; nothing like the Japanese quality we had been used to) as well as a stinky tofu on the way back. It was a fun walk and I think we wound up walking between 3-4km.
We didn't realize that Kenting attracted quite a foreign crowd even though we were clear on the opposite end of Taiwan than Taipei. Yet we saw quite a few of them, and it seemed like some of them were game to try some of the Taiwanese small eats that would make most of them hesitant like stinky tofu.
As happening and electric was the Kenting Night Market, it was too bad that there was a lot of road traffic passing right through the middle of the tented stands flanking the road. If it was a pedestrian-only night market, then this place would be even more atmospheric and quite the place to be.
Eventually by about 9:30pm, we were finally back at the room. It was the end to a very long driving day, and tomorrow, we'd b starting our deliberate movement back to the north to complete the Taiwan round-the-island loop.
Visitor Comments:
Got something you'd like to share or say to keep the conversation going? Feel free to leave a comment below...
No users have replied to the content on this page