Day 15 (October 27, 2016 – Hualien, Taiwan): "The China Boycott Effect"
It was about 4:45am when I awoke without the alarm. Surprisingly, I wasn't too groggy after sleeping past midnight last night. I'm sure the tea that I had during dinner didn't help my cause. However, when I went back to the laundry area to get the clothes, I was shocked to see that the dark clothes were still wet and inside the wash! Plus, the whites that were hang drying weren't really dry either.
I knew that we were supposed to use the lower humidity from the room ACs to help the quick dry clothes to dry, but I wanted to trust Uncle who insisted that he'd take care of the hang drying since he had been doing this for years.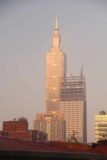 Well, since Mom and I weren't going to the train station until after 6:30am, we still had about an hour to try to figure out how to spend this hour to dry our clothes as much as possible before continuing on with our journey.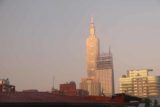 The plan was to take the train from the Songsan Station in Taipei to Hualien, which was a two-hour train ride leaving at 7:27am. From Hualien, we'd then pick up the rental car and self-drive back to the Taroko Gorge to do a bit of sightseeing and perhaps a little hiking before going back to the Qingshui Cliffs, and then back to Hualien to spend the night.
We Facetimed Julie and Tahia at about 6am since I had some idle time while trying to give the clothes a little more time to dry, but then when the call was over, we had no choice but to pack up our clothes (damp and all) then take a taxi to the Songsan Train Station.
Once at the Songsan Train Station, it was already humid inside the train platform area. We picked up some Taiwanese breakfasts on the go (basically pork sung inside rice as well as some warm soy milk) and promptly ate most of it before we finally got onto the train (which was apparently some kind of Taroko Tourist Train) at the expected time of 7:27am.
The train was already quite occupied, and there was very limited space for our luggage. That said, we still made it work as Mom and I were assigned separate seats, but she worked out with other folks for us to be sitting together while keeping the lady in front of us and her elderly mother sitting together.
Then, the train took off as scheduled, and we were pretty much engaged in a bit of Mom's storytelling of how the scenery we were seeing out the window of the train brought back some childhood memories of hers. And so she serenaded me with numerous family stories from where Dad and her met and hung out as well as her upbringing in the Keelung area while she'd frequently visit her grandparents at Yilan or Su'ao (which was where the train was headed on the way to Hualien).
The weather was gorgeous at this time of day, and it really made me wish that we had the freedom to drive at this time where we could stop almost any time we wanted to and enjoy the scenery that was all around us. I made a bit of a futile effort to try to take photographs from within the train, but there were too many objects flying before us in the foreground making the photos ops either ruined or very limited as the only effective photos I could take involved wide open spaces without anything getting in the way in the foreground.
I couldn't help but notice that there were a lot of foreigners on this train, and clearly the Taroko Gorge had a wide international appeal. It could very well be Taiwan's top natural tourist attraction. So with the good weather that we were seeing this morning, it gave us hope that we ought to be able to enjoy the gorge before the forecasted bad weather would come.
We'd eventually arrive at the Hualien Train Station at about 9:30am. Exiting the train wasn't too bad, but trying to get out of the station was a bit of a zoo as there were bottlenecks at the escalators going down then up to the street level.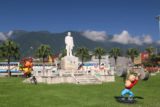 As Mom and I were trying to get oriented, we were pretty much asked by every taxi driver whether we needed help. Mom was pretty saavy about these things, and knew that many of the drivers weren't very honest in that if we did hire a private driver, we'd inevitably be taken "shopping" at one of the drivers' affiliates. Thus, we'd be wasting precious daylight hours let alone precious time in general.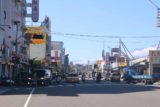 Eventually, we went across the street and saw the car rental place that Mom made a last-minute booking at. And so at around 10:30am after picking up some tourist maps of the Hualien area, we gained the car, loaded up our luggage, tried to work with the newly bought Taiwanese GPS wnad worked our way towards the Taroko Gorge.
Anyways, the rental car turned out to be quite the bargain as apparently this place had a surplus of cars in Hualien that needed to go back to Taipei, which was where we were returning the car some 8 days later. The entire rental was said to cost about 9000 Taiwan Dollars, which amounted to something like $300 USD for the entire 8 days worth of car rental! I think the train tickets alone from Hualien to Kaohsiung would already exceed that amount of money, and we're talking about a 5-hour train ride!
So it was a no brainer to just do a long term hire of the car. After checking for scratches and dents, we got into the air conditioned confines of the car (very welcome since it was so hot and humid), and we drove off.
It took a little getting used to using the Taiwanese GPS (Mom was having quite a bit of trouble to get the device to recognize her character strokes). It also took me a bit of time to get readjusted to driving on the right side of the road while flipping the blinkers instead of windshield wipers.
The turn by turn instructions were completely in Mandarin, and Mom insisted that I stick with the Mandarin setting since it also provided street names to turn at instead of just "turn left" or "turn right" in English or other languages. She also thought that it would force me to use my Chinese (thereby helping me improve or at least retain it).
As we drove into the Taroko Gorge, we saw that the park headquarters were quite busy with tour buses and lots of people walking on bridges and through tunnels. Upon the first bridge after a tunnel that we crossed, we saw there were some smaller waterfalls within view from the bridge, but we really couldn't stop where we wanted to so we kept going knowing that we still needed to get to the Swallow Grotto as well as the Baiyang Waterfall Trail (though that one was known to be closed and we crossed our fingers that it would be open when we'd get there).
Eventually at about 11:25am, we parked the car near the Swallow Grotto section of the Taroko Gorge. There were lots of cars squeezed into a roadside shoulder near the white lined shoulder, but the only spots available were red-lined shoulders, which I guess were really loading and unloading zones. Lots of people were wearing hard hats (in fact it felt like Mom and I plus a couple of other dudes were the only ones not wearing the helmets).
Truth be told, if a rock were to fall and hit us on the head (especially if it's even a fair sized rock), the helmet wouldn't do much to stop us from getting killed. We were well aware of the rock fall danger, and we tried to stay within alcoves or overhangs or tunnels as much as we could. But it was very unnatural to have such access to practically vertical scenery like what we were getting here, and so I guess you gotta take the good with the bad. After all, Nature's beauty is often fatally dangerous at the same time.
After Mom talked with someone working here, we learned that we only had to drive another 600m further to get to a place where we could park the car near some cafe. So we did that, and we finally got out of the car for real at about 11:35am.
We weren't very oriented at first so the first thing we did was to walk in the westerly direction through a handful of more tunnels before we got to a road construction part. At that point, we turned around and headed back the other way, where the signage along with the map sign near the cafe finally got us to realize that we didn't really see the best part of the Swallow Grotto yet.
So we promptly did that as we saw even more waterfalls down inside the gorge itself, where clear waters from the springs were mixing with the muddy waters from the swollen Liwu River resulting from the non-stop thunderstorms and typhoons that battered this part of Taiwan all Summer and Autumn long. And speaking of Autumn, the weather still felt like it was Summer as it was very unusual that Taiwan didn't get cooler by this time of the year.
Perhaps the most impressive of the waterfalls seen in this stretch of the gorge was a triple tiered waterfall where we could only see up to 2 of the 3 tiers at one time. It was really hard to tell if these waterfalls were legitimate or if they were merely ephemeral waterfalls given more life than usual thanks to the saturation rains in this area throughout September and October.
Anyways, we walked as far as the suspension bridge, but a permit was needed to cross the bridge and continue hiking. That hike was said to be a 10km trail, and the weather was already starting to turn more ominous as the budding clouds from this morning was now becoming more of an organized cluster of thunderstorm clouds.
When we had our fill of the Swallow Grotto, we headed back to the cafe where we had ourselves a much needed lunch. We wound up eating a bento box bought from the cafe owners where we parked. Mom figured that the folks living here could use the business even though the food itself wasn't that great.
During the meal, Mom asked about the road conditions towards Tianxiang and towards Baiyang Waterfall. We were told that the road had very restricted access beyond Tianxiang (like 10 free minutes every hour) and that was a time delay that we just couldn't take. That said, we also learned that the Qingshui Cliffs were about less than an hour away from here but we had to act quickly because the weather was turning darker and the colors in the water would go away if they hadn't already.
By about 1:30pm, we were finally back at the car. We made an executive decision to just head back towards the Qingshui Cliffs before checking into to a hotel or guest house since we still hadn't booked anything yet.
As we were making our way out of the Swallow Grotto, we had to get through a construction zone before realizing that we should have U-turned or turned left somewhere along the way. So we promptly did that, waited to get back through the construction zone, and then veered right going into a tunnel that was higher than the Swallow Grotto area.
We'd eventually get to a dam where we saw that one of the falls feeding the mouth of the dam was actually a disjoint series of falls where the uppermost one was way high up the mountain. After that brief stop, we then eventually reached a real-easy-to-miss turnoff just as we were about to enter a tunnel. This turnoff was for the Eternal Spring Shrine, but below the shrine was a very attractive low waterfall spilling right into the rushing Liwu River.
Just as we were getting out of the car to enjoy the Eternal Spring Waterfall at 1:55pm, the rain started coming down pretty hard. The weather indeed turned for the worse at this time of day. We took what shots that we could before seeking shelter in the awning of the cafe down below. Mom and I spent some time taking photos from the shrine and waterfall viewing area, then from the road bridge where we noticed some folks rebelled and crossed the barricade leading up to the shrine right above the waterfalls.
We didn't do such an act of rebellion, but we did manage to get back to the car at about 2:15pm and then we headed right for the Qingshui Cliffs.
We'd eventually get to the Chongde Pullout at 2:35pm, which gave us access to views of the Qingshui Cliffs. But with the dark clouds looming over the high mountains adjacent to Taroko Gorge, the colors of the waters off Qingshui ("Clearwater") were nowhere near as blue and green as I recalled seeing before in the literature.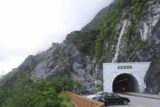 So we walked around the area while Mom noticed stairs leading down to a path where the left path would leave to the beach. But since the beach was closed, we didn't linger here for much longer. When we got back to the car at about 2:50pm, Mom was having some difficulty entering Taiwanese words in the Garmin unit so eventually she entered the info into her smart phone with sim card.
That said, we did make a booking for some place called the East Town 26 Hotel in downtown Hualien. At 1888 Taiwanese Dollars for a night, it wasn't that bad of a price (like about $60 USD). So far we'd been getting away with cheap accommodations, food, and even cheap car rental. I guess the accidental escapade after taking the two-hour train ride from Taipei to here kind of paid off in that respect.
So when all was said and done, we were finally on our way to Hualien, especially after filling up gas. After the gas station fillup, we then relied on the Taiwanese GPS to work our way to the just-booked hotel after finally successfully entering its place name in the unit. Eventually, we'd reach the hotel at around 4:15pm after a grocery store run in Carrefour at 3:40pm.
With that supermarket run, they really made sure that we had to see the entire store before getting down to the groceries as the path routed us through all these clothing areas then appliances, and it wasn't until we had nearly walked the rest of the store and its upper floors did we finally descend down to the actual grocery store part. Still, we managed to stock up on grapes, bananas, a chopped up pineapple, water, etc. Once this was done, we were finally in the city centre and routing straight to the hotel, eventually getting there at 4:35pm.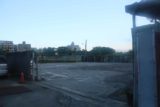 Our parking spot was actually a couple of blocks further down the road so after getting our stuff into our room, we promptly went back to the car and drove a couple of blocks to the dedicated (but open) car park. So we dropped off the car at 4:45pm, and then we went straight to the night markets in Hualien.
While the receptionist said that the Night Market (that she was thinking of) wasn't open until 6pm, we knew from driving towards the hotel that there was a different alleyway full of little food stands as well as souvenirs and clothing shops.
So we wound up at the night market heading further north near the Donghua and Dongsan Roads. Then, we promptly got to the alleyway, and Mom got eye hungry and ended up liking it so much that the employee gave us a bonus chocolate truffle.
The night market experience pretty much consisted of finding a spot to eat, then finding another spot to eat, and so on so forth. The first spot we ate at was some kind of dumpling house. They served up mantous with pork inside it. They also had their version of Xiao long bao (soup dumplins).
When we had our fill of this place, we then continued strolling deeper into this night market and went past some clothing shops before turning right at an intersection and towards another busy street where we ate some more snacks along the way. This time, we tried one fried chicken leg as well as some kind of octobus balls, which had a line, but it was quite tasty as well.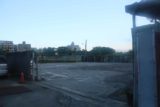 After eating these snacks, we were told that the other night market (which everyone seemed to know about) was further down the alleyway we were walking. The walk was pretty quiet except for scooter traffic, but then we could see that we then walked thorugh a block that was residential, and it was too quiet for my liking.
Still, after going through that quiet block, we then found ourselves going through one of the red-lit archways going into the night market. The signs called this the Nanbin Night Market, but the Chinese characters made it called something totally different (I forgot what Mom told me about this one). The time was 5:45pm.
This particular night market was wider and more modern. It was also way quieter than the night market we had just been to. It had more of a carnival atmosphere as most of the games involved gambling away foreign money Still, that didn't stop Mom and I from sampling some of the foostuffs here. And in this case, we tried beef noodle soup as well as some stinky tofu.
During the beef noodle soup sampling, the owner there was giving Mom some advice on how to best prepare beef noodle soup given that she had a smaller wok while the restaurant had something way bigger. I guess Mom started the conversation by telling him that she tended to make beef noodle soup frequently at some of our family gatherings back at home.
Anyways, part of the appeal of night markets was the electricity from the crowds, but in this particular night market, there was way to much empty spaces, and we figured that this might have had something to do with the China boycott. But when Mom asked why this night market was so quiet, they said that it was now a weekday, but the weekends would be crazy with visitors from Taipei. The owners had to deal with the multiple typhoons afternoon as well as the nonstop rains throughout the Autumn months so far.
At 6:40pm, we had our fill of this rather dead night market, and we were back in our room. After yet another day of long touring, we took this time to eat a few more fruits bought from the supermarket (namely the sweet pineapple that the employees were kind enough to cut for us). We were also drying our damp clothes using the low humidity from the AC, and hopefully by wake-up time tomorrow, we'd be up and out of here very early for the long day ahead of us.
Visitor Comments:
Got something you'd like to share or say to keep the conversation going? Feel free to leave a comment below...
No users have replied to the content on this page