Day 14 (October 26, 2016 – Taipei, Taiwan): "Role Reversal"
It was about 12:35pm when we made it to the Taoyuan Airport (TPE). We got picked up my Mom's older brothers and we were pretty much whisked away from the airport into Taipei. As we were driven from the airport, it immediately felt muggy and hot, and when we were looking out the window from the expressways, we could see how hazy it was as the neighboring hills and mountains couldn't be seen even though they were close.
Indeed, it was as if Summer hadn't left Taiwan even though we were well over a month into Autumn by now. It made me wonder if this was the work of Global Warming or if visiting Taiwan was probably best done in late November and December (i.e. their Winter as opposed to Autumn). In any case, we couldn't control the weather, and we knew that we'd have to plan out what we were going to do for the Taiwan part of the trip. This was especially the case since we didn't pre-book anything – no rental car, no hotels or guest houses, no real sense of what we're doing day by day other than my suggested itinerary that I worked out before the trip.
It felt strange to do a trip without such arrangements made in advance since this was not what Julie and I normally do. But given the weather (and typhoon aftermath situations), it was probably a good thing that we didn't lock ourselves into a set itinerary on this trip.
We made a stop to a Costco along the way (funny, I didn't remember seeing one of these before), but we sought out a Taiwanese GPS so I could at least track where we've been on a map back at home as well as double check against the GPS that would most likely be included in the car rental when we go out and about.
One thing that struck me was that they don't sell Garmin GPS' at Costco. Instead, they sold something called Papago, which was both a GPS as well as a video camera. It dawned on me immediately why they did this – because you'll now have a record of what happened on the road when something happens like an accident. I guess this kind of underscored the inherent riskiness of driving in Taiwan, which we felt wasn't the case in Japan.
I recalled when I was last here that I had seen at least two different accidents. Well, when we got back into the car (not buying anything from Costco), we wound up seeing another fender bender at an intersection in the city.
We finally got settled in at Da-gugu's (Dad's sister's) place in Taipei at 2pm. At that point, we immediately got to washing our clothes, which hadn't been laundered for nearly two weeks. I also got a little caught up on blogging, and Mom went downstairs to a bank to exchange some money.
I was also chatting with Uncle (the husband of Dad's sister) thereby forcing me to practice my Mandarin. There'd definitely be no waterfalling on this day, and I kind of knew that we would need at least a day to get settled anyways. But it's shaping up to be a pretty busy day starting tomorrow as we aimed to take advantage of the decent weather in Eastern Taiwan that was forecasted for tomorrow and possibly the day after. Thereafter, there were no guarantees with the weather and the forecast had called for nonstop rainy days (at least in the east and north) throughout the rest of the trip and beyond if we hadn't taken advantage of the decent weather starting tomorrow…
At 4:30pm, Uncle brought to my attention that there was one of the red globe setting suns in the direction of the Taipei 101 Building. And sure enough, as we looked out the window of his apartment, there was that rare divine scene. So I quickly got my camera and started snapping away to catch the fleeting moment. And at around the same time, Mom had just finished running her errands and started taking photos on her iPhone.
At 5:20pm, Mom and I went downstairs to run more errands while also briefly checking out Taipei 101 in the process. The main purpose for our escapade was that we needed a Taiwan GPS unit to track where we've been in Taiwan on this leg of the trip. So we eventually took a combination of taxi and mass transit to a Garmin dealer in the city. There, we picked up their cheapest GPS unit for road navigation, and then promptly headed to dinner where the rest of the family as well as one of my cousins (who had moved here from the Bay Area; she was the daughter of Da-gugu) was hanging out.
Mom really seemed to be in her element as she was quite familiar with the layout of Taipei. It was quite unusual for me to not have control or do any homework on these things as I had done on all my other trips, but in this case, I was relying on Mom's command of the language as well as all the years she had spent growing up and living in Taipei and Keelung. It was as if she was my tour guide with the local knowledge.
It was interesting to hear her socialize with the cab drivers in a mix of Taiwanese and Mandarin. Clearly, she felt at home along with the added freedom of traveling with me where I'm totally open to wherever she wanted to go as long as we got to see our waterfalls and experienced worthwhile parts of Taiwan. I was pretty much acting as if I was a newbie foreigner (even though I was born here).
Eventually at 6:45pm, we made it to the dinner spot, which seemed like a Taiwan locals joint as there were no foreigners nor English menus. I think the translation of the restaurant name was something to the effect of "Dragon Fresh Park" or something like that. I wasn't sure.
So we had some pretty decent Taiwanese stir fry, soups, and other things that I'm sure my folks enjoyed as they really missed Chinese food after having gone nearly two weeks of all Japanese food. Having all those veggies and fruits were also a welcome change.
At 7:50pm, we were done with dinner, then Mom and I were back out on the road to check out the Raohe Night Market (Yeshi) as well as buy a couple of train tickets to Hualien in advance at the Songsan Station. We took the bus to the Songsan Station, and got near the Raohe Night Market. After booking the earliest train we could get from this station (before 7:30am), we then walked over the Raohe Yeshi, and saw immediately that it was fronted by an impressive temple as well as a bustling flea market type atmosphere fronting the temple's left side beneath an archway.
Anyways, the Raohe Yeshi had a different feel than the high-tech energy and night life of Shibuya or Dontonbori in Japan, but this felt like one of those OG night markets, where apparently it was the Taiwanese that really seemed to have started this phenomenon that now was pretty commonplace in the popular Asian cities from Thailand to mainland China, and even Japan.
We spent some minutes walking a couple of short blocks amongst the tents and heavy foot traffic of the night market, then we decided to wait in line for some kind of bao that apparently this particular night market was known for. I couldn't believe how many people were lining up to check this place out, and I was a bit skeptical about whether this was merely a TripAdvisor phenomenon or whether this really was the real deal for whatever bao this was (turns out they were called hujiao bing or pepper pork buns in English).
After a 20-minute wait (while passing the time socializing with some Americans in front of us), we decided to buy 4 of these buns and take them to go. Then Mom and I checked out the interior of the temple at the mouth of the Raohe Night Market (which I believe was called the Ciyou Temple), where it was quite atmospheric albeit seemingly modern as there was an ATM on the ground floor as well as a section that actually had some AC.
We also saw people tossing wooden blocks onto the ground. Apparently the way this worked was that people would ask a question to the shrine and throw up a couple of blocks, and depending on how they landed, that would be the answer to their questions or requests. It was almost as if it was the Taiwanese version of the Magical 8-ball, where your fortune was pretty much left to chance at that moment.
Apparently, you could buy these blocks and do those deeds, which might explain the ATM in the temple.
Mom and I explored a bit more of the temple as we walked towards its back and then went up the stairs to each of the five floors checking out the different shrines within (each seemingly with different deities) as well as different perspectives of the main part of the temple's architecture. The farther back and the higher up the temple we went, the quieter it seemed, and it definitely contrasted with the chaotic Raohe Night Market scene.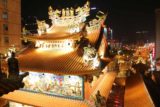 Mom told me that it wasn't unusual to see temples next to happening night markets because temples in Taiwan were like churches in the Western world. They served the purpose of being community centers or gathering places, and thus it would make sense to have a local market as well. It didn't take much imagination to see how local markets would eventually become the night markets that are pretty much ingrained in Taiwanese culture.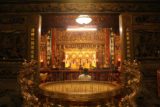 Anyways, it was quite humid on this evening (felt like Summer had never left despite this being well into the middle of Autumn), and so Mom and I were feeling a little sweaty and sticky. Plus, there was a heavy dose of incense smell as each floor had them burning so that couldn't have been good in terms of air quality.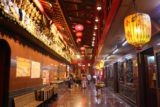 By about 9:20pm, we were taxied from Raohe back to the apartment and finally got back. It had been quite a whirlwind day of touring, but we managed to get a lot accomplished. We wound up spending the next 2-3 hours (sleeping a bit late) planning out the next day of the trip around Hualien as well as Facetiming Tahia back at home and trying out some of the bao we had just bought at the Raohe Night Market.
Given the time pressures of trying to capitalize on the brief moment of decent weather (albeit hot and humid) for the East Coast, I knew this was going to feel like there was no rest for the weary…
With this being such a new experience for me (especially since I'm relinquishing control and now being the one guided by my Mom on an independent trip instead of me doing the guiding or figuring out of what to do), I was apprehensive yet anxiously excited at what tomorrow will bring…
Visitor Comments:
Got something you'd like to share or say to keep the conversation going? Feel free to leave a comment below...
No users have replied to the content on this page