Day 25 (November 6, 2016 – Los Angeles, California): "Unexpected Treasures"
It was 6:35am when I finally awoke on my own. There was a bit of daylight already in the room, and it felt unusual to not be waking up to darkness. But with no sightseeing activities planned for the day (I originally thought that we might pay Mom's late parents a visit), it was pretty much all packing and reminiscing about our experiences with Da Gugu's family.
It wasn't until about 9:05am when I was done packing. It was decided that we would pretty much have an early lunch before being sent by Mom's oldest brother to the airport. Breakfast was pretty much the familiar Taiwanese fare of saobing youtiao with doujiang (heated soy milk) along with some leftover fruits, including an unconsumed Buddha head.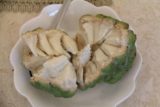 Finally at 10:40am, I went with Da Gugu's husband to take the bus over to the lunch spot somewhere closer to the center of Taipei. The weather was gorgeous, and I wondered to myself why the weather always seemed to be the best on travel days.
When we got out of the bus, what struck me about our walk towards the restaurant was the amount of department stores. I was never a fan of malls, and this brought me back to the days when Julie would take me to these before she finally realized how much I hated shopping. Lots of employees were standing outwards towards a would-be customer anticipating business, and it was a posture you never see in the malls back at home. Must be a cultural thing or something their bosses made these employees do.
Anyways, we got up to the top floor of the building where there was a food court. The restaurant we were about to eat at (called Kaifun) was empty at the time, but we were trusting that the rest of the crew would show up soon enough so as to not create an awkward situation where we'd be occupying a large table with just two people while the rest of the tables were being filled up.
By 11:50am, the parents showed up with Da Agu and Da Gugu. During the lunch, I had just learned from Mom that Da Agu gave her a historical journal written by her Grand Uncle about Keelung. Apparently, he was a journalist writing with the permission of the Japanese government (who was ruling Taiwan at the time) about Keelung. This sounded like we had stumbled upon a historical document, and I wondered if this was better off being given to a museum or university where they can make better use of this. But in the mean time, Mom was going to make copies and try to learn as much as she could from this work. Apparently, Da Agu had other volumes as well.
We wound up with one of those multi-course set lunches, and it was pretty much my last foray into trying Taiwanese food, and thankfully, it wasn't more night market street food (which I was getting a bit tired of at this point). I was into trying the different foods that I knew wouldn't be available back at home.
At 1:10pm, we were done with lunch. After saying our goodbyes to Da Gugu and her husband, Da Agu, took us to the airport. We'd eventually be checking in at the airport at 2:10pm, and then we'd shoot the breeze with Da Agu for one last time before we'd have to get through security and passport control in time to board our 5pm flight.
He was a funny guy as we talked about all sorts of topics, including answering my question about why face masks were so prevalent here. His theory was that in addition to fears of pollution and germs, it was mostly women who wore them, and apparently, the best looking women tended not to wear them while the rest tended to wear them perhaps to keep things a mystery or something. Who knows?
After one last go at having drinks, it was finally time to get into the long security line and get through all the airport formalities. And eventually, our flight would take off pretty much on time at 5pm and actually land at around 12:10pm LA time. However, we wouldn't ultimately be in the terminal until after our scheduled time of 12:40pm, and then we had to get through all the lines concerning passport control, baggage claim, and the last customs line.
When all was said and done, it was 3pm when we finally arrived at Mom and Dad's place. From there, Julie and Tahia would meet up with us here, and then we'd have a welcome back dinner before finally crashing for the night back home. We were exhausted messes since sleeping on the hard seats of a China Airlines flight wasn't easy. But anyways, with work looming the next morning, I knew that I'd be a bit of a jetlagged wreck trying to power through the week. Well, at least they fell back an hour for daylight savings, and it was probably the one time I didn't mind having this pretty useless time shift.
Visitor Comments:
Got something you'd like to share or say to keep the conversation going? Feel free to leave a comment below...
No users have replied to the content on this page