Day 24 (November 5, 2016 – Taipei, Taiwan): "First Time, Long Time"
It was about 5am when I awoke to the alarm. Although we had been habitually waking up at this time every morning, it seemed like as the days passed on this trip, I needed the alarm more and more. I think my body was about done flipping towards Asian time, but tomorrow, we're going home, and I'd have to switch my body back to Pacific Time.
After getting ready for the day and getting caught up on blogging, we were picked up by Mom's oldest brother (Da Agu) at 7am, and now our troop consisted of Dad, Mom, Da Agu, and myself. We were now headed to Shifen Waterfall, which we were anticipating to be the main waterfall attraction (possibly the last one depending on how much time we have to do other things).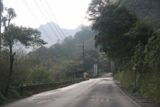 I had brought the Taiwan GPS unit to track where Da Agu was driving since I was no longer driving. This allowed me to take photos from the passenger side of the car, and so I was able to photograph weekend cyclists on the road as well as some of the scenery along the way.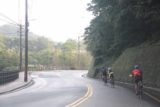 It seemed like the GPS unit was having trouble acquiring the satellites for a good chunk of the beginning of the ride, and I wondered if this had to do with me trying to operate the GPS on battery power instead of bringing along the car charger and GPS mount. It wasn't until I had picked a route for the Shifen pubu that the GPS finally started to track, but even then it had easily lost the signal. So my suspiscions on the poor performance having more to do with the unit operating on battery power instead of alternator power from the car, and I guess we'll have to live with this as I would hold the GPS up to the window whilst riding shotgun.
During the drive, Da Agu was socializing with us, and we learned that he had never visited the Shifen Waterfall after all the years he had been living in Taiwan. He mentioned something about the coal mining heritage of the place and that he was familiar with the area due to his involvement in coal mining and coal exports. But when it came to the falls, he never would have the chance to visit it until now.
At about 8am, we arrived at Lot #3 by the visitor center. But upon realizing that the Shifen Waterfall entrance was not going to open until 9am, we had some time to kill. And when we saw signage saying that there was some "Eyeglasses Waterfall" or Yanjingdong Pubu" nearby, we figured that we mind as well go visit that waterfall while killing time before the Shifen Waterfall opening.
So we promptly got out of Lot #3 and drove over to the lot for the Yangjingdong Pubu, where Da Agu parked on the red line. From there, we walked onto a suspension bridge where the Eyeglasses Waterfall was hard to photograph given the suspension bridge infrastructure.
We'd eventually get to the other side of the bridge where we then went downstairs and saw there was a more interesting view from underneath the suspension bridges framing this Eyeglasses Waterfall, which wasn't particularly big, but it had side distractions to keep us busy admiring the scenery.
We would rock up to what would turn out to be the exit of the Shifen Waterfall Trail (as apparently they encouraged us to hike the trails in one big loop going counterclockwise), but going backwards the way we did seemed to be the way to go. After all, we got to look down at the top of Shifen Waterfall from the exit's closure gate while Dad was showing me on his iPhone
comparisons between Luoshan in Henan province of China versus the stuff we had been seeing in Japan earlier on this trip (as apparently they claim the Japanese bit off of China lots of their culture).
When 9am rolled around, there was some annoyingly repeating announcement pertaining to the opening of the Shifen Waterfall complex. And we immediately went in and started taking pictures of the falls from different positions starting from its brink, where we already started noticing a rainbow.
Then, we followed a Japanese tour group down to the best overlooks providing direct views of the wide falls, where we were seeing an even larger and bolder arcing rainbow. This got us to spend lots of time simply taking pictures of the waterfall and its multi-colored partner. The timing seemed to have been perfect during our visit.
Next, we continued along the walking path providing yet more frontal views of the Shifen Waterfall along with rainbow. There were already lots of people within the shelter lookout, but most of the people came from the Japanese tour group, and when they left, we had a brief moment of taking photos in relative peace until the next big tour group showed up.
Then, the sun started to get blocked by clouds that appeared to be threatening rain. But the rain never delivered. In a way, this event caused some of the tour groups not to linger longer. So we did have stretches of enjoying the falls in relative peace until the next horde showed up. That said, I took advantage of the sudden even lighting from the cloud cover and started taking long exposure shots of the falls.
During our visit, Mom was telling me that the water in the Keelung River was practically black back in the days of Japanese occupation and the subsequent coal mining exploitation. And this was the primary reason why hardly any of Mom's side of the family visited this falls. With this being Da Agu's first ever visit to the Shifen Waterfalls despite he being a resident of Taiwan all his life, I guess you can say that he was a long time resident, first time visitor.
At about 10am we were essentially about done with visiting the waterfall. At that time, there were even more people descending upon the Shifen Falls. Mom, Da Agu, and Dad wound up walking back the way we came via the exit and then walking the road for around 1km or so to get back to the parking lot 3.
Meanwhile, I solo'ed going back up the opposite direction from the official entrance. And upon doing this, I could see that it was non-trivially long. Clearly coming in from the exit was the better way to go than coming in from the official entrance.
Eventually by 10:40am, I made it back to the car park before the parents did. I noticed that it was still hot and muggy on this day, but these were small issues as Mom and I had gotten used to coming back all drenched in sweat throughout this trip. And so it was no different here but at least I didn't have to move as much as I now just waited for the rest of the family to show up.
By 10:45am, the rest of the family showed up with some Taiwanese kebabs (kind of like skewered sausages), and then we got back in the car with its AC and moved towards the Jiufen area, where we sought out the Gold Museum since we didn't have time to do it two days ago. We also decided to skip on the Jiufen Laojie (Old Street) because it was Saturday and we knew it would be crazy crowded there.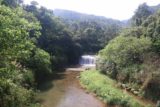 By about 11am, we made a random stop at Randong Xiagu. We were curious to see what it was, and we walked briefly over to a map sign. But when we saw that it was a 40-minute walk to go see some rocks, we skipped this place and kept on ten minutes later.
It wouldn't be until about 11:55am that Da Agu dropped off Mom and I at the Gold Museum entrance. It was crowded and parking at the closest spots was prohibited. So Da Agu and Dad kept each other company at a more distant lot while Mom and I would visit the Gold Museum.
The Gold Museum was really a series of exhibits that you had to pay extra to visit particular sites. Since Mom didn't want Dad and Da Agu to wait for us for too long, we decided to visit just three of the sites. We started off with some kind of four-unit Japanese style living quarters that was reconstructed and restored it.
We actually had to wait for a bit to get in, and then once we were in, we had to watch a video before we were finally able to walk amongst the premises. After having been to Japan, this looked like one of those places where we should take our shoes off, but the staff said that it wasn't necessary. And the reason why was because they had put some kind of rubber mat over the wooden floors.
It was an interesting visit just to see how efficiently the limited space was used, though we had already gotten this sense after making our visit to Japan and seeing how better preserved their heritage sites were (probably because their attitude was to preserve their sites by making you take off your shoes and keep things simple). The Taiwanese take on this was a little less careful. Mom said that some of the thing we saw might not be genuine recreations.
When we were done checking out this four-unit Japanese style dorm, we then walked up towards a different complex where we saw some kind of palace from the outside looking in (another Japanese style unit), and then we walked into a mining tunnel where the footpath essentially followed some tracks (a different paid attraction).
We had to put on hard hats and walk through the tunnel that essentially exhibited statues or dummies of workers engaging in various parts of mining activities. The takeaway from this display was that they worked in difficult conditions and I'm sure safety was not a consideration.
Something that was particularly striking to me was that Mom told me Da Agu was a direct involvement in these mines. Apparently, he once worked in these, but then when we was heavily involved in the coal export industry after the Japanese occupation was over (as the gold was mostly gone), he then was involved managing the logistical operations as an entrepreneur.
So that kind of put a bit of a personal spin to something that would otherwise be a distant historical thing of interest to check out. Now all of the sudden, I was imagining how Da Agu was sharing his stories of how this entire area was once mining focused before it became the tourist attraction that it was now. And it might also explain why he never really bothered to sightsee places in his own backyard as his memories were probably associated with labor and economics.
Places like Shifen Waterfall were something that was a bit of an eye opener for him. Mom told me that for sure he was going to share his experiences with the rest of the family, and that perhaps they would start seeing some of the beauty of Taiwan that they might not have realized all these years.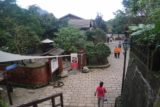 When we were done with the mining tunnel visit, we returned the hard hats and then went into a different exhibit where we went into a building showing off various gold artifacts and trinkets. The main attraction there was a huge gold bar that they let you touch.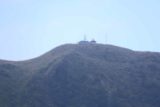 At 1:10pm, we were done with the visit. Da Agu picked us up and then he drove us towards Keelung (Jilong). We would take the scenic route back to the coastline passing by the Huangjin Waterfall once again (though we wouldn't actually stop for it) and then we'd make a couple of random stops along the coastline now that the weather was way better than it was two days ago when we last drove by the coastline here.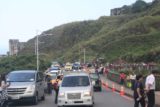 With the afternoon creeping up quickly, we wanted to return to the Miaokou Night Market for a late lunch though this time, it wasn't night time. We'd eventually get back there by about 1:50pm though Da Agu was having trouble finding parking given how busy it was on this Saturday.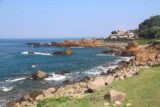 So what he did was drop us off, and then he'd go find an official car park on his own. And as we strolled around the familiar Miaokou Yeshi, we immediately saw that it was a bustling place and still had a similar vibe to its night market version as the focus here was primarily on eating.
And so we went in there getting the familiar treats of some kind shrimp cake, bawan, soups, gua bao, and even a yangleduo (yogurt drink) slush that I indulged in for old times sake.
In addition to eating, I also spent more time checking out the miao (temple), but this time I went upstairs, which like the Ciyou Temple at Raohe Market in Taipei, it was atmospheric in that it got quieter the further into the incense-filled temple I went.
Eventually at the top 2-3 floors, it was pretty much just me and the decorative figurines, walls, doors, etc. It seemed like no space was left untouched in terms of decorations.
Eventually, we had our fill of the eats, and then waited for Da Agu to pick up the car and pick us up. We actually had to wait for a bit because apparently, he was unused to their underground parking system where you had to go through a process of paying for the token before trying to leave, but I guess he thought you could do that right at the gate. And with a chaotic scene down there of people blocking parking spaces and lanes, I'm sure that must've taken forever.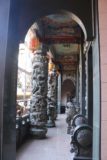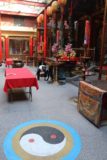 Still, he said it was the first time he had to deal with one of these things (I guess this was another one of those first time experiences for him) and then we were back in the car at 3:10pm.
At 4pm, we were back at Auntie's place in Eastern Taipei. We didn't want to trouble Da Agu anymore as he still had a 45 minute drive back to Taoyuan. So we were dropped off and then perhaps we might see him again one last time tomorrow before we fly out.
As the afternoon progressed, it turned out that the weather was improving and was quite good. And as much as we wanted to just crash for the rest of the day, Mom wanted me to hike with her to Xiangshan, which was where she told me she'd go hiking first thing in the morning by herself pretty often whe she'd stay here.
The payoff? A good view of Taipei 101 building as well as the rest of Taipei.
So I was game to seize the moment and use this late afternoon start as an opportunity to catch the sunset. After all, we were already sweaty and we could clean up and settle down afterwards. So we slapped on the 100% DEET as I knew mozzies would be there, and we promptly started hiking further up a side street near Songshan Lu, and then started going up a series of steps through a park behind a middle school.
Eventually, we'd start to see an area where we could see Taipei 101 and parts of the city between foliage with the setting sun. But the sun was setting behind the hills quickly so when Mom said we should keep going up the steps to a different viewpoint, we did that but I knew that we would not be seeing a setting sun anymore.
In my mind, that was ok because the best time for photos was often the magic hour after the sun had set.
The hike turned out to be quite the sweaty affair as we kept going up steps and eventually arrived at this place called the 6 Big Rocks or something like that. But when we got there, we were surprised to see how packed it was with people. I couldn't believe that with such a long hike to get here, there were this many people, especially foreigners!
Clearly, this was a TripAdvisor or guidebook spot that we had stumbled upon. I never knew Xiangshan was such a place. Nevertheless, Mom was asking some of the youngsters in Chinese why so many people were here. The girl she asked shrugged, but said it must be the sunset and the view (pretty much the obvious). But the more I saw people climbing on the rocks to take selfies or that "I was there" shot with Taipei 101 building behind them, I knew this was a social media magnet spot to indulge in that photo op to make friends jealous.
Neither Mom nor I was into that so we didn't feel the need to queue up for one of the big rocks to pose at. So we went down from this spot and ultimately stumbled upon another viewing area which was probably more superior as a photo spot than the 6 Rocks, but this place was also crazy crowded!
But just as we got there, the color of the skies were changing to more purple and pink while the Taipei 101 building was lighting up. Indeed, the timing was right here, but now we had to squeeze our way into the proper photo spots while also contending with mosquitoes that suddenly wouldn't leave me alone even though I had DEET on (I suspected that my sweat might have washed some of it off).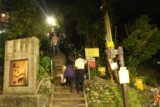 And so without a tripod and lots of shoulder-to-shoulder tightness with young strangers, I took my best long exposure shots to get that sunset shot of Taipei before it was too dark for me to hold my breath and stay still for too long.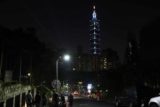 Then, we continued walking back down the endless stairs making sure we don't stumble and take a nasty fall, and it was pretty much all people going in both directions throughout these steps. When we got to the bottom, there was no more twilight as the skies were now black. And at 5:55pm, we caught a cab ride back to Da Gugu's apartment.
By 6:05pm, we were back at Auntie's all exhausted and sweaty and sticky. And so ended this eventful day, where we skipped dinner and pretty much snacked on fruits (kiwis, grapes, and Buddha heads) and pineapple figs while my cousin's family (with Katie, Da Gugu's daughter) came by and we all socialized a bit before it got too late for Katie's daughter Joy to be staying up.
As I was sleeping, Julie and Tahia initialized a Facetime chat at 11:30pm. I was a groggy mess, but I was game to indulge them in the chat as we looked forward to seeing each other. Though I suspect that Tahia was more interested in seeing that Kimono Hello Kitty doll that I had bought for her than she was in seeing me. So I was messing around with her asking what would happen if I donated that Hello Kitty or gave it to Joy?
Finally after that, I was sound asleep. With no planned activities tomorrow other than packing, it was going to be a day where I could finally sleep in for the first time on this trip…
Visitor Comments:
Got something you'd like to share or say to keep the conversation going? Feel free to leave a comment below...
No users have replied to the content on this page