Day 23 (November 4, 2016 – Taipei, Taiwan): "Independence Movement"
It was about 5:20am when we awoke. To my dismay, it was pouring rain outside, and I started to envision that we'd be having a pretty wet and soggy hike like what we had gone through on our first day of driving in Japan. That soggy day seemed like an eternity ago even though it was only about 3 weeks in the past.
Everyone except me were still asleep as we had all slept a bit late last night. Though in the case of Mom and Er-Agu, it was probably a good thing as they got to catch up and be entertained over one of the Chinese dynasty-era soap operas or movies. I'm sure Er-Agu was very happy to see Mom and so keeping him company here over forcing the issue and checking in late at Yangmingshan was probably the right thing to do.
So it wouldn't be until about 6:20am when everyone was finally up. And for the next 90 minutes or so, we'd be preparing and eating a home-cooked breakfast of watery steamed rice (xifan) with rousong (pork sung), some wrinkled tofu skin, some of last night's garlic shangcang (basically like hot dogs but smaller), and mantou.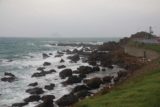 It wouldn't be until 7:50am when we finally got into the car and loaded up our luggages into the car. From that point, we'd eventually catch the Tai-2 in a northwesterly direction (counterclockwise) offering up nice ocean and coastal views along the way even though the day was still very gray.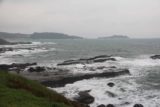 Per the instructions on our Taiwanese Garmin GPS, we'd eventually reach a fairly small road as we left the Tai-2. It wasn't encouraging that we didn't see any signage suggesting that we were headed the right way for the Qingshan Waterfall. Instead, we kept seeing signage for temples.
As we got to a part where the GPS wanted us to make a left turn where there wasn't one, I knew that the GPS took us on the wrong road. So we pulled over to the nearest available sign, popped open an umbrella while rolling down the window on Mom's side (at this point it was pouring rain), then let Mom look at the map sign.
At the same time, I pulled out the laptop and looked at the research notes and saw that there were supposed to be signs leading to Qingshan Waterfall – the target of this morning's hike. Mom kept insisting that we were supposed to turn right here (i.e. away from the direction of the waterfall) to get to Qingshan Road, but I'd been in this situation before, and knew that we should drive back down the mountain to the coastal road and then get back to where we were supposed to go in the first place. I knew this especially since there was no Bei 17 Road on the map that Mom looked at. And this was the key road that the research notes suggested we should be following all the way to the falls. We had been taking Bei 18 or Bei 15 during our GPS-induced joyride.
Mom and I had been through a handful of these events (though we each time, she kept pushing my buttons and driving me nuts as a backseat driver), where she kept insisting she was correct, but I stuck to my guns and went back down the way we came. As we did so, we now started to encounter some kind of disaster preparedness drill (of the nuclear or earthquake variety or something), and the locals with some police were about to close some of the roads we had to take to get back!
Luckily, they didn't stop us, but at Mom's insistance, we asked them where Qingshan Waterfall was. Sure enough, there was nice young man who answered our question and pretty much suggested that since we didn't know the roads, we should go back down to the coastal road instead of taking a more direct local route that cut across the mountainous roads to the North (Bei) 17 Road.
So we thanked him and followed his advice. Eventually once we were on the main road again on the Tai 2 coastal road, we'd finally understood the kilometer markers as well as seeing the brown sign saying Qingshan Waterfall. Now why didn't we see this sign when we were heading west? Perhaps, we were too distracted by the GPS giving us wrong directions again though we didn't know it at the time.
Well, at least we now we saw the sign and now we were headed back up the mountain on the North 17 Road. It was a little worrisome that Mom noticed there was some kind of closure or something pertaining to the trail we were about to do, but we were going to push forward regardless.
And as we drove up, at least Mom admitted that I was right in this instance, but those instances where she kept pushing my buttons more and more made me realize that we probably needed a break from each other after these 8 days of self-driving. That was going to happen tonight when I was planning on having dinner with a friend whom I hadn't seen since high school.
So as we continued up the pretty well-signed road, eventually at 9:45am, we finally made it to the trailhead parking for the Qingshan Waterfall. By this time, the rain had calmed down and was now either sprinkling or lightly raining. There were also mozzies buzzing around so I took the time to put on DEET in addition to my waterproof pants (knowing that they weren't very breathable and might make we wet from sweat internally more so than the wetness of the rain externally).
And with that, we walked past the little sheltered food stand and was on the trail which immediately started ascending. As the trail started to level out, we noticed a farm growing veggies by the trail as well as a ditch running alongside the concrete/stone trail. We were pretty sure this ditch was taking some water from the stream responsible for the falls and feeding the veggies here.
Anyways, the trail climbed high enough (inducing us to sweat again despite the relatively cold rain) for us to clearly see that we would be able to see and view the ocean from here though we were hindered by high foliage and the gray skies making the ocean kind of harder to photograph. And as we continued, the trail even had signage that said something like "Falling Rocks. Drive Carefully", which made me wonder whether this was a bad literally Chinglish translation (quite infamous in China) or whether this was once a road, which I somehow doubted (but you never know).
About 1km into the 1.5km trail, the relatively flat trail started to give way to a rocky scramble alongside the stream. The trail was still pretty obvious to follow, but the boulders were slippery and required a bit of care when making our steps. So this took a little longer than earlier on. Plus, the trail climbed somewhat moderately again.
But eventually, we'd make it to the lookout for the Qingshan Waterfall. By the standards of some of the best waterfalls we had seen so far, this one was pretty small though it was pretty decent (I'd give it a 2 or 2.5 tops). It was one where pictures wouldn't do it justice.
I also noticed that there was a continuation of the trail beyond this waterfall. I think those closure signs that we had noticed earlier on pertained to wherever this trail continuation was going. So we were glad that we did this falls, but now I couldn't wait to return the car and get back to not having to deal with vagabonding it as well as dealing with the Taipei traffic, which I knew we'd be facing on this last bit of driving adventure ahead of us.
After having our fill of this waterfall, we went back down the trail (luckily, the weather had held up and decided not to pour on us the whole time). Now, we started to see more and more people on the trail. Some were asking Mom about the trail closure, and she set them straight. And by 11:20am, we were back at the car where we now saw that the lot was full with at least a half-dozen or more vehicles from the two (including us) when we got started. And there were still more than a handful of more cars pulling in! Clearly, this place was popular.
Now, we drove back to Taipei (Taibei), but we finished the drive around Yangmingshan and headed west instead of east back the way we came to the expressways. This wound up being more of a scenic route, but the drive was initially enjoyable until we started to enter the sprawling Taibei suburbs and then the city center.
Eventually at 1:10pm, after circling the main Taipei train station a couple of times (with Mom calling the office a couple of times), we would finally try to enter the underground parking lot at the main station. It turned out that this lot only let in people as spots became available (I had dealt with this before in Annecy, France), and so this would take quite a while as the line felt like it never moved forever.
I kept thinking to myself, there'd be no way a foreigner wanting to rent a car would know what to do here because there was no signage suggesting that this place was where we were supposed to return the rental car. We definitely would have been screwed if Mom hadn't been here with me. I guess if you were a foreigner driving here, it'd be best to NOT return the car to Taibei, and I kind of knew that we shouldn't have done this, but somehow Mom thought this was the most convenient way to do this (in terms of taking the train to get back to Auntie's place).
Clearly, this was a miscalculation and it was causing me stress and frustration since I was driving through these chaotic streets while circling the same blocks over and over again. Mom kept pushing my buttons saying I had Dad's mannerisms in these moments, but that was easy for her to say since she got us in this mess by insisting that we return the car in the city center.
The delays were compounded when we got into a queue waiting to even get into the underground car park since it wouldn't let people in until someone had left the car park. I had experienced something like this before in Annecy, but that wait only lasted a few minutes. This one took at least 15 minutes by the time we were finally allowed in (even though we had no intention of parking the car).
Regardless, it was 1:25pm when we finally were inside the car park and waited for the car rental guy to show up. That wouldn't happen until another 5-10 minutes later or so. So in the end, we'd finally be done returning the car and now we had a bunch of luggage to bring around to a place to eat before returning to Auntie's place in the Songshan part of Taibei's east (we were in the west of the city).
So we lugged our belongings around onto the metro (good thing it wasn't rush hour), and then we stopped at this place that was all Chinese but I think was pronounced Jianxianjiajuiandian at 2:20pm. It was apparently a famous Taiwanese snacks place (xaochi) and we had our awkward little lunch of soups, rolls, rice, bamboos, and other things while keeping our belongings close to our side in the small cafe.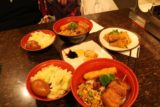 Eventually, we'd be done with this place and then we walked several city blocks until we'd finally return to Auntie's place by 2:55pm. Both of us were sweaty messes from all the walking and carrying luggage, but at least we could finally say we were settled now.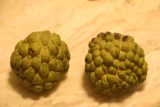 After getting cleaned up and regaling our relatives with stories from the past 8 days while also snacking on a Buddha head, I then went back downstairs and with the help of Auntie, took the Xindian line bus to Taipei 101 where I'd meet my friend Fannie at the DinTaiFung there.
When we met up at 4:45pm, she had already gotten a number to get into the restaurant (where the wait wasn't bad), and we got caught up on each others' lives since we last saw each other in high school some 20+ years ago.
When we were done with the dinner, she had to meet up with her husband in a different part of Taibei so we parted ways. But before doing so, she gave me some night market recommendations to check out, which inspired me to allow myself to get lost a bit, be on my own, and figure out the Taibei public transportation system.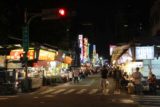 So I started off using the subway, which was pretty easy especially since Mom had me use a youyouka with a decent balance in it. At first, I got off the Songshan station, but when I realized that it was for Raohejie, which was a night market I had seen earlier on with Mom (i.e. the Raohe Night Market), I changed course and checked out Liaoningjie's Night Market.
When I got there at about 7:50pm, I saw that it was pretty small though it was more for food. Since I was stuffed from dinner at DinTaiFung, I didn't eat anything here, but in terms of atmosphere, it was definitely lacking. Then again, perhaps that was what some people prefer more anyways – quality food over the touristy eye candy and lesser quality foods.
I then took the subway and walked to the next night market after seeing on Mom's phone that the Linjiang Night Market was comparable to Raohe Night Market in terms of atmosphere. And when I'd finally rock up to Linjiangjie at 8:25pm, I knew I was in the right place as it was crowded and full of stalls of knockoff stuff as well as lots of foods.
Seeing that this night market was not far from Taipei 101, I had a sense of direction once again though I knew that I'd need to use the bus to get back to Auntie's place when I was done. Nevertheless, I stayed in the moment, and allowed myself to walk in the crowd trying to capture the scene by photos and soak in the sights and sounds that stimulated the senses as only a Taiwanese Night Market could do.
There were quite a few foreigners here though not nearly as many as what Mom and I encountered at Raohejie.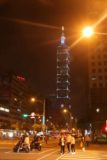 At 8:50pm, I had made the rounds of the Linjiangjie, and then started heading back. At first, I tried to take the 207 bus back from the nearest bus stop, but when I saw the 207 bus skip the station, I knew that I shouldn't bother with this line. And instead, I relied on Mom's phone using GoogleMaps and walked nearly a kilometer to a stop where I knew there were more frequent buses on Xinyi line going back to Auntie's place.
Eventually at 9:35pm, I was back at the apartment a pretty sweaty mess again, but at least I was back where I needed to be, and I regaled my parents and relatives of my little adventure in Taipei's night markets as well as my dinner with Fannie. And so ended this day where I looked forward to the last waterfall(s) of the trip tomorrow, but this time, we'd rely on Mom's oldest brother to bring us around, who knew the Sandiaoling area like the back of his hand…
Visitor Comments:
Got something you'd like to share or say to keep the conversation going? Feel free to leave a comment below...
No users have replied to the content on this page