Day 22 (November 3, 2016 – Keelung, Taiwan): "The Roots"
It was 5am when we I awoke to my alarm. Mom had already been up. It was still dark outside, but we wanted to get freshened up and get our stuff all packed and ready to bring to the car.
The plan was to do the Wufengqi Waterfall first thing in the morning, then come back to the hotel to eat the included breakfast. Then, we would figure out what to do next with the intent of staying either in Keelung or Yangmingshan later on tonight. I thought we would return the rental car tonight, but the more we thought about it, the more we realized that we really should return it the first thing tomorrow morning (when we were scheduled to do it).
So by 6am, the car was all loaded up. And then we were going up the car elevator before leaving for the Wufengqi Waterfall. It was nice to drive on the relatively empty streets this early in the morning. And after a relatively smooth drive, we wound up parking at the official car park at 6:15am for the Wufengqi Waterfalls after seeing that we couldn't park any closer to the trailhead or market (they were for handicapped).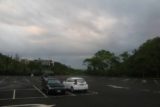 No was there to collect money though I'd imagine that we were supposed to pay some amount to park here.
There were already some people out and about on either hikes, doing morning calesthenics, or taichi. I think of all the countries we've gone traveling, I would have to say that China or Taiwan would have the most early birds out and about before we'd even get started.
So we followed a fairly considerable walk along more roads (for the nearby hotel) before walking towards some small little village area. We would continue following the signs for the Wufengqi Waterfalls, which caused us to go up some steps before making it up to the market where we couldn't park the car except handicapped folks or locals.
Next, after a rock surrounded by pavement, the trail became more of a conventional trail as it narrowed, then crossed a bridge, and reached a junction where the left led to some catholic church while the right led to the Wufengqi Waterfalls. Not far beyond that bridge was what turned out to be the "third" Wufengqi Waterfall, which was fairly small in size. There were a couple of people fishing or doing something before the base of the falls.
We then continued hiking up more steps as Mom and I started to build up a sweat. The air was still yet we felt like we were starting to sweat from the humidity that still remained despite the relatively cold on-and-off rains. It wasn't long before we reached the second Wufengqi Waterfall, which was tall and pretty impressive.
There was a shelter where some locals were doing their taichi thing, and there was one local who was psyching himself up or something (yelling to no one in particular as he was doing some kind of ritual or exercise – just like the folks at the Dajin Waterfall earlier on in the trip).
Mom asked him about going up to the last of the Wufengqi Waterfalls, and he told her that it was possible to go all the way up, but we had to be careful as a result of the rockfall danger (especially with all the unstable slopes resulting from the typhoons) as well as the slippery footing.
After one or two flights of steps, we reached a closure barrier. Recalling what Mom was told earlier by a local, we squeeze between the cliffside and the barricade itself. And thus, we continued on with the main part of this visit, which was for the waterfalls.
We were told that it was about 30 minutes walk from the 2nd Wufengqi Waterfall to the 1st or uppermost of the Wufengqi Waterfalls. At that point, we continued our hike up even more flights of steps. We'd eventually be at nearly eye level with the catholic church at the top of a different trail.
Believe it or not, this catholic church with its white exterior and cross stood out because Taiwan was so full of miaos (temples) with their busy red and gold exteriors. But throughout this Taiwan part of the trip, we've come to realize that these temples were pretty much a dime a dozen.
After climbing what seemed like an endless series of step and switchbacks, we finally got to a ledge where the trail more or less flattened out. Along the way, we could see that there were rock shelters. However, we were also encountering more evidence of unstable earth and landslides in this section.
A couple of sections were noteworthy. One part was where the railings were taken out by some rockfalls, thereby exposing a dropoff hazard. The other was a rockfall shelter that appeared to show signs of buckling as there were landslides that apparently landed atop one of the sheltered rockfall trail cover.
Once we got to the very end of the trail, we were atop a wooden platform with a very impressive view of the third and most beautiful of the three accessible Wufengqi Waterfalls. That wooden platform had some real tricky footing as there were algae atop the moist platform surface. So just maneuvering atop this platform was akin to ice skating as we could take a spill at any moment when our weight distribution wasn't right.
So after having our fill of this waterfall, we returned back to the car park at 7:55am. As tempted as I was to take the spur trail to the catholic church, I decided against it as I knew time was of the essence on this day.
Now, it was 8:10am and it was time to load up on breakfast, which was included in our room rate. We were fortunate that our hike was under calm weather (even though Mom and I were sweating from all the climbing up the steps) because we could see dark clouds coming in the distance, and it was only a matter of time before the rain would come on us once again.
The brekkie at the Jiaoxi City Suites was ok even though they had variety. We'd eventually be back in the car at 9:05am. Mom was trying to figure out how to add minutes to her phone plan as somehow she was running out having only about 1% of her 20GB plan on her sim card, I think. So when we checked out and left the hotel, we took a little bit of a detour to find a place where Mom could figure out how to add some more minutes.
At 9:25am, we managed to find the sim card place. But as expected, it was now raining. It wasn't until about 9:35am when we finally started to leave and continue on with the day. Apparently, Mom's plan still had more free minutes after her current plan would expire so we'd continue on as usual.
Mom actually called the Wulai area and asked if the road was open. Apparently, they said that all the services were open today. And so we decided to head straight for Wulai. Thus, we drove back through the series of tunnels (including the 12km tunnel), and we'd eventually be following the brown signs towards Wulai.
Thus, we were on a winding road following quite a long caravan of cars, taxis, and buses as it was a surprisingly busy drive into the mountains directly south of Taipei. It felt like a long drive, and well, it was for all intents and purposes as we'd finally arrive at the village right at the Wulai Waterfall at 10:55am (after going all the way to the bottom of the village where there wasn't any parking and then heading back up right across the street from the cable car station).
The weather was vacillating between lightly raining and sprinkling when we got out of the car, but we hastily went down the steps and to the very bottom of the village, where there were some lookouts peering directly at the impressive 80m Wulai Waterfall.
Both Mom and I badly needed a potty break, and it turned out that there was a toilet that was one of the more scenic rest stops as it had a viewing area of the Wulai Waterfall right in front of it. Then, after spending a few more minutes documenting the falls from different angles as well as the village itself, we then walked back up the steps and towards the cable car station.
Next, we paid for the cable car and waited for what seemed like at least 15-20 minutes or so before the cable car finally started moving. As we were ascending to the top, we were able to see additional tiers of the Wulai Waterfall as well as up and down the valley in both directions.
When we got to the top, we had some minutes to explore a little bit of the sheltered complex, where we looked upstream at more cascading tiers of the Wulai Waterfall as well as getting birdseye views down the Wulai Valley.
We noticed that there was a huge scar on the opposite side of the valley, and we suspected that after all the typhoons that had happened over the years, that scar must have been a huge landslide that wiped out road access to the falls village.
Well, we expected to get back down to the village at around 12pm but apparently the lady working up there wasn't in much of a hurry. So it wouldn't be until about 12:15pm before we finally made it back to the car so we could back down into the Bitan area so visit the grave of Grandpa on Dad's side of the family. I never got to meet him because he died young in an air force accident at 46 (before I was born).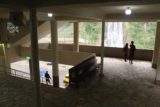 So after driving back north from Wulai towards Bitan, then having a little bit of an adventure driving through the busy streets on the southern edge of Taipei, we'd finally arrive at Grandpa's gravesite. It actually had a pretty nice view towards parts of Taipei, and I saw that there was a building as well as a tower with a logo that looked very much air force like (except I'd imagine it was the Taiwanese Air Force).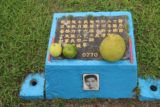 When we got to Grandpa's grave at 12:55pm, sure enough, I saw the familiar photo of Yeye, and there were already candles and a couple of offerings that were probably from Dad. Now, it was our turn to pay our respects and provide offerings though we weren't going to bother with incense sticks nor burning paper money. Those material things didn't matter. But what did matter was understanding my roots while also gaining a better understanding of who Yeye was.
Mom was helping me read out the characters on his gravestone (since I was always keen to learn more Chinese characters), and it read out where he was from, what his squadron was, what his role was, and the event that led to his death. It was actually a surprisingly emotional visit seeing both the family connection, the chain of events that have since happened that resulted in our current lives, and the tragedy that must have been heartbreaking leaving behind Grandma, Dad, Uncle, and two Aunties.
When we were done paying our respects at about 1:05pm, we then headed out towards Keelung, which was where we'd spend the rest of the afternoon before possibly spending the night at Yangmingshan.
And so we next headed northeast towards Keelung. The rain was on and off though it seemed to increase in intensity in spots making me fear for the worst in terms of visiting Jiufen and Huangjin Waterfall in the rain. But we'd eventually make it to a coastal road before heading inland going up a hill and seeing the impressive Huangjin Waterfall up ahead as we were making the switchbacks up towards its base.
Eventually, we'd arrive at the falls where we had a couple of choices to park the car. But just as I was backing up into a spot, a horde of motorcyclists (not scooters) essentially swarmed the car and one of them took the spot I was about to back into. That wasn't a very nice thing to do, but I guess we still had the other spot to back into.
So with a little bit of tricky maneuvering (and being a little more insistent this time before someone else claims that last spot), I finally managed to back into the other spot at about 2pm. Now, we can finally enjoy the falls though the horde of motorcyclists and their loud motors (and one was even flying a drone) kind of took away from the peace a little bit.
Mom was warning me that Taiwan has bikie gangs, and apparently, this was one of them. She told me that it's not wise to start something up with them as we could see their power in numbers. But in any case, we let them do their thing, we did our thing, and when they left, we spent a bit more time simply enjoying the beautifully rivuleted waterfall that was simply too hard to capture in one shot.
We probably had a brief moment of peace before the next wave of taxi drivers, tour buses, and individual drivers rocked up to the falls. Indeed, this was a pretty popular place even though the signage here was all in Chinese as apparently, this place wasn't that well known to the foreign tourist itineraries.
Looking in the opposite direction from the falls, we could see what Mom called Mt Keelung, which was a conical mountain with a small shrine or pagoda near its top. We wouldn't have time to climb up to it for the views, but Mom told me stories of how they'd go up there when she and her siblings were young.
We were also able to see the ocean from here though it was a bit of a partial view. As for the waterfall, although it was very colorful, we knew that there had been a bit of a mining history here so we knew the water was probably polluted as we could smell something in its spray. It had a bit of a sulphur smell though, and I wondered if the coloring of the rocks came from sulphur or if it came from the mining.
Speaking of the mining, Mom was telling me of how during the Japanese occupation of Taiwan, they pretty much took most of the gold and coal from this area (and apparently felled most of Taiwan's trees for their own wooden castles, temples, and palaces back in Japan). This was also where they kept American POWs. Even though she and many Taiwanese felt the Japanese committed war crimes and atrocities, I could see things from the other side where Japan saw what Western countries did in terms of plundering other countries and islands that they managed to occupy and tried to emulate their successes, especially since Japan was resource poor compared to the Western countries whose success they tried to mimick leading up to WWII. So they saw their actions as a necessity as opposed to war crimes. It's yet another example of how it's all a matter of perspective, and there are plenty of these things in the world.
In any case, we wound up back in the car at about 2:30pm. We then headed further up the mountain towards Jiufen. But since I didn't really do my research on this historic mining town, I really had no clue what was worth stopping for. And now that time was running out as one of Mom's older brothers was waiting for us back at Keelung to hang out with us for the evening, our time to visit this place was hence limited as well.
So we ultimately decided that we should check out the Jiufen Laojie (Jiufen's Old Street). When we finally found parking near a cemetery at 2:45pm, we then walked about 5-10 minutes down to the Jiufen Laojie, where we saw hordes of people squeezing their way through the busy yet atmospheric alleyways.
Like with other atmospheric alleyways (like Sanmachi in Takayama, Japan), this one was basically a made-for-tourist marketplace kind of like a yeshi (night market) or a medina in Morocco. It was too bad we had to rush through this and skip the Gold Museum (which apparently was an outdoor museum of preserved mining buildings and homes), but the atmosphere and energy was undeniable.
In fact, there were quite a few foreign tourists here, and we figured that after all the touring we've done for waterfalls (where foreign tourists were few and far between), it seemed like this was tourist central in this part of Taiwan.
When we were headed back to the car, we stopped at a lookout where we got commanding views towards the mountain-hugging town (reminiscent of those Greek towns clinging to the mountains or Las Alpujarras in Spain) as well as towards the Pacific Ocean. The rain was once again coming on and off, but with this essentially the end of our taste of Jiufen, the time was now to head back to the car as it seemed even more buses and tourists were descending upon this place.
I'd hate to imagine how much of a zoo this place would be on the weekends if it was already this crazy on a Thursday! That said, it was fun.
By about 3:30pm, we were back at the car. Now, it was time to head deeper into Keelung, but this time we wanted to take the scenic route along the coastline. So we rebelled against the GPS, which wanted us to head right into central Keelung, and we wound up on the coastal road making a few stops along the way.
One thing I noticed about the coastline here in Keelung was that they had those concrete jacks like what we saw in Northern Honshu near Tottori. I suspected that these were for wave breaks and that they'd help break storm surges (especially during typhoons) and possibly tsunamis.
At 4pm, we made a particular stop at the end of one of the peninsulas where we were able to look back across the bay towards Jiufen and Mt Keelung. At the same time, we were able to look across the other way towards Keelung with Yangmingshan in the distance.
It was quite windy at this spot, but we saw a whole group of school kids having fun running around as well as quite a few lovers and younger folks taking pictures or making out. I guess with so many places we've seen in our Grand Tour of Taiwan having place names like Qingren, having that as a place name here seemed to make a lot of sense.
At 4:15pm, we were back in the car and we continued driving deeper in the Central Keelung. Mom had routed to the Keelung Train Station but in hindsight, it probably wasn't a wise move. Instead, we should have put in Mom's second oldest brother's address directly in the Garmin GPS in Chinese, and then we'd have a better time navigating than using the GoogleMaps, which seemed to be off in our experiences.
So after aimlessly driving through Keelung's rush hour traffic, we'd eventually make it to Mom's Brother's place (whom we called Er-Agu) at 4:50pm, and we'd be parking in his spot after our bit of adventure through the city center.
After chatting it up with Er-Agu and his wife (even having a brief Facetime chat with cousin Nicole whom we last saw in Melbourne, Australia back in 2006), at 6pm, Er-Agu, Mom, and I took a cab right into the heart of downtown Keelung (I should probably be saying Jilong at this point since the Taiwanese Romanization of Chinese was terrible compared to Pinyin) where we'd go to the Miao-kou (Temple Mouth), where there was a yeshi (night market). With a Keelung local (i.e. Mom's older brother), I was confident that we'd be hitting the best or most reliable food stalls in there.
And just as we were getting started with our foodie tour of Keelung's night market (which Mom had built up my expectations for after trying out the yeshis in Taipei, Hualien, Kenting, Kaohsiung, and Tainan and claiming they don't hold a stick towards this night market), we ran into my cousin Jennifer, who was just coming back from her trip to Japan with her family (as one of her sons was working temporarily over there).
What are the odds of this happening? After all, the Keelung Night Market turned out to be about three city blocks so it wasn't exactly a small place. I guess it was just meant to be.
So even though Jennifer had already eaten, now the four of us were touring the night market going from one food stall to the next going after the comfort foods that my Mom had built up my expectations high for. And so we had various soups, oyster omelette, gua bao, some Taiwanese desserts, and more. I even indulged my sweet tooth by having a yangleduo slush, which was something I hadn't touched in many years. This was pretty much our dinner as we had skipped lunch earlier in the day.
It was quite a fun visit, and I even managed to visit a temple within this night market area though I couldn't keep them waiting for me for too long so I had cut my visit short and didn't bother going upstairs.
Eventually, we were totally stuffed and parted ways a little before 8pm. Jennifer walked back to her relative's place while we caught a cab to go back to Er Agu's place. At that point, we regained our cars, and then Er-Agu had us follow his car as he wound up driving us towards his other place, which apparently no one lived in as it was too far outside the city center.
At about 8:25pm, we finally arrived at Er-Agu's bigger place, and Mom had level set my expectations of this place as she told me how Er-Agu decked out this house with a lot of works of arts and used marble flooring, etc. Sure enough, as we went inside, this place was practically a living museum!
I kind of knew that we weren't going to be driving this late at night to check into an onsen place in Yangmingshan as Er-Agu wasn't going to let Mom spend money and stay in some other place when he had this place for us to use. He also wasn't going to let Mom pay for anything when it came to the yeshi food. Indeed, I guess Mom would always be the little sister to all her siblings as she was the youngest.
And so by 9:05pm, we brought in our luggages and got settled after being oriented to the first four floors of this palatial accommodation. Unfortunately, there was no WiFi so I couldn't readily communicate with a classmate whom I hadn't seen in years that I was planning to meet on Friday night and do a hike on Saturday morning.
Thus ended a very eventful day. Tomorrow morning, we were planning to do a waterfall hike in Yangmingshan as well as possibly visiting the Laomei Reef. But afterwards, we'd head right into the chaos of Taipei (pinyin = Taibei) to return the rental car. And then, we'll figure out how to spend the rest of the trip while relying on public transport in the Taipei area…
Visitor Comments:
Got something you'd like to share or say to keep the conversation going? Feel free to leave a comment below...
No users have replied to the content on this page