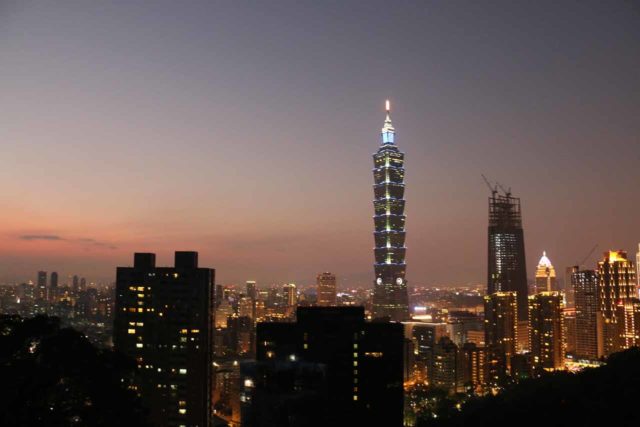 26-October 2016 to 6-November 2016:
The drive felt surprisingly long, and when we were getting close to Tainan, at around 1:15pm, I thought it was just a matter of time before we'd be at our hotel and be in position to just walk about town seeing the city's main sights. However, we had trouble entering into the Taiwanese Garmin GPS the accommodation that Mom had booked on Friday night, and when she finally started getting a handle on the location of the accommodation on her iPhone, that was when I realized that we weren't staying within reasonable reach of the city center of Tainan.
Instead, Mom thought that we should be staying around Anping Fort as she somehow latched onto this place thinking that I was interested in it though I had no idea how she came to that conclusion. So when we finally got to the accommodation called the Wei-Yat Grand Hotel at 1:55pm, we were then told that check-in wasn't until 3pm so we just left most of our luggage at the lobby then quickly headed out as time (in terms of daylight and attraction closures) was running out. It was frustrating that what we once perceived as having a lot of time when we had finished the Maolin Valley Waterfall was now a race against time…
Day 14 (October 26, 2016 – Taipei, Taiwan): "Role Reversal"
It was about 12:35pm when we made it to the Taoyuan Airport (TPE). We got picked up my Mom's older brothers and we were pretty much whisked away from the airport into Taipei. As we were driven from the airport, it immediately felt muggy and hot, and when we were looking out the window from the expressways, we could see how hazy it was as the neighboring hills and mountains couldn't be seen even though they were close.
Indeed, it was as if Summer hadn't left Taiwan even though we were well over a month into Autumn by now. It made me wonder if this was the work of Global Warming or if visiting Taiwan was probably best done in late November and December (i.e. their Winter as opposed to Autumn). In any case, we couldn't control the weather, and we knew that we'd have to plan out what we were going to do for the Taiwan part of the trip. This was especially the case since we didn't pre-book anything – no rental car, no hotels or guest houses, no real sense of what we're doing day by day other than my suggested itinerary that I worked out before the trip.
It felt strange to do a trip without such arrangements made in advance since this was not what Julie and I normally do. But given the weather (and typhoon aftermath situations), it was probably a good thing that we didn't lock ourselves into a set itinerary on this trip.
We made a stop to a Costco along the way (funny, I didn't remember seeing one of these before), but we sought out a Taiwanese GPS so I could at least track where we've been on a map back at home as well as double check against the GPS that would most likely be included in the car rental when we go out and about.
One thing that struck me was that they don't sell Garmin GPS' at Costco. Instead, they sold something called Papago, which was both a GPS as well as a video camera. It dawned on me immediately why they did this – because you'll now have a record of what happened on the road when something happens like an accident. I guess this kind of underscored the inherent riskiness of driving in Taiwan, which we felt wasn't the case in Japan.
I recalled when I was last here that I had seen at least two different accidents. Well, when we got back into the car (not buying anything from Costco), we wound up seeing another fender bender at an intersection in the city.
We finally got settled in at Da-gugu's (Dad's sister's) place in Taipei at 2pm. At that point, we immediately got to washing our clothes, which hadn't been laundered for nearly two weeks. I also got a little caught up on blogging, and Mom went downstairs to a bank to exchange some money.
I was also chatting with Uncle (the husband of Dad's sister) thereby forcing me to practice my Mandarin. There'd definitely be no waterfalling on this day, and I kind of knew that we would need at least a day to get settled anyways. But it's shaping up to be a pretty busy day starting tomorrow as we aimed to take advantage of the decent weather in Eastern Taiwan that was forecasted for tomorrow and possibly the day after. Thereafter, there were no guarantees with the weather and the forecast had called for nonstop rainy days (at least in the east and north) throughout the rest of the trip and beyond if we hadn't taken advantage of the decent weather starting tomorrow…
At 4:30pm, Uncle brought to my attention that there was one of the red globe setting suns in the direction of the Taipei 101 Building. And sure enough, as we looked out the window of his apartment, there was that rare divine scene. So I quickly got my camera and started snapping away to catch the fleeting moment. And at around the same time, Mom had just finished running her errands and started taking photos on her iPhone.
At 5:20pm, Mom and I went downstairs to run more errands while also briefly checking out Taipei 101 in the process. The main purpose for our escapade was that we needed a Taiwan GPS unit to track where we've been in Taiwan on this leg of the trip. So we eventually took a combination of taxi and mass transit to a Garmin dealer in the city. There, we picked up their cheapest GPS unit for road navigation, and then promptly headed to dinner where the rest of the family as well as one of my cousins (who had moved here from the Bay Area; she was the daughter of Da-gugu) was hanging out.
Mom really seemed to be in her element as she was quite familiar with the layout of Taipei. It was quite unusual for me to not have control or do any homework on these things as I had done on all my other trips, but in this case, I was relying on Mom's command of the language as well as all the years she had spent growing up and living in Taipei and Keelung. It was as if she was my tour guide with the local knowledge.
It was interesting to hear her socialize with the cab drivers in a mix of Taiwanese and Mandarin. Clearly, she felt at home along with the added freedom of traveling with me where I'm totally open to wherever she wanted to go as long as we got to see our waterfalls and experienced worthwhile parts of Taiwan. I was pretty much acting as if I was a newbie foreigner (even though I was born here).
Eventually at 6:45pm, we made it to the dinner spot, which seemed like a Taiwan locals joint as there were no foreigners nor English menus. I think the translation of the restaurant name was something to the effect of "Dragon Fresh Park" or something like that. I wasn't sure.
So we had some pretty decent Taiwanese stir fry, soups, and other things that I'm sure my folks enjoyed as they really missed Chinese food after having gone nearly two weeks of all Japanese food. Having all those veggies and fruits were also a welcome change.
At 7:50pm, we were done with dinner, then Mom and I were back out on the road to check out the Raohe Night Market (Yeshi) as well as buy a couple of train tickets to Hualien in advance at the Songsan Station. We took the bus to the Songsan Station, and got near the Raohe Night Market. After booking the earliest train we could get from this station (before 7:30am), we then walked over the Raohe Yeshi, and saw immediately that it was fronted by an impressive temple as well as a bustling flea market type atmosphere fronting the temple's left side beneath an archway.
Anyways, the Raohe Yeshi had a different feel than the high-tech energy and night life of Shibuya or Dontonbori in Japan, but this felt like one of those OG night markets, where apparently it was the Taiwanese that really seemed to have started this phenomenon that now was pretty commonplace in the popular Asian cities from Thailand to mainland China, and even Japan.
We spent some minutes walking a couple of short blocks amongst the tents and heavy foot traffic of the night market, then we decided to wait in line for some kind of bao that apparently this particular night market was known for. I couldn't believe how many people were lining up to check this place out, and I was a bit skeptical about whether this was merely a TripAdvisor phenomenon or whether this really was the real deal for whatever bao this was (turns out they were called hujiao bing or pepper pork buns in English).
After a 20-minute wait (while passing the time socializing with some Americans in front of us), we decided to buy 4 of these buns and take them to go. Then Mom and I checked out the interior of the temple at the mouth of the Raohe Night Market (which I believe was called the Ciyou Temple), where it was quite atmospheric albeit seemingly modern as there was an ATM on the ground floor as well as a section that actually had some AC.
We also saw people tossing wooden blocks onto the ground. Apparently the way this worked was that people would ask a question to the shrine and throw up a couple of blocks, and depending on how they landed, that would be the answer to their questions or requests. It was almost as if it was the Taiwanese version of the Magical 8-ball, where your fortune was pretty much left to chance at that moment.
Apparently, you could buy these blocks and do those deeds, which might explain the ATM in the temple.
Mom and I explored a bit more of the temple as we walked towards its back and then went up the stairs to each of the five floors checking out the different shrines within (each seemingly with different deities) as well as different perspectives of the main part of the temple's architecture. The farther back and the higher up the temple we went, the quieter it seemed, and it definitely contrasted with the chaotic Raohe Night Market scene.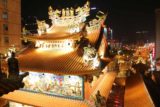 Mom told me that it wasn't unusual to see temples next to happening night markets because temples in Taiwan were like churches in the Western world. They served the purpose of being community centers or gathering places, and thus it would make sense to have a local market as well. It didn't take much imagination to see how local markets would eventually become the night markets that are pretty much ingrained in Taiwanese culture.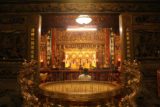 Anyways, it was quite humid on this evening (felt like Summer had never left despite this being well into the middle of Autumn), and so Mom and I were feeling a little sweaty and sticky. Plus, there was a heavy dose of incense smell as each floor had them burning so that couldn't have been good in terms of air quality.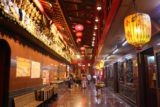 By about 9:20pm, we were taxied from Raohe back to the apartment and finally got back. It had been quite a whirlwind day of touring, but we managed to get a lot accomplished. We wound up spending the next 2-3 hours (sleeping a bit late) planning out the next day of the trip around Hualien as well as Facetiming Tahia back at home and trying out some of the bao we had just bought at the Raohe Night Market.
Given the time pressures of trying to capitalize on the brief moment of decent weather (albeit hot and humid) for the East Coast, I knew this was going to feel like there was no rest for the weary…
With this being such a new experience for me (especially since I'm relinquishing control and now being the one guided by my Mom on an independent trip instead of me doing the guiding or figuring out of what to do), I was apprehensive yet anxiously excited at what tomorrow will bring…
Day 15 (October 27, 2016 – Hualien, Taiwan): "The China Boycott Effect"
It was about 4:45am when I awoke without the alarm. Surprisingly, I wasn't too groggy after sleeping past midnight last night. I'm sure the tea that I had during dinner didn't help my cause. However, when I went back to the laundry area to get the clothes, I was shocked to see that the dark clothes were still wet and inside the wash! Plus, the whites that were hang drying weren't really dry either.
I knew that we were supposed to use the lower humidity from the room ACs to help the quick dry clothes to dry, but I wanted to trust Uncle who insisted that he'd take care of the hang drying since he had been doing this for years.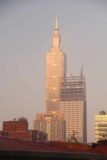 Well, since Mom and I weren't going to the train station until after 6:30am, we still had about an hour to try to figure out how to spend this hour to dry our clothes as much as possible before continuing on with our journey.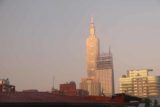 The plan was to take the train from the Songsan Station in Taipei to Hualien, which was a two-hour train ride leaving at 7:27am. From Hualien, we'd then pick up the rental car and self-drive back to the Taroko Gorge to do a bit of sightseeing and perhaps a little hiking before going back to the Qingshui Cliffs, and then back to Hualien to spend the night.
We Facetimed Julie and Tahia at about 6am since I had some idle time while trying to give the clothes a little more time to dry, but then when the call was over, we had no choice but to pack up our clothes (damp and all) then take a taxi to the Songsan Train Station.
Once at the Songsan Train Station, it was already humid inside the train platform area. We picked up some Taiwanese breakfasts on the go (basically pork sung inside rice as well as some warm soy milk) and promptly ate most of it before we finally got onto the train (which was apparently some kind of Taroko Tourist Train) at the expected time of 7:27am.
The train was already quite occupied, and there was very limited space for our luggage. That said, we still made it work as Mom and I were assigned separate seats, but she worked out with other folks for us to be sitting together while keeping the lady in front of us and her elderly mother sitting together.
Then, the train took off as scheduled, and we were pretty much engaged in a bit of Mom's storytelling of how the scenery we were seeing out the window of the train brought back some childhood memories of hers. And so she serenaded me with numerous family stories from where Dad and her met and hung out as well as her upbringing in the Keelung area while she'd frequently visit her grandparents at Yilan or Su'ao (which was where the train was headed on the way to Hualien).
The weather was gorgeous at this time of day, and it really made me wish that we had the freedom to drive at this time where we could stop almost any time we wanted to and enjoy the scenery that was all around us. I made a bit of a futile effort to try to take photographs from within the train, but there were too many objects flying before us in the foreground making the photos ops either ruined or very limited as the only effective photos I could take involved wide open spaces without anything getting in the way in the foreground.
I couldn't help but notice that there were a lot of foreigners on this train, and clearly the Taroko Gorge had a wide international appeal. It could very well be Taiwan's top natural tourist attraction. So with the good weather that we were seeing this morning, it gave us hope that we ought to be able to enjoy the gorge before the forecasted bad weather would come.
We'd eventually arrive at the Hualien Train Station at about 9:30am. Exiting the train wasn't too bad, but trying to get out of the station was a bit of a zoo as there were bottlenecks at the escalators going down then up to the street level.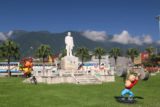 As Mom and I were trying to get oriented, we were pretty much asked by every taxi driver whether we needed help. Mom was pretty saavy about these things, and knew that many of the drivers weren't very honest in that if we did hire a private driver, we'd inevitably be taken "shopping" at one of the drivers' affiliates. Thus, we'd be wasting precious daylight hours let alone precious time in general.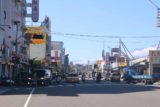 Eventually, we went across the street and saw the car rental place that Mom made a last-minute booking at. And so at around 10:30am after picking up some tourist maps of the Hualien area, we gained the car, loaded up our luggage, tried to work with the newly bought Taiwanese GPS wnad worked our way towards the Taroko Gorge.
Anyways, the rental car turned out to be quite the bargain as apparently this place had a surplus of cars in Hualien that needed to go back to Taipei, which was where we were returning the car some 8 days later. The entire rental was said to cost about 9000 Taiwan Dollars, which amounted to something like $300 USD for the entire 8 days worth of car rental! I think the train tickets alone from Hualien to Kaohsiung would already exceed that amount of money, and we're talking about a 5-hour train ride!
So it was a no brainer to just do a long term hire of the car. After checking for scratches and dents, we got into the air conditioned confines of the car (very welcome since it was so hot and humid), and we drove off.
It took a little getting used to using the Taiwanese GPS (Mom was having quite a bit of trouble to get the device to recognize her character strokes). It also took me a bit of time to get readjusted to driving on the right side of the road while flipping the blinkers instead of windshield wipers.
The turn by turn instructions were completely in Mandarin, and Mom insisted that I stick with the Mandarin setting since it also provided street names to turn at instead of just "turn left" or "turn right" in English or other languages. She also thought that it would force me to use my Chinese (thereby helping me improve or at least retain it).
As we drove into the Taroko Gorge, we saw that the park headquarters were quite busy with tour buses and lots of people walking on bridges and through tunnels. Upon the first bridge after a tunnel that we crossed, we saw there were some smaller waterfalls within view from the bridge, but we really couldn't stop where we wanted to so we kept going knowing that we still needed to get to the Swallow Grotto as well as the Baiyang Waterfall Trail (though that one was known to be closed and we crossed our fingers that it would be open when we'd get there).
Eventually at about 11:25am, we parked the car near the Swallow Grotto section of the Taroko Gorge. There were lots of cars squeezed into a roadside shoulder near the white lined shoulder, but the only spots available were red-lined shoulders, which I guess were really loading and unloading zones. Lots of people were wearing hard hats (in fact it felt like Mom and I plus a couple of other dudes were the only ones not wearing the helmets).
Truth be told, if a rock were to fall and hit us on the head (especially if it's even a fair sized rock), the helmet wouldn't do much to stop us from getting killed. We were well aware of the rock fall danger, and we tried to stay within alcoves or overhangs or tunnels as much as we could. But it was very unnatural to have such access to practically vertical scenery like what we were getting here, and so I guess you gotta take the good with the bad. After all, Nature's beauty is often fatally dangerous at the same time.
After Mom talked with someone working here, we learned that we only had to drive another 600m further to get to a place where we could park the car near some cafe. So we did that, and we finally got out of the car for real at about 11:35am.
We weren't very oriented at first so the first thing we did was to walk in the westerly direction through a handful of more tunnels before we got to a road construction part. At that point, we turned around and headed back the other way, where the signage along with the map sign near the cafe finally got us to realize that we didn't really see the best part of the Swallow Grotto yet.
So we promptly did that as we saw even more waterfalls down inside the gorge itself, where clear waters from the springs were mixing with the muddy waters from the swollen Liwu River resulting from the non-stop thunderstorms and typhoons that battered this part of Taiwan all Summer and Autumn long. And speaking of Autumn, the weather still felt like it was Summer as it was very unusual that Taiwan didn't get cooler by this time of the year.
Perhaps the most impressive of the waterfalls seen in this stretch of the gorge was a triple tiered waterfall where we could only see up to 2 of the 3 tiers at one time. It was really hard to tell if these waterfalls were legitimate or if they were merely ephemeral waterfalls given more life than usual thanks to the saturation rains in this area throughout September and October.
Anyways, we walked as far as the suspension bridge, but a permit was needed to cross the bridge and continue hiking. That hike was said to be a 10km trail, and the weather was already starting to turn more ominous as the budding clouds from this morning was now becoming more of an organized cluster of thunderstorm clouds.
When we had our fill of the Swallow Grotto, we headed back to the cafe where we had ourselves a much needed lunch. We wound up eating a bento box bought from the cafe owners where we parked. Mom figured that the folks living here could use the business even though the food itself wasn't that great.
During the meal, Mom asked about the road conditions towards Tianxiang and towards Baiyang Waterfall. We were told that the road had very restricted access beyond Tianxiang (like 10 free minutes every hour) and that was a time delay that we just couldn't take. That said, we also learned that the Qingshui Cliffs were about less than an hour away from here but we had to act quickly because the weather was turning darker and the colors in the water would go away if they hadn't already.
By about 1:30pm, we were finally back at the car. We made an executive decision to just head back towards the Qingshui Cliffs before checking into to a hotel or guest house since we still hadn't booked anything yet.
As we were making our way out of the Swallow Grotto, we had to get through a construction zone before realizing that we should have U-turned or turned left somewhere along the way. So we promptly did that, waited to get back through the construction zone, and then veered right going into a tunnel that was higher than the Swallow Grotto area.
We'd eventually get to a dam where we saw that one of the falls feeding the mouth of the dam was actually a disjoint series of falls where the uppermost one was way high up the mountain. After that brief stop, we then eventually reached a real-easy-to-miss turnoff just as we were about to enter a tunnel. This turnoff was for the Eternal Spring Shrine, but below the shrine was a very attractive low waterfall spilling right into the rushing Liwu River.
Just as we were getting out of the car to enjoy the Eternal Spring Waterfall at 1:55pm, the rain started coming down pretty hard. The weather indeed turned for the worse at this time of day. We took what shots that we could before seeking shelter in the awning of the cafe down below. Mom and I spent some time taking photos from the shrine and waterfall viewing area, then from the road bridge where we noticed some folks rebelled and crossed the barricade leading up to the shrine right above the waterfalls.
We didn't do such an act of rebellion, but we did manage to get back to the car at about 2:15pm and then we headed right for the Qingshui Cliffs.
We'd eventually get to the Chongde Pullout at 2:35pm, which gave us access to views of the Qingshui Cliffs. But with the dark clouds looming over the high mountains adjacent to Taroko Gorge, the colors of the waters off Qingshui ("Clearwater") were nowhere near as blue and green as I recalled seeing before in the literature.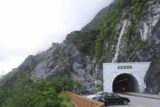 So we walked around the area while Mom noticed stairs leading down to a path where the left path would leave to the beach. But since the beach was closed, we didn't linger here for much longer. When we got back to the car at about 2:50pm, Mom was having some difficulty entering Taiwanese words in the Garmin unit so eventually she entered the info into her smart phone with sim card.
That said, we did make a booking for some place called the East Town 26 Hotel in downtown Hualien. At 1888 Taiwanese Dollars for a night, it wasn't that bad of a price (like about $60 USD). So far we'd been getting away with cheap accommodations, food, and even cheap car rental. I guess the accidental escapade after taking the two-hour train ride from Taipei to here kind of paid off in that respect.
So when all was said and done, we were finally on our way to Hualien, especially after filling up gas. After the gas station fillup, we then relied on the Taiwanese GPS to work our way to the just-booked hotel after finally successfully entering its place name in the unit. Eventually, we'd reach the hotel at around 4:15pm after a grocery store run in Carrefour at 3:40pm.
With that supermarket run, they really made sure that we had to see the entire store before getting down to the groceries as the path routed us through all these clothing areas then appliances, and it wasn't until we had nearly walked the rest of the store and its upper floors did we finally descend down to the actual grocery store part. Still, we managed to stock up on grapes, bananas, a chopped up pineapple, water, etc. Once this was done, we were finally in the city centre and routing straight to the hotel, eventually getting there at 4:35pm.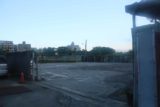 Our parking spot was actually a couple of blocks further down the road so after getting our stuff into our room, we promptly went back to the car and drove a couple of blocks to the dedicated (but open) car park. So we dropped off the car at 4:45pm, and then we went straight to the night markets in Hualien.
While the receptionist said that the Night Market (that she was thinking of) wasn't open until 6pm, we knew from driving towards the hotel that there was a different alleyway full of little food stands as well as souvenirs and clothing shops.
So we wound up at the night market heading further north near the Donghua and Dongsan Roads. Then, we promptly got to the alleyway, and Mom got eye hungry and ended up liking it so much that the employee gave us a bonus chocolate truffle.
The night market experience pretty much consisted of finding a spot to eat, then finding another spot to eat, and so on so forth. The first spot we ate at was some kind of dumpling house. They served up mantous with pork inside it. They also had their version of Xiao long bao (soup dumplins).
When we had our fill of this place, we then continued strolling deeper into this night market and went past some clothing shops before turning right at an intersection and towards another busy street where we ate some more snacks along the way. This time, we tried one fried chicken leg as well as some kind of octobus balls, which had a line, but it was quite tasty as well.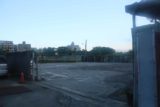 After eating these snacks, we were told that the other night market (which everyone seemed to know about) was further down the alleyway we were walking. The walk was pretty quiet except for scooter traffic, but then we could see that we then walked thorugh a block that was residential, and it was too quiet for my liking.
Still, after going through that quiet block, we then found ourselves going through one of the red-lit archways going into the night market. The signs called this the Nanbin Night Market, but the Chinese characters made it called something totally different (I forgot what Mom told me about this one). The time was 5:45pm.
This particular night market was wider and more modern. It was also way quieter than the night market we had just been to. It had more of a carnival atmosphere as most of the games involved gambling away foreign money Still, that didn't stop Mom and I from sampling some of the foostuffs here. And in this case, we tried beef noodle soup as well as some stinky tofu.
During the beef noodle soup sampling, the owner there was giving Mom some advice on how to best prepare beef noodle soup given that she had a smaller wok while the restaurant had something way bigger. I guess Mom started the conversation by telling him that she tended to make beef noodle soup frequently at some of our family gatherings back at home.
Anyways, part of the appeal of night markets was the electricity from the crowds, but in this particular night market, there was way to much empty spaces, and we figured that this might have had something to do with the China boycott. But when Mom asked why this night market was so quiet, they said that it was now a weekday, but the weekends would be crazy with visitors from Taipei. The owners had to deal with the multiple typhoons afternoon as well as the nonstop rains throughout the Autumn months so far.
At 6:40pm, we had our fill of this rather dead night market, and we were back in our room. After yet another day of long touring, we took this time to eat a few more fruits bought from the supermarket (namely the sweet pineapple that the employees were kind enough to cut for us). We were also drying our damp clothes using the low humidity from the AC, and hopefully by wake-up time tomorrow, we'd be up and out of here very early for the long day ahead of us.
Day 16 (October 28, 2016 – Kenting, Taiwan): "How Are Things On The East Coast?"
It was about 4:55am when we awoke to my alarm. It took us some time to get ready as Mom was trying to make last-minute bookings for accommodations this coming weekend in Kenting (pinyin = Kending), Kaohsiung (pinyin = Gaoxiong), and Tainan, respectively. By the way, I was starting to get annoyed with the Taiwanese romanizations of written Chinese so I'm going to insert pinyin where I can to bring us one step closer to being more phonetically accurate than the current accepted Romanizations. Thus, Taipei really should be Taibei. Anyways, so far, our last-minute bookings have yielded some pleasant surprises in terms of both the quality of the accommodations and their prices.
This East Town Hotel that we were staying at only costed us about $60 USD yet it was a clean and fairly spacious room that was centrally located close to the old and new night markets in the heart of Hualien (pinyin = Hualian). They did a pretty good job at this spot.
As for the itinerary, Mom made a suggestion that instead of driving all the way to Kaohsiung from here, we should spend the night in Kenting instead. I was a little fuzzy on the consequences of this move to our overall itinerary so I had to make some adjustments to the waterfalls we were targeting.
Anyways, when all was said and done, we were booked for accommodations in all three cities, starting with Kenting (Kending) tonight, which was said to cost us under $100 for the night. But this was supposed to be a luxury hotel and we were both going to get big large-sized single-person beds.
Mom was looking forward to checking out the beaches in Kenting, but I was concerned about hitting the first of the legitimate waterfalls of our Taiwan leg of the trip let alone getting to Kenting to enjoy the beaches before it gets dark.
When we had our belongings together, I went to retrieve the car, which was parked a few blocks away. And as I was doing so (as the city streets were pretty quiet, relatively speaking), I noticed that the temple near the car park was open! So I went through the gates and up the stairs to check it out.
While at the front of the temple, I noticed that there was some kind of prayer music being played. There were also a handful of people inside already praying or doing something. So I discreetly took photos and soaked in the atmosphere of this miao (temple) before heading back down the steps and recovering the car.
At about 6:20am, I got the car, then drove it to the hotel. We were told that we could leave the car parked in front of the hotel for breakfast. Then, we went ahead and ate the included breakfast, which was a surprisingly diverse mix of traditional Taiwanese hot and cold stuff as well as some Westernized stuff. I guess this particular hotel must have its share of Western customers, which was surprising to me since it was not exactly the easiest spot to find. Perhaps it was because we felt like we had gotten a good value at this place that maybe budget-conscious foreigners might have felt the same.
Anyways, it was just Mom and I eating the brekkie at the time, but Mom was comfortable conversing with the employees here in Taiwanese (and some Mandarin mixed in). She told me that the elderly lady tending to the breakfast area kind of reminded her of her mom, where she was hard at work but had that can do attitude.
The breakfast was pretty filling, but we went ahead and ate plenty here since we knew that today was going to be a full day of driving. And so by 6:55am, we were back in the car, and then we promptly drove south on the Tai 9, which would take us well south of Hualien along the East Coast. But before we would leave the city limits of Hualien, we couldn't help but notice the impressively tall mountains backing the town with nice morning light on them.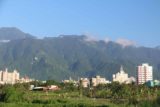 So we made a brief stop at a city park at 7:05am and snapped photos at will. Then, we continued driving south on the Tai 9 in the direction of Taitung (Taidong or Tai East). But the first waterfall we targeted on this day was the Fenghuang Waterfall.
As we made our drive south of Hualien, I saw more of the inaccurate Chinese romanizations, and it annoyed the heck out of me, especially if I didn't happen to recognize the Chinese characters. As mentioned before, Taitung was supposed to be Taidong (i.e. Tai East). I theorized that when the Taiwanese first dealt with Americans, the language was probably so foreign to them that their guesses at Romanized pronunciations were either half-hearted attempts or they really did think they heard something else compared to the real thing. Regardless, their guesses at the Romanizations reflected mostly incorrect pronunciations. Whatever the case, the pinyin system that since came out from China after the Red Revolution led my Mao Zidong was way more consistent and should have been switched over by Taiwan. I suspect the pride of some scholars or those who wanted to break ties with China probably wanted to stick with this crappy Romanization to stay different or something. No foreigner would have a prayer of trying to use these Romanizations and get somewhere with a local who didn't know English using this Taiwanese Romanization system.
Anyways, it turned out that there was some decent signage for the falls once we got into the town of Fenglin (I think), where we then got off the main road and headed towards the waterfall along an initially wide and well-developed road before veering right near a shrine and going up a steep and narrow paved road getting us right to the waterfall at about 7:50am.
There was a little shelter near the shoulder where we parked the car at a hairpin turn. And from there, we walked barely a couple of minutes up a narrow concrete path leading us right to the 20-30m tall Fenghuang Waterfall.
This was a satisfying waterfall in that it was both tall and had decent volume. It was also nice that Mom and I were enjoying this spot without others. We were only able to try to photo the falls from its very base as parts of the falls would be obstructed by trees the further away from this spot we went. So that presented a little challenge in terms of how best to frame this waterfall in our photo.
We had our fill of this falls before getting back to the car at 8:15am. Mom and I both felt this was way too easy of a visit, but we weren't complaining as this was definitely a time saver in terms of how much time I thought this waterfall would take.
Next, we drove back to the main highway and headed towards the Tiefen Waterfall. Unlike with the Fenghuang Waterfall, we didn't start to seeing signs for this waterfall from the main road. In fact, it wasn't before we crossed the large bridge over a wide river before turning left into some reserve. We then eventually picked up the waterfall signs (in Chinese), which ultimately led us to the Tiefen Waterfall.
Unfortunately, the road was actually obliterated by a landslide near its end. When we first saw the obstacle, we didn't have enough space to do a three-point turn so I had to backup some 200m to get to the car park. So once we stopped the car near the falls at 9:40am, we got out and walked the last 200-300m to get up to the falls.
The walk was at first very straightforward, but then the trail led us to the concrete banks of the waterfall's stream. Beyond this section, we then had to scramble up and over some dam. Mom and I had expressed concern about accessing the falls given this obstacle.
Once we figured out how to climb over the dam walls then go across the stream without drenching our hiking boots, we were finally at the impressive Tiefen Waterfall, which featured a tall drop as well as some pretty cool surroundings.
When we had our fill of the secluded Tiefen Waterfall, we then walked back along the stream before veering left and rejoining our parked rental car at 10:20am. So far, so good as we had visited two of the four waterfalls we had targeted and it was still fairly early in the morning.
Next, we briefly returned to the Tai 9 before going onto the Tai 30 leading us into the Yushan National Park. We were pretty merrily driving the Tai 30 until we saw some kind of closure stuff saying that the road to continue on the Tai 30 would eventually dead-end.
Without knowing full well how far I needed to go before reaching the waterfall's car park, we went past the partial barricade then we drove up the mountain towards the dead-end where there were quite a few cars already parked here. We got up here at about 10:50am. But when we saw the signs here where none of them indicated the Nanan Waterfall, we figured that we had gone too far.
So Mom went ahead and entered the Chinese text in the Garmin GPS, and it turned out that we were a little under 5km overshot so we backtracked at 11am. And when we finally reached the car park for the Nanan Waterfall, Mom and I kept asking ourselves how on earth did we miss this falls?!?!
Well, it probably had something to do with the closure infrastructure right in front of the waterfall's car park. I guess we had paid too much attention to what was in front of us, and didn't realize that the waterfall was right here!
So naturally, we stopped the car at 11:05am, then took ten minutes to briefly walk to the view of the Nanan Waterfall, and then finally got our frontal views of this falls. Unfortunately, there was a hideous sign that was in a spot not far off from the lower part of the main drop of the falls.
There also appeared to have been a way to cross the stream via bridge or something in the past. But now, there was too much rock fall danger so they didn't let anyone go for this spot. So overall, we had spent a few minutes trying to document as much of the falls as possible. There were a couple of bicyclists sharing the view with us though we weren't sure if they were part of the apparent bike race that led to the Taroko Gorge that we were told about at brekkie this morning (good thing we did our Taroko Gorge visit yesterday afternoon).
We got back to the car at 11:30am. This visit was way easy, and we still couldn't figure out how we could've missed this falls, especially since it was visible from the Tai 30 Road!
So we resumed our drive and now we targeted the Luoshan Waterfall. We'd eventually get to the fairly well-signed car park at 12pm. It had a spacious car park and some people were having a lunch at the local cafe there.
When we parked the car and got ready, Mom was talking with some of the locals, and one person in particular was here visiting onsens (hot springs) and waterfalls, and he was giving us suggestions about the waterfalls he was familiar with and which ones we should check out. He even suggested where we should go to check out this particular waterfall that we were at.
But better than his suggestion, he said he was going with us up the steps. It turned out that the wooden stepped "trail" was closed, but we ducked through the barricade and went up. He told us to stay in the middle of the path because there were concrete supports beneath each plank of wood. The further up we walked, the more we realized that the wood was rotting in most places and some had already collapsed.
I could see why they closed this trail.
In any case, we ultimately went up to about the third level of the steps (already starting to sweat bullets due to the heat and humidity) and we got a partial view of the upper tier of the Luoshan Waterfall. I was still curious about where Kirk Beiser got his photo from where he got to see the lower tier as well as the upper tier of the Luoshan Waterfall.
The guy who was with us said going up further was more dangerous. So I went back down first and checked out the more established path. However, after crossing the bridge (there was no view of the falls from down there), the trail went up some steps and seemed to be a bit overgrown.
The trail continued further up even more overgrowth and it was definitely steamy in this part of the jungle canopy. Still, I was holding out hope that this trail would ultimately lead me to a better view of the falls. But after about 15 minutes or so of going up the trail, the GPS track log was telling me that I was still going away from the falls. And so I gave up knowing that this trail was not going to get me a better view of the falls.
By the time I got back down to the car park, I saw Mom and the guy talking with the cafe owner. I went ahead and went back up the wooden steps to explore further to see if this trail would offer up better views than when we were getting initially.
And so I made it back up to the familiar lookout before continuing further up the steps. This time, I made sure to step on the parts of the planks with nails on them since I knew that was where the concrete supports were.
The further into this trail I went, the more the fallen leaves were conspiring to cover up and make it harder to distinguish where the nails were on the planks. Whenever I was in doubt, I stayed in the middle since that was where the concrete supports were (or so I hoped).
Yet throughout the walk, there seemed to be a constant canopy of foliage making it hard to get a clean look at the Luoshan Waterfall. Eventually, I got to a part of the trail that was obliterated by huge rock falls. I managed to scramble through the rock fall to see where the trail went, but eventually it went back down to the shelter near the bridge.
At that point, I knew that I had finished the loop, but there would be no better view of the falls than what we were able to get in the very beginning. And so ended this rather disappointing visit that took much longer than expected. So for all intents and purposes, I guess this waterfall attraction was essentially closed.
It was about 1pm when I rejoined Mom and the guy we met. We had a lunch, and Mom told me that the owners of the cafe here told her that they no longer wanted to maintain the trail since there was an accident that took place here. The only way now to get closer to the falls would be to do a river scramble from the bridge. There was no way I was going to do that given the circumstances.
Then at 1:55pm, we were finally leaving. We definitely stayed here an hour longer than I had hoped, and I doubted that we'd make it to Kenting before the sun would set.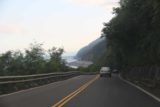 Mom took over the driving, and that allowed me to take a nap. She woke me up around a couple of hours into the drive to show me that we had reached a part of the drive where we were essentially driving along the cliffs somewhere south of Taitung (or Taidong). It wasn't a dicey drive as it was almost always two-lane highway as we were still on the Tai 9, but there was a lot of road work being done for a very long stretch.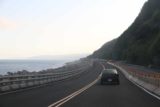 I guess that was the effect of the typhoons that hit the island three times in the span of a couple of weeks (and this wasn't counting the other typhoons that hit the island earlier in the year).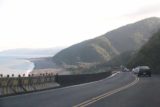 We'd eventually, hit a part of the road that cut through the mountains on the way to the west coast. This winding drive was fairly uneventful as we followed a caravan of cars, but there was one guy who was laid out on the ground unconscious. We guessed that he must've fallen or been struck by a car while riding his scooter on this mountain road.
Once we got on the west coast road (Route 26), we headed south towards Kenting (or Kending). The sunlight was fading fast as the clock struck 5pm. And so we eventually found a large parking lot or pullout at around 5:10pm where we watched the red globe sun sinking into the clouds in the distance.
I guess this would have to do in terms of our sunset experience. Once we got our fill of this, we then continued the drive eventually getting through an already lively night market scene on the main road in Kenting before arriving at the Howard Superior Hotel (or Howard Beach Resort) at 5:45pm.
After getting to our room, which was quite a hike from the reception desk, we spent some time to get settled as well as get used to the large room size. If there was an opportunity to hand wash underwear or dry sweat soaked clothes, it would be this place.
So it wouldn't be until about 6:50pm when we finally started to head out, but since Mom was hungry, she was passive aggressively insisting that we have dinner at the buffet place here (thinking that with a hotel this upscale (by Taiwan standards I guess), that the food should be better than the night market fare).
Well, we wound up eating the buffet dinner, and I think Mom finally came around to admitting that the food was terrible. At least we got to catch the last bit of some live performance, but other than that, it was probably a waste of money and time.
So it wasn't until about 7:50pm that we left the restaurant and took the golf cart shuttle to the front of the property where we then started walking in the westerly direction towards the Kenting Night Market. At that point, the night market started off slow as there were a handful of food and curio stands, including one that was the so-called Reggae Cafe or something like that with lots of Bob Marley pictures and seemingly aiming to attract foreign customers.
And we went further west along the Kenting Road, the night market became more crowded and atmospheric. One thing that Mom and I noticed about this night market was that we were definitely one of the older people strolling around. So while Kenting had a youthful vibe to it, we were definitely feeling like something akin to two old fogies rocking up to a Gwen Stefani Concert or something like that.
Even though we were fully stuffed, we did manage to pick up an ice cream soft serve (which was icy and not very good; nothing like the Japanese quality we had been used to) as well as a stinky tofu on the way back. It was a fun walk and I think we wound up walking between 3-4km.
We didn't realize that Kenting attracted quite a foreign crowd even though we were clear on the opposite end of Taiwan than Taipei. Yet we saw quite a few of them, and it seemed like some of them were game to try some of the Taiwanese small eats that would make most of them hesitant like stinky tofu.
As happening and electric was the Kenting Night Market, it was too bad that there was a lot of road traffic passing right through the middle of the tented stands flanking the road. If it was a pedestrian-only night market, then this place would be even more atmospheric and quite the place to be.
Eventually by about 9:30pm, we were finally back at the room. It was the end to a very long driving day, and tomorrow, we'd b starting our deliberate movement back to the north to complete the Taiwan round-the-island loop.
Day 17 (October 29, 2016 – Kaohsiung, Taiwan): "Corruption and Perverse Incentives"
We woke up to my alarm at about 5am. Mom was upping the urgency because she wanted us to get to the Eluanbi Lighthouse by sunrise thinking that we ought to be able to see the sun rise from the Pacific.
So we quickly got ready knowing that we'd be coming back to the hotel to finish packing as well as having breakfast. And by 5:30am, we got into the car.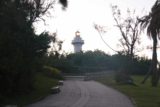 The lighthouse was said to be about 7km away, and we'd eventually get to the car park for the lighthouse barely 10 minutes later. At that point, no one was collecting a toll, but the parking lot seemed to be accessible. Also, no one was manning the individual toll booths for foot traffic as well.
So my Mom and I quickly went to the entrance to the lighthouse. It wasn't open, but we did manage to take photos of the functional lighthouse, which was still rotating its light. However, we realized that we wouldn't be seeing the sunrise because it was all foliage to the east of us, and there wasn't much of an ocean view from the lighthouse gate entrance either.
So we next walked a footpath that went to the shoreline, but it was damanged by typhoons. When we backtracked and followed a different trail, the shoreline access remained closed due to typhoon damage. This got Mom and I to observe that they might have gotten a bit too overzealous with putting wooden plank trails instead of something more natural like dirt.
You see, the parts that were damaged were the parts that were man-made. If it was just dirt trails, then the only damaged parts would be from falling trees or rocks, but the trail itself would be fine. Maybe the Taiwanese folks doing the trails could take a page out of what was done in other parts of the world. It doesn't necessarily have to concrete everywhere or wooden planks prone to rotting.
Anyways, Mom and I nearly completed an unexpected loop hike by the time we made it to the Sunshine Pavilion or something like that. From there, we saw the Kissing Rocks as well as a handful of fisherman doing their thing on the coast though we weren't sure exactly how they got there.
After getting our fill of this pavilion, we then retreated to the car where people started to trickle into the park. With today being a Saturday, we could rest assured that no matter where we were going today, it was going to be busy.
Mom was recalling (she said she was 3 or 5 the last time she was here) that she didn't remember there being so much development as it seemed to be a far different place than it had been over 60 years ago. I guess times change, and you can't stop the onslaught of change (for better or for worse).
We returned to the car at 6:30am. We then drove back towards the Howard Superior Resort with one roadside stop near the Sail Rocks, which were coral reef sea stacks within view from the main drag through Kenting. With the morning light, it made for some decent photos, but perhaps what was more eye catching were some of the hotel facades that we saw across the street from the Sail Rocks.
One hotel in particular looked like something out of a Gaudi building in Barcelona, where it seemed like the building was made from earth. Flanking that Gaudi-like building were a couple of white and blue painted facades that reminded me a lot of the buildings we had seen in Santorini, Greece.
Indeed, it seemed like they were really going after European tourist dollars with these facades. There was even modern one that could've been reminiscent of something we had seen in the UK or in France.
Anyways, we were back at the Howard Superior Beach Resort at 6:55am, and that was just in time for their buffet breakfast, which was included in the room rate. At least for brekkie, the food was varied and decent compared to last night's buffet, but it was quite hit and miss. What do you expect for a buffet meal anyways, I guess?
After finishing the brekkie, we were back in the room at 7:55am. This was after doing a little exploring of the property before checking out. Right after checking out, we went to check out the property's beach, which involved us going downstairs into some kind of "Fun Arcade" that was dead because nothing was open. Then, we passed through the "tunnel" which was really nothing more than an underpass beneath the main Kenting Road. After getting around the "foot bath", which was nothing more than a shallow pool of water meant for rinsing off sand, we then promptly got onto the beach a short time later where we finally got to wade in the calm waters of the protected cove.
The secluded beach was nice though the beach itself was more on the rocky and pebbly side possibly as a result of the protected cove where the absence of strong wave action wouldn't pound the rocks into fine sand. Nonetheless, Mom and I took our photos, and felt the cool water before finally regaining the car at 11:05am.
We would eventually get to our car by 8:55am, and at that point we were finally on our way to the Keyoufeng Waterfall, where we still had some doubts about its accessibility (one of the tour operators we were getting quotes from wanted to cut out this waterfall completely due to typhoon damage). And so far on our travels, we hadn't heard anything about whether the road to this falls was closed or not. So we were going to give it a go regardless until we're turned back.
The drive north was pretty uneventful though we did notice lots of tour buses heading south towards Kenting. Mom was glad that we had gotten our Kenting fix when we did because that would not be the place to be when it would be overcrowded on Saturday (which was today).
Eventually, the GPS had us turn right on a road that didn't appear to be signposted for the Keyoufeng Waterfall. So at first we had some doubts about whether we were going the right way or not. But after reaching one of the intersections along the small farm road, Mom noticed some signs pointing the way to Keyoufeng Waterfall (actually sounds more like "ka-you-fong" in something closer to pinyin Chinese), and that was when we were pretty confident about being on the correct path to the falls.
We'd eventually catch up with a caravan of slower cars in front of us, but the farm road was essentially single-lane most of the way. So in one particular hairy stretch where there were no pullouts or shoulders, there were two caravans of cars going in opposite directions, and we all had to squeeze past each other without doing any car damage from hitting each other or from scraping trees or other obstacles.
Mercifully, we made it to the Keyoufeng Waterfall at 10am. There were already a lot of cars parked here, but I'm sure with this being Saturday, there could easily be a lot more. The sun was out and quite intense but so was the humidity.
So we donned our backpacks and brought some waters, and then promptly went up the trail, which was pretty much all steps and stairs. Given the heat and humidity, Mom and I were sweating bullets. But after going up about 500m, we finally got in front of the beautiful Keyoufeng Waterfall, which I'd imagine was in the neighborhood of 200-300ft with a fanning out shape.
My gut told me that this waterfall had to be at least a 3.5 or 4. After all, we saw a slight rainbow at its base when the sun had shown itself, and it had gorgeous jungle scenery along the way. And given how its spray cooled us off from the steamy hike to get to this point, I felt that this place had a lot going for it, except for the narrow farm road to get here.
At 11:05am, Mom and I had our fill and we made it back to the car. We next drove further north in search of the Liangshan Waterfall. The GPS had us go through several towns along the 187 en route to the falls. These towns were part of Pingtung County, and Mom was telling me that Pingtung was where Dad essentially grew up as he spent most of his middle school years here.
One of the biggest things that Mom and I noticed about driving north into Pingtung County was that the mountains were now barely visible (if at all). It was almost as if the haze in the skies were as if we were driving into steam. Or it was either that or pollution from the heavy industry that was going on in this part of southwestern Taiwan (or a combination of both).
So we knew that no matter where we were going, it was still going to be muggy and sticky. By the way, where on earth was the Taiwanese Autumn? It was now the very end of October and the weather remained very Summer like!?!?
It wasn't ideal following the GPS route which had us driving through the congestion and the crazy aggresive scooter riders as well around Pingtung City. Still, it gave Mom an opportunity to educate me a little more on all the beetlenut plantations (kind of goes to show you the perverse incentives forcing people to make money doing the wrong things which can be traced back to corruption in the highest levels of government), which were narcotic-like fruits that people would chew on before their mouths would become reddish and their teeth would get all messed up.
Mom noted that a lot of the bettlenut stands and shops would typically have a scantily clad lady to attract business (and perhaps something more).
Eventually at about 12:40pm, we finally arrived at the car park for the Liangshan Recreational Area. It looked quite popular and developed from the outset when we parked the car and walked towards the ticket office. So we figured that the hike couldn't be all that bad, right?
After paying 60 yuan each, we then promptly followed the wide and well-developed walkway leading to the first of the Liangshan Waterfalls. It was said to be only a 15 minute walk before reaching the first falls, and it turned out that that first falls was near a bridge and some open-air cafe.
We caught our first glimpses of the falls from downstream from the bridge as well as the bridge itself. However the shelter or lookout area before the trail started going up steps in earnest didn't have that great of a view of the first falls.
Regardless, we went up the trail, which turned out to be relentlessly climbing and thus inducing lots of sweat. As the climb started flattening out (though it never really flattened out completely) the trail narrowed considerably as it followed along cliffs as well as ascended even more steps.
After around 15 minutes beyond that first waterfall, there was a signed fork in the trail. The left fork went down a series of steep steps eventually leading to a vertical rope-assisted descent where there was the second waterfall tumbling into a plunge pool that lots of young locals were enjoying.
Given the verticality of the descent, Mom opted not to do it as she went ahead and continued the hike towards the base of the third waterfall. Meanwhile, I waited my turn to go down as there was quite the bottleneck at the rope-assisted descent or climb.
I didn't linger for too long at the swimming holes beneath the second waterfall, and so we continued the relentless climb and careful trail walking along cliff-hugging ledges before the trail really became more of a rock scamble right after the dam crossing.
At the end of the scramble, there were lots of people frolicking about the base area at the third Liangshan Waterfall. Unlike the first two we saw, this one was by far the tallest and most impressive. We even saw a handful of foreigners checking out this falls, which was quite unusual as we thought not many locals would come here.
It then dawned on me that perhaps these foreigners were part of the same custom tour group, where we managed to get quotes from such companies since we weren't sure we wanted to self-drive the island. That said, we were doing perfectly fine so far, and by going independent with Mom's local knowledge, we managed to save significant chunks of money (the custom tour operators suggested a cost of around 200-300 USD per person per day), and we barely spent that much on our first three days of this part of the trip alone!
Regardless, Mom and I chilled out at our well-deserved reward for being at the foot of the lovely Liangshan Waterfall. We even got to experience the coolness of the waterfall spray as well as some of the waterfall's self-generated weather in the form of winds. I wondered if this was what they had in mind when they named this falls as such as "liang" meant something to the effect of "cool".
The hike back down to the trailhead felt like it took forever, but it did yield nice views towards the steamy valley below. There were lots of people still going up the other way even though it seemed like this park would close not that much later. Mom theorized that these late arrivers came from large tour groups who were probably made to waste a lot of time at affiliate restaurants and affiliate shops before finally making it here. I'm pretty sure that her taste in tour groups went south real quick after having spent some time with me on our independent waterfalling runs.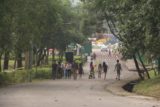 After rewarding ourselves with some cold ice and jelly (from jellyfish?) swimming in ice tea lemonade (ala Arnold Palmer), we were finally back at the car park at 3pm. Next, we were headed to Kaohsiung (pinyin = Gaoxiong) though the GPS at first insisted on taking us on back the way we came via local streets and Pingtung congestion. But we rebelled and followed the motorway on the Hwy 3 then Hwy 10.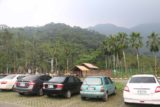 We'd eventually be passing through the congestion and chaos of the downtown Kaohsiung area, and when we finally got in front of our hotel (the Sunnyside Hotel) at 4:05pm, we found ourselves having to drive through part of the Liuhe Night Market. So while I waited patiently in an illegal spot, Mom talked with the hotel as she checked in, and they explained where the best spot for overnight parking was.
So after dropping off our heavier luggages at the hotel lobby, Mom joined me back in the car again, and we'd eventually find the cheap parking that was on the order of about 100 yuan for overnight parking (over $3 USD, which you can't be that). By comparison, we almost parked at this place charging 25 yuan per 30 minutes. Imagine how many thousands of yuan that would be had that added up overnight!
So at 4:30pm, we finally left the car and brought out our other smaller belongings. That was when I realized that the belt strap on my backpack had broke, and so I guess I wouldn't be getting much weight distribution anymore. I guess things just aren't buit to last these days, especially with how cheaply made the plastics have become.
At 4:50pm, we were finally checked into our hotel room, which was small but decent, especially being in such a central location. The Liuhe Night Market was already starting though, and we were very hungry as we looked forward to sampling what they had down here. I guess the Lotus Pond and pagodas were too far out of the way from here, even by taxi. So perhaps we'd have to squeeze that in first thing tomorrow morning.
At 5:10pm, we finally made it downstairs right into the Liuhe Night Market. A lot of the stalls weren't quite open yet so we took our time slowly walking towards the far end of the night market before going back the way we came. Along the way, we sampled some dan dan mien, cold chicken feet, stinky tofu, grilled squid, beef noodle soup, and that same bao we had at Raohe Night Market in Taipei (just for comparison; where the Kaohsiung version was inferior).
Tropical light rain came and went during our time in the night market. It wasn't really a big deal though there was one squall that went through while Mom and I were eating dan dan mien and cold chicken feet in one of the sheltered cafes and tables well away from the rain action. Speaking of the action, we saw how adaptable many of the food stalls were as they quickly made their operation more weather proof by extending their tents and protecting their wares or foodstuffs.
After having our fill of the night market and food, we then walked over to the Kaohsiung metro station nearby. Mom wanted to see what the fuss was about regarding this train station because apparently millions of Taiwanese Dollars were spent building this thing up.
Well, after walking downstairs to the underground station, the first thing that we noticed was how dead it was inside the station. Even the shops that were supposed to line the way to the main part of the station were all shut. Considering this was Saturday night, that was really saying something about how badly these shops down here must be doing.
We quickly drew the conclusion that this subway line didn't really go anywhere useful and thus no one was really taking the mass transit here. Mom had this incredulous expression saying to me that this was a prime example of poor management and expenditure of public resources where a lot of the funds were spent on useless aesthetics and none of it on the usefulness of the subway line in this city.
At 6:45pm, we were back in the hotel room exhausted and sticky from the day's activities. And now, we could finally try to use the AC to dry off our sweat-drenched clothes while also getting cleaned up. Tomorrow was shaping up to be a similar day of waterfall touring in the outskirts of the city to the east, then heading back to the city in the afternoon for cultural sightseeing as well as night market festivities. Except this time, we'll be spending our time in Tainan instead of Kaohsiung…
Day 18 (October 30, 2016 – Tainan, Taiwan): "Misunderstandings"
It was about 4:15am when we awoke. Mom had been awake earlier than me, and I was also surprised that I was able to wake up so early without needing the 5am alarm. Anyways, Mom noted that it had been raining outside, but now it had appeared to have stopped.
So after taking some time to get ready for the day then wrap up our packing, we checked out of the Sunnyside Hotel and lugged our luggage over to the car park a few blocks away. Along the way, there were a few night market stalls still in business working hard. We wound up getting gua bao, which was something Mom would make for the family at family gatherings. But this time around, we wanted to try the Tainan version and see how it would compare to Mom's cooking.
Mom said that their gua bao was not as good as the one she'd make. But in any case, this was something we hadn't had all trip long, so the change in dishes was very welcome.
At about 5:05am, we finally picked up the car. The first order of business was to check out the stuff we should've visited last night but didn't. This included both the Dragon and Tiger pagodas as well as some neighboring shrines around the Lotus Pond. Apparently, these attractions were still 20 minutes away from where the hotel we stayed at in Kaohsiung was, which was the main reason why we didn't just go there by cab straight away yesterday evening.
Anyways at 5:50am (after circling the pond), we took advantage of the light traffic and managed to score a street parking spot just a few paces away from one of the temples and new pagodas here. I was eager to see this part and was struck by the size and somewhat cartoony appearance of the buildings. I kept thinking to myself that in hindsight, we should have spent our night here instead of the Liuhe Night Market.
However, during our visit here, Mom wasn't exactly keen on seeing this area nor did she seem all that keen on seeing any of the other city sights in Kaohsiung. The MRT in the city center area also served to reinforce her negative perceptions of this city and the current government in charge which was actively trying to move the center of government activity from Taipei to Kaohsiung (where the current gov't was from).
I thought Mom was unusually negative about this visit to the Lotus Pond, and it turned out that she remembered when this place was pretty natural and consisted only of an old school temple. Now, there was a Dragon and Tiger Pagoda as well as another pair of pagodas built onto to bridges extending onto the pond as well as each containing temples fronting them across the street. She thought they were modern and untastefully done, and to her, they were obvious tourist traps. Perhaps she didn't like the fact that I might have been spending too much time falling for these tourist traps because of something I had read about in LP
or TripAdvisor.
And indeed, upon reading the signage explaining some of these structures, there was no date associated with them. Normally, if it was culturally important, you'd see something about when it got started as well as its historical significance. Such verbage was noticeably missing here, which corroborated Mom's position.
So with these things being camera fodder, I went ahead and took the photos, and then we returned to the car at 6:20am. There were a handful of Chinese visitors here each with tripods and wanting to take photos of the same structures that I was taking. So I guess these things weren't totally tourist traps. Then again, they could have just been as duped as I was.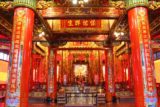 Regardless, with the daylight starting to take over for the darkness, we now headed east towards the mountains. On the way out, we entertained visiting the Shi-Lai Temple overlooking a large river (which Mom said the waters originated from the mountains of the Maolin Recreational Area) as she said that was a religious structure in Taiwan that was more tastefully done and much larger than the one in Hacienda Heights back at home.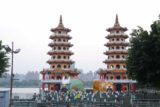 That said, the temple was closed until about 9:30am and we weren't going to wait around until its opening since this was not the priority of this trip. Instead, we wanted to visit the waterfalls of the Maolin scenic area before we would head back towards the city but towards Tainan city center instead for a bit of culture. The idea was to mix in some culturally important and scenic attractions since we had been doing the Nature thing for several days in a row now.
However, with Kaohsiung feeling chaotic and we didn't really have important sights to show for it (as they weren't around the Liuhe Night Market where we were staying), all we really had for this city was their strangely dead MRT stop as well as these kitschy pagodas and temples around the Lotus Pond.
So Mom kept mentioning that we weren't going to be staying in the city center for Tainan, and my thinking was that it's fine as long as we can catch public transport or taxi into the city center to spend most of our time there. She kept mentioning something about the Anping Fort that we were staying by, but I kept thinking that it would be close to the city and we could make our rounds of the city without having to self-drive in the chaos of the city ourselves.
So that was the plan. And back we went along the 3 freeway then along some signposted main roads following the brown signs towards Maolin Forest Area.
Eventually at 7:30am, we made it to the car park for the Dajin Waterfall. This spot was pretty well signposted from the town of Dajin though there was one little confusing part where we made a turn towards the falls per the GPS instructions but I didn't recall seeing any more follow-up signage for the waterfall.
Regardless, we were in the right spot, and right off the bat, we could feel the steaminess of the foothills of this mountain area. Once again, the mountains were difficult to see through the steam, and my camera lenses were showing signs of condensation as a result of going from an AC environment to the steamy jungle.
There were a handful of cars already parked here with people getting an early start to the day. We always go by Mom's saying that "the early bird gets the worm" but it appeared that lots of other Taiwanese people go by the same saying as well. So it was surprisingly busy at this time of the morning.
The hike was mostly uphill up a lot of steps. Right off the bat, it was inducing sweat but we were also starting to get panoramic views over Dajin on the way up. We'd eventually make it up to a shelter that had quite a bit of activity as some locals were doing some kind of Buddhist meditation or some kind of psychout session (one guy kept yelling to himself while doing calesthenics or something). I noticed that we were able to see the Dajin Waterfall from here though Mom kept going on the trail as it now descended towards the base of the falls.
There was also a junction with some mountain trail continuing from here, but there would be no way we'd be doing that.
Finally, when we got to the bottom of the steps, we were in front of the fairly tall waterfall (probably something I'd give a 2.5 for), and we had a moment where we were taking what photos we could despite the low lighting. There were other folks that kept going downstream on the trail, but it dead-ended at the top of some lower tiers of the falls that couldn't be seen well.
Some additional folks were bringing supplies and doing some kind of trail work. Mom said that they were building barricades so people wouldn't be tempted to get too close to the edge of these lower falls and risk falling.
A few minutes later, a pair of guys came to the plunge pool of the falls and were doing more calesthenics before going into the plunge pool and ultimately beneath the falls. They seemed to have to psych themselves out to get in.
We used them as subjects for picture taking, but then we had our fill of this spot as more people were showing up. And eventually by 8:40am, we were back at the car park, where the closest lot was now full.
Next up, we were targeting the Qingren Waterfall. Mom said that it was not far from here as she was pretty familiar with this area. So we promptly followed the GPS directions, which had us following a couple of very slow tour buses. Fortunately, they were going up to the Maolin Village but we were veering off towards the Qingren Valley (or Lover's Gorge Valley), and that was where we caught signs of the Qingren Valley Waterfall then drove across a long single-lane bridge and eventually reached a part where the narrow single-lane road suddenly stopped at a landslide area.
Clearly, I wasn't going to attempt driving across this pile of rocks so we backed up and wound up parking along what appeared to be an unsigned driveway of someone's shack or something. It was 9am when we stopped the car and proceeded to walk back towards the landslide (trying to ignore the striped mosquitos and all).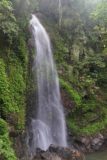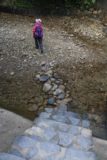 The walk was quite easy as all we had to do was to traverse the landslide part and then on its other side was what turned out to be the first Qingren Waterfall. This one was pretty small by the standards of what we had been seeing so far on this trip, and we spent a few minutes walking down a short steps onto the bedrock of the stream for a more frontal look.
Then, after getting our fill of this spot, we followed the sign suggesting that there was a second waterfall further up the steps. So we promptly did that and got really hot and sweaty once again. Eventually, after crossing a bridge and then climbing up past a shelter before reaching a dead-end with a viewing deck of the falls, we had reached the second Qingren Waterfall, which was much bigger and more attractive than the first.
So far, we had been making good on time, and we had a couple of waterfalls to show for our efforts. So Mom suggested that since we were already here, we mind as well go right for the Maolin Waterfall before heading towards Tainan.
It was about 9:35am when we got back to the car, and it was just as we started to see some folks scootering or walking towards the falls. There were also a couple of cars trying to figure out where to park, and they had momentarily blocked us from getting out. But luckily, they were there just as we were showing up, and they eventually let us go.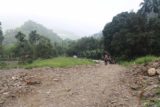 As we were driving out, there was a large tour group that was approaching the falls, and they had to part from the road like the parting of the Red Sea, and then we were able to pass through and get out of here before we'd have more single-lane road complications.
Now since we had trouble trying to find this place on the Garmin GPS, we had to rely on Kirk Beiser's instructions. So we did as he said and drove through the Maolin Village, and then turned right across the street from a fire station, where there was a sign for "Maolin Valley" or something like that.
Then, we descended down some switchbacks before getting onto a narrow single-lane road (right off the bat, there was a tricky bypass with a couple of cars trying to squeeze by each other), but then we'd eventually get to a part where we parked off the shoulder of the narrow road instead of going all the way up to park at the paid part of the car park. We got there at about 9:55am.
We didn't see signs explicitly for the falls on the way in, but we had followed one car that seemed to be headed the same way as we were so that was how we got here. Once we got out of the car, we grabbed a couple of bottles of water each, and then our backpacks as we were preparing for a fairly long hike. That said, the trail appeared to be pretty developed, and it was also quite popular.
So we followed a group of purple-shirted hikers, who were apparently from a local camping group. The hike (like with the other two hikes) were steeply uphill along a series of steps. But the difference with this hike was that it was like the Liangshan Waterfall hike in that it was hugging cliffs and gave us that feeling that we were walking high up.
It didn't take long before we had to cross the first suspension bridge, which was long and traversed the gorge over the river down below. It gave us kind of that Indiana Jones feeling as we were going across.
After a few minutes more of hiking up and down the stair-stepped trail, we then crossed a second suspension bridge, which was even longer than the first and really made it feel like we were in an Indiana Jones movie.
After that suspension bridge, the trail undulated a bit more while generally going uphill, and then went over an arched bridge before climbing up more steps and ultimately reaching a crowded sheltered lookout towards the Maolin Waterfall.
Compared to the other waterfalls that we saw, this one wasn't particularly tall (maybe 100ft or 30m or lower), but it provided an opportunity for lots of people to cool off and go for a swim. In fact, there was a steep rope-assisted scramble path leading to the base of the falls, and I had to wait in a queue before making my turn to go down.
Mom decided not to do this scramble and instead socialized with the purple-shirted group. So while I did the descent, it was very tricky towards the bottom as the rocks were smooth and slippery with the mist of the falls. One guy helped me out by suggesting where to place my feet on the more jagged rock ledge amongst the slippery slope.
But eventually, I'd make it to the base where I saw quite a few people (including a few kids) swimming and just having fun at this falls. Indeed, even though it wasn't the greatest falls in terms of size, it was just the perfect spot to seek relief from the steamy heat of the hike and the weather in general.
Once I had my fill of this spot (I didn't join them and swim), I scrambled back up to the shelter, where Mom introduced me to the purple-shirted group and we briefly talked about the waterfalls we had been to before we said our good-byes and headed back down to the trailhead.
The youngest folks of the camping group actually passed us on the way back out, and it turned out that they went to a different swimming hole closer to the trailhead. So this place provided all sorts of ways to beat the heat in majestic mountain settings.
By 11:35am, we were finally back at the car, where Mom and I couldn't wait to get our sweaty and messy selves into the air conditioning of the rental car. And with that, we started to drive back out of the Maolin area in the general direction of Tainan, where we looked forward to spending the rest of the day.
The drive felt surprisingly long, and when we were getting close to Tainan, at around 1:15pm, I thought it was just a matter of time before we'd be at our hotel and be in position to just walk about town seeing the city's main sights. However, we had trouble entering into the Taiwanese Garmin GPS the accommodation that Mom had booked on Friday night, and when she finally started getting a handle on the location of the accommodation on her iPhone, that was when I realized that we weren't staying within reasonable reach of the city center of Tainan.
Instead, Mom thought that we should be staying around Anping Fort as she somehow latched onto this place thinking that I was interested in it though I had no idea how she came to that conclusion. So when we finally got to the accommodation called the Wei-Yat Grand Hotel at 1:55pm, we were then told that check-in wasn't until 3pm so we just left most of our luggage at the lobby then quickly headed out as time (in terms of daylight and attraction closures) was running out. It was frustrating that what we once perceived as having a lot of time when we had finished the Maolin Valley Waterfall was now a race against time…
So at 2:10pm, we left the hotel and Mom insisted that we should go visit the Anping Fort. She said that no one goes to Tainan and not visit the Anping Fort. I hadn't planned on visiting it, but I was game to give this place a try. The problem was that there was heavy congestion near the fort area.
It wasn't until about 2:30pm when we finally found parking at the fort. For as long as it took to find parking, we were probably better off doing the 20-minute walk from the hotel to the Anping Fort. Anyways, we were quite lucky to even find a spot as lots of other cars were marauding about looking for space.
We then quickly walked through what appeared to be some park, but it wasn't the Anping Fort. We still had to walk a couple more blocks to get there. And as we did so, we found ourselves in yet another crowded area that was surely going to be a night market. It was atmospheric, but Mom and I were pretty yeshi'd out.
Anyways, we quickly walked towards the entrance to the Anping Fort, then we walked about on the premises checking out the white tower (though we couldn't go up due to Typhoon damage) as well as the main building where there were historical relics and signage. There were also views looking out towards some ornate temple, which we didn't have time to visit.
Mom wanted to impart on me that this place was historically significant because it was where a general from China took back Taiwan from the Dutch, essentially letting Taiwan stay Chinese. I'm sure it was a source of pride for the Taiwanese people, and I'm sure Mom must have felt that way. But my mind was still on checking out central Tainan, and all that time we thought we would have today was quickly dwindling away.
So after seeing what we needed to see at the Anping Fort (which really deserved more time and attention than what we gave it), we quickly got back to the car at 3pm, where another lucky person managed to snatch our parking spot just as we were luckily able to snatch the previous person's parking spot at the right time.
Next, we drove through the heavy city congestion (especially of scooters) as we headed towards the Confucius Temple. We were told that without traffic, it would be about a 20-minute drive from our hotel to the city center around the Chihkan Towers. However, it wasn't until about 3:45pm when we finally parked the car in a huge and sprawling underground parking lot several blocks from the Confucius Temple.
I was probably about as frustrated as I could be on this trip as a supposedly relaxing time in the "cultural center" of Taiwan was now a stressful race against time (before closing and missing out on lunch in town). But it was what it was, and now we had a little over an hour or so of daylight left before we'd have to do a little night touring of Tainan with the limited time we have before returning to Anping to check in and end the day.
As we exited the parking garage by foot, we were very lucky to hail a taxi that just happened to be passing by. Mom socialized with the taxi driver asking what was good to eat around here, and we got the answer that it was pretty much some hole-in-the-wall joints near the Confucius Temple as well as the Chihkan Towers.
By about 4:40pm, we were finally dropped off at the front of the Confucius Temple. I had read that this place closed at around 5pm or 5:30pm so as we walked in, we saw that there was a little local concert going on at the doorstep of the main palace, and we promptly got into the paid main palace where we visited each important room or building within the main palace.
Mom was kind of acting as my tour guide as she was explaining some of the things we were seeing. We'd eventually get our fill of the main palace area, then we checked out all the floors of one of the towers in the corner of the complex before having our fill of the overall temple complex and then leaving for dinner.
We wound up picking up a couple of baos as well as shave ice from this seemingly popular local joint. When we had our fill of this initial helping of food, we then sought out a taxi to take us to the Chihkan Towers as daylight was running out. It was now after 5pm.
But we were having difficulty gettng a taxi driver to stop for us (it was nowhere nearly as busy nor as convenient as what Mom had been used to in Taipei). And so we wound up walking several city blocks before finally reaching the Chihkan Towers at 5:45pm. By now, twilight was fading fast and we quickly paid our admission and tried to take what photos we could as twilight had faded away.
Next, we walked throughout the pretty extensive complex starting with the pair of towers as we went up each floor and tried to savor the experience. Like with the Anping Fort, this tower complex was also important regarding the Dutch and Japanese occupations. And just like the Anping Fort, this place seemed to be a source of pride in terms of the Taiwanese.
Eventually, we were done with our visit at 6:15pm, and now we went looking for more local Tainan foods before visiting the Matsu Temple, and then seek out our parked car.
We wound up eating at a few joints near the Chihkan Towers. The first place had some kind of noodles called danzaimien. We also tried coffin cake in another joint nearby as well as fish stomach soup. When all was said and done, Mom and I were quite stuffed. Now, we had to walk off all this food.
And we'd do this by visiting the Matsu Temple, which sat fairly hidden away from the main city streets. So we made our visit of the pretty extensive temple, which was still open. The strong scent of incense made me keenly aware of the toxic smoke filling the temple, but I took the time to visit each room and try to take photos without disturbing the people praying. There were also a handful of folks buying moon blocks and tossing them (bwah bwey) in the hopes that the blocks would answer whatever fortunes or questions they had in mind as they tossed them. It was kind of like the Taiwanese version of the Magical 8 Ball.
At 7pm, we were done with our Matsu Temple visit, then we walked along some alleyways and city streets that seemed to be quite happening. Had we stayed here, we could have soaked up the atmosphere and energy of the city, but since we were staying way in Anping, we now had to use this time to worry about logistics.
Finally at about 7:30pm, we regained the car after walking still more city blocks looking for the right place. We wound up walking several blocks on Haian Rd, and eventually, we'd finally drive up to pay at the main office underground, and then finally leave the joint. But wasn't until we had a bit of difficulty with the parking bar and had to have Mom talk to the parking attendant over the speaker to rectify the situation. Indeed, this whole ordeal with driving in the downtown area seemed like it would never end.
Finally at 7:50pm, we parked at the underground Wei Yat Grand Hotel's parking area, and we quickly checked in and recovered our left luggages. So finally at 8:05pm, we could crash at the spacious room, get cleaned up, and get settled down after yet another very long day of touring.
With tomorrow being a seemingly ad hoc day, I figured that we both could figure out where to go next and where to stay next after having all these successes along the trip doing things unplanned and at the last minute. What we were paying by doing things this way as well as self-driving had ultimately saved us a significant amount of money as well as culturally enlightening me.
In any case, I guess we'll play it by ear how things go tomorrow…
Day 19 (October 31, 2016 – Shanlinhsi, Taiwan): "The Call Of Buddha"
At 5am, Mom and I both awoke to my alarm. It was one of the few times that neither of us had woken up prior to the alarm so I guess our body clocks are becoming more and more adjusted to this time zone. And that might not be a good thing considering that when I return home on Sunday, I'll have to work the very next day!
We took some time to do some planning for the day and possibly the next day. Our original plan was to visit the Fenghuang Waterfall and then maybe both the Rainbow Falls and Yunlong Falls before spending the night at the Sun Moon Lake. But with the uncertainty in the weather and the uncertainty in the road and trail conditions, we decided to do something easier and more conservative since we were headed to the mountains near Nantou. Perhaps once we were in the vicinity, we could then ask locals about the current conditions.
So now the plan was to do the Fenghuang Waterfall and the Shanlinhsi area. And perhaps we could find accommodations in either the Shanlinhsi area or Shitou (Xitou). Once again, we were doing things last minute in terms of bookings so that bought us some flexibility. We also stood a pretty good chance of scoring last-minute accommodations, we thought, since we've been having success doing things this way all throughout the Taiwan part of the trip.
It wasn't until about 6:30am that we went downstairs for breakfast. The brekkie fare was pretty good. Mom was conversing with some folks from the tour group that was also having breakfast with us, and it turned out that they were visiting from Keelung, which was Mom's home town.
Eventually, after the pretty diverse and decent breakfast, we made it back to our room at 7:25am, where we once again finalized our last-minute plans for what we were going to do on this day and possibly the next day or two. And then at 7:55am, we regained our car.
At this point, we drove off through the Tainan city streets before making it to the Expressway 1. It was then pretty smooth going along this expressway as we would drive for over the next hour until I realized that we didn't set the waypoint for Fenghuang Waterfall (we had it set to go straight to the Songlong Rock Waterfall in the Shanlinhsi Scenic Area).
So we had slightly overshot the city of Chiayi before we exited the expressway and then backtracked around Chiayi before finally picking up the Route 159 heading east of the city. We'd eventually get past some villages as well as some buddhist temple called Ban Tian Yan (where we could see a giant Buddhist statue along the way), and then after that temple, the road narrowed a bit more and became more windy.
We'd eventually get to the trailhead for the Fenghuang Waterfall, which thanks to Kirk Beiser's website, we had known and gotten accurate GPS locations for. At 9:50am, we parked our rental car next to some shack, which I believe was legal and out of the way of traffic. Then, after getting our gear ready, we walked back towards the signpost for Fenghuang Waterfall (there was no sign prior to this) and saw the series of concrete steps leading down the mountainside.
As we were about to start the hike, there were a pair of elderly men who wondered about what we were doing. Mom talked to them and mentioned that there was a waterfall down the steps. The men were used to hiking the mountains here, but apparently, they were never aware of this waterfall existing here. They took a mental note of it, but they opted to continue their hike down the road while Mom and I would carry on with the hike.
It felt noticeably a bit cooler up here, but I had a feeling that the lower we'd go, the warmer it would become. And sure enough, as Mom and I went downstairs amongst the beetlenut trees and overgrown steps, we were already starting to sweat beads. Not helping matters were striped mosquitos hovering around us waiting to get their shots in whenever we weren't moving.
Going down the steps was slower going than I thought. The steps weren't even as some were short and others were steeper. Then, there were some that had broken concrete, and the overgrowth within the beetlenut plantation didn't help matters. At first, we thought the trail might not be usable, but when we saw railings further below, we were a little more assured that we could keep going.
Indeed, the further down the steps we went, the muggier it became. Even the sun came out for a brief moment. Not only that, but the more steps we went down, the more we'd have to get all of it back on the way up! So we were totally not looking forward to the sweatfest that we were in for later on.
Speaking of the steps, this was one of the few instances where having these steps made this trail possible. Had it been natural dirt, I doubt that the trail would have lasted given how steep the mountainsides were. It would have eventually become a muddy and dangerous mess, especially given how frequently Taiwan gets hit with typhoons.
More than halfway down to the bottom, there was one faded sign where there was a false trail behind it. We stayed with the steps and we were fine. I suspected that the false trail somehow accessed the stream responsible for the falls, and it might even get to the top though we couldn't say for sure. Then, there was one more sign about not swimming. I wonder how well-heeded it was considering most people going down here would probably want to be going for a swim.
Finally, after what seemed like forever, we reached the base of the descent. After a short rock scramble, we were right on the edge of the wide plunge pool. The waterfall itself might have been around 20m or so. It had good volume, but it was totally secluded.
The spray from the falls was very refreshing as Mom and I were very hot and sticky. We took our shots and videos and then tried to savor the occasion though the darkening skies from the fast moving clouds above us wasn't exactly reassuring. We definitely wouldn't want to be down here if there was a flash flood.
Anyways, by about 11:25am, we finished the arduous climb back up to the trailhead. It was a brutally long climb and Mom had lost count of how many steps there were. I think she stopped at around 200, but we've read in the literature that it could be around 1500 steps. Regardless, we were a very hot and sweaty mess once again, and gladly took the AC from the car.
Next, we headed back down the hill in the direction of Chiayi. Along the way at 11:40am, we met up with the two guys who were talking with us earlier on. Mom offered them a ride to save their legs a bit (one of the guys was 80 years old).
During the ride down, we learned that these men were from Chiayi. One was a teacher (of Buddhism I think), and Mom was pretty convinced that we were going to somehow be talked about in one of his sermons or lectures or whatever. We dropped them off at the temple called Ban Tian Yan at 11:45am, and Mom picked up some fruits whilst there as well.
Then, we continued heading down the hill until Mom suggested that since it was lunch time and we probably wouldn't get a chance to eat until much later, that we should at least have a meal at the Ban Tian Yan Temple. The elderly gents whom we kept running into mentioned that the food was vegetarian at the temple, which sounded fine for Mom and I. Plus, it was an opportunity to take some photos of this national historic site so that sealed the deal in terms of going back to Ban Tian Yan.
So at 11:55am, we were back at the Ban Tian Yan. It was very busy here, which really surprised Mom and I as we thought people were supposed to be at work or something. But the scene here was reminiscent of something we'd expect to see on a weekend! Indeed, there were hundreds of people chilling out around the temple as well as many others inside the incense-smoke-filled room doing a bai bai (prayer bows with incense sticks).
Upon checking out the temple, Mom and I then went upstairs where there was a vegetarian restaurant where they served sour vegetables (suan cai), some kind of tofu skin, rice, noodles, and some local potatos. At first, they were making another batch of food and they told Mom to wait.
So during this time, I went back outside and checked out the big gold Buddha statue as well as other parts of the temple that I hadn't seen yet. It turned out that the Big Buddha was somewhat hidden as it was tucked behind and to the right of the main temple.
So I got my snaps and tried to soak in the atmosphere as much as I could. But with Mom waiting for me back at the eating area, I cut my visit short, and joined her. Once I rejoined her, we quickly scarfed down the food before returning to our parked car at 12:40pm.
Along the way, we encountered the same pair of guys that we had given a ride to here. Apparently, they waited for us to finish eating before giving us an offering of some pastries. Indeed, there was some straight Buddha happenings going on here. In fact, Mom was telling me that it was Buddha that made the call to bring us back to Ban Tian Yan. Regardless of superstitions, it did feel like there was some strange mystic stuff going on given how we kept bumping into the same two elderly men.
They invited us to Chiayi where they could wine and dine us, but we were short on time as we needed to see the Songlong Rock Waterfall at Shanlinhsi. We politely declined since we had a bunch of more things to do for the remaining days of our trip, and we simply didn't have the time for any more unexpected stops.
So it was definitely a bit later than we were hoping for when we regained the car, especially since we might not have much daylight left to do the Songlong Rock Waterfall on this day.
And so began the drive as we followed the Expressway 3 for a good distance before taking the exit leading us towards Shitou (Xitou). We passed by a couple of main towns (filling up gas in one of them), and then after a little bit of confusion in the Shitou area, we were then on the final 17km drive up to Shanlinhsi (Shanlinxi). That said, while we were in Shitou briefly, we saw there were lots of people near and inside Shitou, and once again, it made Mom and I wonder why there were so many people on a weekday! Could it be because there was a holiday (unbeknownst to us) on this day?
Once we were on the road to Shitou, it was climbing quite extensively for a fairly well-conditioned road that was wide enough for 1.5 lanes or so. They had signs along the way where an animal from the Chinese zodiac was telling us how many more kilometers to go before reaching Shanlinhsi. As we made the drive, we could see clouds moving fast creating fog in some spots while there were spots of sun in others.
It wasn't until about 2:40pm when we finally reached the first main parking area for Shanlinhsi (which was also referred to as Sun link Sea though the Chinese characters had nothing to do with that romanization of this area. So Mom promptly went to the visitor center to get a map and ask about the Songlong Rock Waterfall. It turned out that we had long hike ahead of us to even get there, and with limited daylight left, it was now a race against the clock before it would get dark.
Mom wound up booking a room behind the visitor center at the last minute. It only costed her around $70 USD and it included all the parking and visitor entrance fees. Because we couldn't do both the Chinglong Waterfall and the Songlong Rock Waterfall on the same day, we committed to doing the longer Songlong Rock Waterfall hike on this day and punt the Chinglong Waterfall for first thing tomorrow morning. Thus, it made sense to spend the night here.
When we realized that the trailhead actually started another kilometer further (closer to the Sun link Sea Resort's more sportier area), we got back in the car and drove closer to the trailhead. And then at 2:55pm, we finally started hiking.
The weather felt noticeably cooler and drier here. Even though Mom and I were moving quickly on the wooded trail, we were still sweating, but at least we weren't as sticky and miserable as all the other Taiwan hikes to this point.
We passed by several little landmarks like the so-called Immortal Platform, the Three Layer Ridge, and other such things on the wooded side of the trail alongside the right side of the river or stream. There were also many hikers going the other way as it seemed like we were the only ones still headed further upstream. At 3:35pm, we'd eventually reach some village, where we found ourselves walking through a greenhouse after having crossed a red bridge.
Once we regained the trail, there were lots of people here that were apparently dropped off by a bus. I think these were the shuttle buses that were included in our ticket prices, and little did we realize that we probably could have used their services to speed up the time spent on this 5-6km round trip trail.
As we were continuing on with our hike, we encountered some American Taiwanese from Texas who pointed out to us that there were monkeys on the hillside. And indeed, we saw them, conversed with these folks for a bit, and then we were on our way.
At 3:55pm, we reached another little landmark at something called the Flowing Bull Market or something like that. As we were hiking, we saw the bus actually was able to drive further on the other side of the river, and we wondered if it went all the way to the end.
At about 4:10pm, we finally arrived at a suspension bridge in close proximity to the Songlong Rock Waterfall. The pool downstream from the falls was calm so it produced nice reflections. Mom and I opted to walk the loop going counterclockwise around the plunge pool area and into an alcove or recess almost behind the waterfall.
The acoustics of this alcove made it sound like water was rushing from different parts of the alcove when in fact the water was only coming down the waterfall itself though its sounds were somehow projecting into the alcove.
Mom and I took a bit of time to experience this falls along with a handful of other people. However, we were still curious about the Eye of Heaven Rock or something like that, and so we kept going up the trail past the waterfall. We actually wound up taking a trail that went through a tunnel then approached an ancient red cypress tree that was apparently felled or broke off by typhoon or lightning.
We got there at about 4:35pm. What was left standing of the cypress tree was its trunk, and even that part was being held up by black wires.
At 4:45pm, we finally made it up to the Eye of Heaven and Earth Rock. I had thought that this was supposed to be some natural arch. But instead, it was nothing more than merely a pair of alcoves or depressions in the rock resembling an eye. Truth be told, this extra excursion wasn't worth it, and now Mom and I were quickly making our way back as the sun was very close to setting, and we had to make it back before it got dark and before dinner would close.
We'd eventually make it back at the Songlong Rock Waterfall, but as I was trying to wrap up taking a movie, Mom told me that the last shuttle had left at 5pm, and the time when I was done and we talked was around 5:01pm. So we just missed the last shuttle by a minute or so. The driver cited something like he had to meet a schedule or something like that. And I guess he couldn't spare one minute for us.
And so Mom and I promptly walked back along the road as quickly as possible. We wouldn't see another soul until we got to the village where surprisingly there was a couple taking photos from here. So that covered the first kilometer of the return hike.
Next, we continued following the bus route back, and along the way, we encountered a Chinese couple where Mom asked them if they had eaten dinner already. They said that they didn't and after talking a bit more, they decided to keep us company while hiking back in the twilight.
Mom was telling them about my website, the discounts she had been getting (by going it alone and booking at the last minute), and where we had been on our trip so far. Indeed, Mom was very proud of what we've been able to accomplish so far on this trip.
When we got back towards the hotel, we kept walking on the paved road, but then when we got near the familiar visitor center area, we couldn't find our car! After a brief moment of panic, we decided to walk the way we drove back towards the more expensive hotel. Surely we wouldn't miss the car going in this direction since we had driven it earlier.
Well, sure enough, at 5:55pm, we finally regained the car. And five minutes later, we had driven back to the visitor center parking lot. We decided that we wouldn't do anything with our luggages until we had dinner first. And so we promptly went upstairs for dinner, and then we had ourselves a pretty inexpensive but filling Taiwanese dinner consisting of pig feet, wild chicken, bamboo, stir-fried greens, and spicy pickled veggies.
The dinner was simple and yet it hit the spot after going four straight nights of night market food.
It wasn't until about 6:55pm that we finally got into our pretty basic room, but it was good enough for us, and then we called it a day…
Day 20 (November 1, 2016 – Sun Moon Lake, Taiwan): "Up Down Up Mountains"
It was about 4:55am when we awoke just before my alarm. We took most of the next hour packing up and getting ready to load up the car. We intended to load up the car so we wouldn't be forgetting or needing to go back to the room, but we still wanted to go on a hike to the Chinglong Waterfall before showing up for breakfast and then leaving Shanlinhsi towards Sun Moon Lake with a stop in Dongbu, where we expected to visit a pair of waterfalls.
At 5:45am, we loaded up the car. Mom said that she couldn't find her iPad. I speculated that she might have left it in her bed at one of the prior accommodations, but we didn't pay much mind to it figuring that it might turn up later in the morning when there would be more light. Right now, it was still a bit low light even though the daylight was getting brighter with each passing minute.
Then, we started walking towards the Chinglong Waterfall. We first took the road figuring that with the low light at the time, there wouldn't be as much interesting stuff to see or photograph. But by about 6am, we arrived at the toll booth, where nearby was a small shrine with some prayer music being played.
We then continued walking along a narrower road alongside the river as it led past a suspension bridge with a lookout towards the stream where we saw potholes in the bedrock. There was also a little lookout before the suspension bridge, where there was a rock formation that was supposed to resemble a couple of turtles (or at least their heads protruding from their shells, I guess).
There were a handful of people already on the trail with us. And as we crossed the suspension bridge, we then continued further downstream as we still had around 1.6km to go to reach the Chinglong Waterfall.
A short distance past the bathrooms, we were then treated to nice views down the canyon where we could see that we were above the clouds in the distance. There was also some town clinging to the mountain in the distance though we weren't sure what town that was.
As we continued walking, we started to see the deep gorge below as well as views of the Chinglong Waterfall. There were a couple of upper lookouts – one from a small wooden deck and the other from a wider lookout area with a more direct and less overgrown view. It was a good thing we got to see the falls when we did because we could see that later in the day, we'd be looking against the sun.
Continuing on in the hike, we then followed the signs for the main lookout of the Chinglong Waterfall. It first went past some kind of tilted building called the Energy House. It turned out that it used to be a bathroom before an earthquake caused the building to tilt. When we stepped inside, it left us with an uneasy feeling as the tilted floor made us think that this thing could slide down at any moment. I guess it made sense why the bathrooms now were further up the trail where it was flatter.
Continuing down the trail, we were treated to more partial panoramas of the valley below. Indeed, with us being above the clouds, this was the most comfortable hike in Taiwan that we had been on so far as the air was cool, crisp, and clean. Even though Mom and I had been walking for about an hour or more, we still didn't break a sweat. I don't think we could have said that for any of the waterfall excursions that we had been on in Taiwan thus far.
At about 7am, we finally made it to the lower lookout for the Chinglong Waterfall. Even though there were a handful of people on the trails with us earlier on, Mom and I were the only people enjoying this waterfall. It was still quite cool down here as the waterfall's light spray went our way, but with the air still a bit on the chilly side, my fingers started to get a bit cold as well as my cheeks.
After having our fill of this falls, we then went back upstairs to the junction. Once done with this ascent, Mom wanted to take a break so I took a spur trail towards the second Chinglong Waterfall (after seeing signage on the map signpost).
I got there at about 7:30am and I could clearly see that this second falls was much thinner and lighter flowing than the first. However, there was a more open panoramic view down towards the valley as well as the buildings or homes from some other nearby town across the valley.
Then, shortly thereafter, I rejoined Mom and we continued hiking back to the hotel. We'd eventually get there at about 8am, where we could finally have some brekkie. As we were headed to the restaurant, we couldn't help but notice the crazy line of people apparently waiting for a shuttle bus to take them higher up the Shanlinhsi Nature Reserve. I guess they were waiting for the first shuttle bus of the day.
The breakfast was actually a surprisingly varied and decent affair as there were plenty of veggies, ground meat in oil over white rice, toast with nutella spread (or any other spread you want), eggs, and picked veggies. I guess I had started to grow fond of Taiwanese brekkies where I remembered that I could avoid them like the plague when I was younger. But Mom was telling me when she noticed this that when you get older, you tend to go back to your roots. I guess that was certainly the case when it came to me.
At 8:45am, we were done with brekkie, and then we headed out. It was a beautiful day as it appeared to be cloudless where we were at. I knew that we were going to miss the nice cool air and beautiful scenery. It was definitely a good call to spend the night at Shanlinhsi, but Mom and I also knew that we were headed to lower elevation spots like Dongbu (Dongpu) and Sun Moon Lake. We definitely weren't looking forward to another round of sweating profusely as we were returning back down below the inversion layer.
So we began the long drive towards the Rainbow Waterfall near Dongbu. It was said to be at least a two-hour drive to get there since we had to go down the mountain from Shanlinhsi and then cut across towards Shuili, and finally back towards Yushan National Park near Dongbu.
Sure enough after the long twisty drives, we'd finally got to Dongbu. Along the way, we got past an area where it seemed like an entire mountainside was bare as it was clear that it had to have suffered a pretty extensive landslide. Further along the drive, there were a pair of bridges, where we could see the top of Yushan (Jade Mountain), which was said to be the tallest on the island.
When we got to the small turnoff leading up to Rainbow Waterfall, we saw how steep and narrow the road was that was leading up. So we weren't sure if it could be driven or not. So we opted to park the car on the main road then walk up.
But that steep road also meant that walking up was pretty tough. The initial stairs were damaged and rotted, but afterwards, we walked a combination of stairs and road. We'd eventually get to a part where we saw how much further the Rainbow Falls was, and we also continued to see more car parks along the way.
At this point (it was a little past 11:15am at the time), we decided that perhaps I should go back down and go get the car then drive up where Mom would be waiting. We ought to at least drive up to the point where we couldn't drive anymore.
So that we did, as I trail ran my way down the road (being careful not to slip and fall where water was running down the road from leaking or broken pipes), I eventually regained the car less than 10 minutes later. Next, I put the car in low gear then proceeded to drive up the road (hoping no one would be driving down the same way as there were very limited places to pull over and let people pass). Had there been another car coming down while I was coming up and vice versa, I wouldn't know what to do given how narrow and steep the road was.
Luckily, no one was on the road except me. Five minutes later, I eventually picked up Mom and then we parked at some spot where there was no way we'd be continuing the drive. There were people chilling out at some tables though the shops and cafes here were closed (probably only open on weekends).
Clearly I wouldn't even consider visiting this waterfall (or at least driving this part) had it been raining. I also wouldn't even consider driving that road if it had been the weekend when for sure there'd be more people driving in both directions.
Anyways, after parking the car, Mom and I promptly walked up the trail behind the shops. We were already hot and sweaty from the initial hike that we did, but now we were even more committed to finishing the job as people were coming back down and seeing us struggle. They encouraged us by saying "jia you" (add gas), which is like saying "keep it up!"
And indeed, the trail continued to climb as we went past some smaller cafe before crossing a long suspension bridge. At least there was a breeze while on the bridge, and that felt quite good against the hot and sunny weather. Beyond the suspension bridge, the trail kept climbing as we'd pass a small waterfall (fronted by lots of hideous pipes probably for water diversion).
It wouldn't be much longer before we finally reached the end of the trail at the base of the Rainbow Waterfall. There was no rainbow to be seen at the time (it was around 12pm when we showed up), and I figured that we wouldn't be seeing it because we had to either be here later in the day (provided shadows wouldn't get in the way) or somehow hike further up the mountains to get a more top down look at the falls while the sun would be behind us. That latter thing was clearly not an option at the time.
While the waterfall itself was pretty nice, especially when juxtaposed against the clear blue sky, the part we didn't care much for were the plethora of diversion pipes or hoses that got in the way of our line of sight. Those things kind of took away from the beauty of this place. There was also a lookout platform behind the police tape, where apparently that part of the trail was closed due to what appeared to be rotting planks of wood (probably from the moisture from the waterfall).
After getting our fill of this falls, it was pretty much all downhill from there. By about 12:35pm, we finally made it back to the car. The panoramic views while hiking back down the trail were majestic. Anyways, what was on my mind now was whether we'd have to deal with bi-directional traffic while on the narrow and steep single-lane road back down into the town of Dongbu.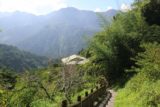 Fortunately for us, no one was coming up the road as we were coming down (in the lowest gear possible as brake failure was likely without the help of the engine slowing the car down on the steep descent). We'd eventually get down to the town of Dongbu and then drove over towards where the GPS told us where the Yunlong Waterfall Trailhead was supposed to be.
As we made the drive further south of Dongbu town, we went past a tunnel and just on the other side of the tunnel, we could see the trailhead as steps were ascending above the main road. There were a couple of cars parked next to the trailhead (occupying one of the two lanes of the narrow road). We saw that it would be hard to park immediately near the trailhead so we backtracked towards a shelter in front of the tunnel where there was more space to park the car and get out of the way of traffic.
So by 12:50pm, we got out of the car and strapped up our gear in anticipation of a pretty long hike ahead of us. The folks chilling out at the trailhead tried to scare Mom by saying that there were snakes (Mom had a phobia of snakes) along the trail, which prompted her to go back to the car and turn our shorts back into long hiking pants. She also went to get her trekking pole to try to scare off the snakes or something.
Now there was also a sign in Chinese saying something to the effect that the trail was closed. The folks there said the sign didn't mean anything and said it should be ok to hike. And so eventually we'd make the steep climb up the steps where the climb was pretty relentless.
The trail then joined up with a paved but narrow path that might have been ok for scooters but definitely not for cars. Along the way, we caught a view towards Yushan, but by this time, the clouds had grown to the point that they started to obscure the peak of Yushan.
As we continued hiking up the concrete path, we'd eventually get to a temple. There was a group of hikers there where Mom was conversing with them and learned that these hikers went 2km beyond this temple and said that they couldn't get a view of Yunlong Waterfall as the trail was cut short due to landslide. Apparently, the typhoons that had occurred throughout this Summer and Autumn ensured that the mountain remained unstable even through now.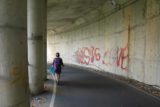 I'm sure that was the kind of news that Mom wanted to hear as she was quite ready to head back. And so we headed back and eventually returned to the car at 2:05pm. I guess with the Yunlong Waterfall (like the Baiyang Waterfall), it just wasn't meant to be.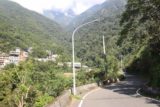 So with that, we drove towards the Sun Moon Lake. Along the way, we made a stop at the 85C in Shuili at 3pm as Mom wanted to make a stop there for a bathroom break as well as a little sweet tooth break. It turned out that the selection of this 85C wasn't nowhere near as extensive as what we were used to back at home nor what we would anticipate in Taipei.
Still, we wound up with some kind of Pudding Milk Tea (Mom had them also add black pearls or bobas in there) as well as a couple of little cakes and lemon egg tarts. Mom also made calls where apparently the accommodation at the Shanlinhsi had Mom's iPad as well as some paperwork. So she had them send it to a relative's address in Taipei. Meanwhile, we also learned that Mom forgot to return the room keys as well. So we'd have to have one of the hotels mail that room key back as well.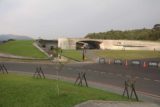 So with that squared away, we started driving again. But there was some initial confusion as we somehow ended up at some place called Checheng. But once we finally picked a better waypoint for the Sun Moon Lake on our Garmin GPS, then we were finally on our way to the correct place at about 3:45pm.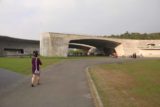 Mom took over the driving and the drive was pretty uneventful as we'd eventually arrive at the visitor center for Sun Moon Lake at 4:10pm. Daylight was running out as we probably only had about an hour to go before sunset. But during this time, Mom was fielding suggestions for accommodations in the area as we were booking at the very last minute again (both for flexibility and in hopes of getting a discount).
Meanwhile, I was busy taking photos from the visitor center area towards the Sun Moon Lake. The photos from this spot was a little on the awkward side. But I did pick up an English Map of the Sun Moon Lake, and after Mom was done with her questions, we asked the same staff lady what was the best spot to take photos with the limited amount of sunlight we had left.
She suggested the Wenwu Temple, and so that was where we were headed next before making our booking on the fly for the accommodation for tonight. At 4:30pm, we were back in the car, and at about 4:45pm, we finally arrived at the front of the Wenwu Temple, which had a bit of a grand gate entrance as well as seemingly plenty of parking spots alongside the road.
We promptly started taking photos over the lake towards the sinking red globe sun. Mom told me that I should go up to the temple and keep taking my photos while Mom would take care of the accommodations business via phone.
So with that, I promptly went up the stairs of the temple and took what photos I could before continuing towards the back of the pretty big complex. I noticed there were stairs towards the so-called Sky Deck, but I opted to go up to where most of the people where at the top of the Confucius Memorial, which as at some series of arches or gateways at the very top of a series of terraces and steps.
The problem with the view from here was that the temple blocked most of the views towards the lake. So next, I headed back down the steps and then quickly went up the stairs to one of the Sky Decks. It would turn out that I would get my lake and sunset photos from this Sky Deck as I watched the red globe sun sink below the neighboring hillside.
I then headed back down the steps and then up the other steps towards the other Sky Deck. When I got up there, I was all alone but I also saw that perhaps this was the better spot to view the sunset as I could see more of the lake (as I didn't need to look across the temple rooftops towards the setting sun). Oh well, I had a 50/50 choice to make and I guessed wrong.
That said, I got my snaps, then headed back downstairs. I tried to take a few more photos of the interior of the grand temple here before I finally had my fill of this place with the fading daylight. Eventually, I'd meet up with Mom again, where she introduced me to a pair of guys that were here visiting by bicycle.
One guy was Dutch and the other guy was Taiwanese who I guess was kind of traveling with him while also acting as a translator for him. Mom was telling them about the World of Waterfalls website while we were trading stories about the language barrier, our travels so far, and our next steps.
As it was getting quite dark, it was time to part ways (those guys now had to ride their bikes in the dark). Meanwhile, we had to find our accommodation and check in while also trying to find parking. But eventually, after some night driving along the lake (while tour buses were going the other way), we'd eventually stop in front of the Skylight Bed and Breakfast where Mom checked in and asked them where we should be parking.
We actually drove through some narrow streets flanked by businesses in another night market type atmosphere though this one was pretty dead compared to the others we had been on. I felt awkward driving through one of these things, but we had to do what we had to do in order to figure out where to park while also checking in.
Eventually at 6:20pm, the owner of the hotel rode his scooter and pointed us to park at the right spot (which I guess was his personal spot behind a chain blocking any strangers that didn't know better from parking there).
Then, after dropping off our luggages and belongings in our pretty spacious and nicely decorated room (I guess there was a reason why this place got 4.5 stars out of 5 in terms of accommodation ratings on Booking.com), we then promptly headed back downstairs at 6:35pm to find dinner.
We eventually went to this recommend spot called Fu Yuan Fan Guan (Rich Garden Restaurant), and for once, we'd be having a sit down dinner without having another night market dinner – something that we had gotten tired of after having it for 3-4 days in a row.
The dinner was a very filling affair as we had a five-course dinner with an additional side order of tofu. Mom said the tofu was the best one she had tasted. Meanwhile, the chicken was tender and fresh as was the fish, though it had lots of thin bones so we had to be careful of how we ate that fish. Meanwhile, there were picked spicy veggies, pig, and soup, among others.
After the filling dinner, Mom and I walked towards the pier area and then back through the streets of the main part of this section of Sun Moon Lake. After getting the rest of the stuff we needed to get from the car, Mom was having me read a bunch of different signs on the way to the Skylight Bed and Breakfast. This was to help me practice my ability to read Chinese (even though the words written here tended to use traditional characters as opposed to simplified characters).
Eventually at 8:15pm, we finally made it back to our room after briefly socializing with the owners at the front desk. We were both fully stuffed (we couldn't think of food anymore), and we spent the remainder of the evening getting cleaned up and ready to go to bed.
Tomorrow, we anticipated a very long day of driving as well as some rain in the Taipei area…
Day 21 (November 2, 2016 – Yilan, Taiwan): "Covering A Lot Of Ground"
It was about 5am when I awoke up to my alarm. Mom had already been up but was complaining about the AC being too strong. At least our clothes were dry (thanks to the reduced humidity) and so we spent time to wrap up our packing and getting ready for a long drive ahead of us.
But before we were leaving Sun Moon Lake, Mom and I decided to go for a little bit of a morning walk since last night's walk onto the pier was pretty much devoid of views due to the darkness. So in this morning, we walked back to the pier area and looked across the lake towards the west. That was where we saw that there was still fog clouding over the far western side of the lake. Meanwhile, there were clouds surrounding us as well as pockets of clear skies.
So we just aimlessly wandered for a bit getting to some lakeshore trail before we realized that it was 6:30am and it was time to return to the Skyline Bed and Breakfast for our brekkie. Back at the pier, we saw a group of about 20 people or so doing Taichi in unison. It was kind of a cool thing to see, and we noticed upon further inspection that this even included a handful of foreigners who got in the act. This brought back memories of when Julie and I saw entire villages (say hundreds or thousands) of people doing Taichi together in China. Mom was telling me that it was all about focus and balance as well as helping out with flexibility, which was especially why we tended to see the elderly do this.
When we returned to the accommodation, the manager was at the front desk and told us that we could go up and start breakfast right now if we wanted to.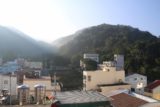 And so we did that, where there were already fruits laid out on the tables and the manager started to work on Mom's western style brekkie while I got myself a more Taiwanese style brekkie. It was funny how I wouldn't touch this stuff when I was younger, but now here I was having what Mom and Dad would usually have and Mom having what I would have in my younger days.
During brekkie, Mom was socializing with the manager about this business and about our travels. As this was happening, the sun came out and the fog had burned off. Now, we were getting a nice view over the lake from the breakfast room.
At 7:30am, we were done with brekkie and then we headed down with our luggage. Mom went to the nearby 7-11 to mail back the room keys that she had forgotten from Shanlinhsi while I went to recover the car while putting the luggages in.
Mom decided to take the early shift of driving, and so off we went. The drive was pretty uneventful except for one confusing part where we got off the expressway in favor of the Route 3 instead of staying on the Expressway 3. Other than that, the next 3 hours was a blur for me as I was pretty much asleep.
It wasn't until about 11:20am when we approached the Xiaowulai Waterfall. It was a little confusing at first that there were about a dozen cars or so parked alongside the road near the lookout for the Xiaowulai Waterfall. It didn't look official and they were partially taking up the driving lanes of the Tai 7 road.
So we kept driving a little further past a fork and then down towards a paid parking area. Sure it probably costed us about 100 TWD or $3 USD, but at least we had the piece of mind of knowing our car was supervised and safely parked without the risk of someone crashing into our parked car.
Once we finally got out of the car, we walked back alongside the road and then got to the Xiaowulai Waterfall observatory. It was basically a viewing platform where we were able to look down at the impressive Xiaowulai Waterfall, which was in a shadowy cove while we were looking against the sun. Looking in the other direction, we were able to view a wide river with a red road bridge spanning it.
It seemed like the area was in and out of clouds as apparently we were right on the edge of the rain storm that was hitting most of Northern and Northeastern Taiwan. We knew that we were heading into that storm after our visit to the Xiaowulai Waterfall.
After getting our fill of the falls from the top, we then went down a bunch of steps in the observatory before getting down to where the toilets were, and then we went down a trail leading down to a couple of closure areas. There were a couple of people leaving from the closure areas so we crossed over and did a little exploration of that forbidden area.
Well, when we got to a red footbridge, we saw that there was a landslide that bent the bridge and forced us to squeeze by the hardest hit part of the bridge. Then, we continued along the river on the metal path ultimately leading to a concrete bridge fronting the base of the Xiaowulai Waterfall.
It was hard to photograph the falls from here because we were looking against the sun as well as the falls being very misty. The path on the other side of the footbridge was blocked as it led to a pagoda or observation tower. However, we could clearly see that the tower was rotting and there'd be no way we'd even think about trying to go up as it seemed to have been closed for quite a while.
Anyways, as Mom and I were trying to photograph the falls as well as trying to capture a rainbow further downstream, we eventually had our fill of this spot and headed back up towards the observation tower.
We'd eventually get back to the car at 12:50pm, where we opted not to bother with the sky walk (basically a bridge with a glass floor) back down a different road another 500m away. Since time was short, we had to stick with our priorities, and this sky walk was definitely not one of our priorities on this trip.
And so we left Xiaowulai and drove towards Yilan. We had to make a decision whether to visit Wufengqi Waterfall, which was northwest of Yilan, or visit the Xinliao and Jiuliao Waterfalls, which were southwest of Yilan (actually closer to Su'ao).
We had plenty of time to make this decision since the drive was said to take another 3 hours or so. But as we left several tunnels (including a 12km tunnel) along both the Expressways 3 and 5, we ultimately decided to go for the Xinliao Waterfall at least before it got dark.
When we left the last of the tunnels, we continued driving south of Yilan, but the weather quickly turned from overcast and drizzly to rainy. And I was starting to regret the decision to keep going south towards Xinliao Waterfall. But in any case, we had to commit to our decision as we weren't going to come back down this way tomorrow. Instead, we'd be looking forward to returning to the Taipei vicinity and stay there for the remainder of the trip as we'd return the rental car either by the end of day tomorrow or the following morning on Friday.
Anyways, it wasn't until avout 3:05pm when we found the Xinliao Waterfall visitor center. Indeed, it was still raining at the time, and after getting some much needed restroom breaks, Mom asked the worker there about the conditions, and she recommended that we could do the Xinliao Waterfall trail but the Jiuliao Waterfall trail was not as feasible given the swollen state of the streams and rivers as this part of Taiwan had been seeing day-after-day-after-day of rains.
So after getting the information that we needed, we then drove off again at 3:10pm, and by 3:20pm, we finally made it to the Xinliao Waterfall car park. Apparently, there were four other parked cars here prior to us, and we figured that these folks must have been crazy enough to do what we were doing and visiting a waterfall in pretty miserable weather.
Mom was bringing out her umbrella while wearing her heavier jacket. Meanwhile, I was wearing my waterproof pants as well as rain poncho and holding onto the clear umbrella that we had bought while in Japan.
Mom registered with some lady working in the shelter near the trailhead. Apparently, there was a 350 hiker limit at one time on this hike, though I'm quite certain this rule would not be applied on this soggy day. In any case, once those formalities were out of the way, we promptly followed a pretty straightforward hike for the 1km (each way) trail. But since it was raining, trying to take trail photos while holding an umbrella made things even tougher in terms of keeping the DSLR dry.
Anyways, the trail was pleasant as the surface as mostly wood chips and dirt. It was quite unlike most of the trails in Taiwan where they primarily made the trails concrete or stone, and essentially made it easy for a lady to rock up to a waterfall in high heels. But in this case, it was the simple and low-maintenance trail that made sense, and perhaps the 2009 typhoon that caused the old trail to be destroyed in the first place that got the local authorities to realize the error in the previous ways.
The trail actually had split off somewhere along the way where one path snaked through a garden area where some of the plants were flowering. The other path was more straighforward. Either way, they all followed along one side of the banks of the Xinliao River (they spelled it Sinliao River).
There were a handful of people with umbrellas going the opposite direction that we were going. And when Mom and I finally made it to the Xinliao Waterfall, which was rather short but gushing in a lovely mountainous backdrop (though the low lying clouds had a bit of a Crouching Tiger, Hidden Dragon
effect), all of the sudden, it got a bit windy.
So spray from the waterfall was going everywhere while at the same time, the rain was coming down pretty hard. So we hastily took our photos and videos, and then promptly headed back down the trail to the car park. We got there at about 4:25pm.
Next, we drove to some kind of pretty popular restaurant in Jiaoxi, which was near Yilan. Apparently, Mom ate at this place before, and she wanted a real dinner this time around, and she thought this restaurant was the place to be. Since this place didn't have any English, I didn't know what to call this place. But their claim to fame was their crispy roasted whole chicken, which by itself was easily more than a meal's worth per person between Mom and I.
Mom also got eggplant, squid, and some greens as well as some soup. When we left the restaurant at 6:35pm fully stuffed, a lot more people were showing up to the restaurant. So it was a good call by Mom to come here first and then check in at the last minute to a good hotel with an onsen.
After a little difficulty finding the parking garage for the City Suites Hotel, we finally managed to find it and park the car at 7pm. We then promptly checked in, got settled, and at about 8:30pm, we each went upstairs to the roof for some time to soak in an onsen. There was one on the roof (one men-only and one women-only), and the garden fronting the onsen areas were Japanese influenced.
It's things like these that made me wonder whether the Japanese introduced the concept of onsens to Taiwan during their occupation of the island during the late 19th and early- to mid-20th century. Well, one deviation from the Japanese concept was that apparently the Taiwanese frowned upon going into the onsens buck naked. And so Mom and I spent a few minutes soaking in the rooftop onsen, which was actually pretty hot as the temperature held steady at around 41.8C.
One thing about this onsen was that it was outdoors so when it was raining (albeit lightly), I was getting these cold droplets falling on my head and shoulders while I was heating up with the onsen waters. It was an unusual sensation, but one I didn't mind at all.
When I had my fill of staring at the walls while sitting and relaxing in the hot water, I then showered again and dried off before heading downstairs. But just as I was about to return the keys, I saw that there was another spa area on the first floor. And after exploring that one, I saw that its onsen area was far more extensive with multiple pools and fountains.
So I did another round of soaking in the onsens down here before I finally returned to our room at about 9:25pm. At that point, I Facetimed Julie and Tahia again, and wrapped up that call really missing them. But I knew that in a few days, I'd get to go home once again though I did have a reunion with a former high school classmate later this weekend, once we figure out what waterfalling activities would be left once we return the rental car either late tomorrow or first thing Friday.
Whatever the case, this concluded this day that was dominated by driving. Indeed, we covered a lot of real estate on this day, but at least tomorrow, the coverage should be much less though we'd also be engaging in a lot more activities than on this day. Hopefully, the weather would improve…
Day 22 (November 3, 2016 – Keelung, Taiwan): "The Roots"
It was 5am when we I awoke to my alarm. Mom had already been up. It was still dark outside, but we wanted to get freshened up and get our stuff all packed and ready to bring to the car.
The plan was to do the Wufengqi Waterfall first thing in the morning, then come back to the hotel to eat the included breakfast. Then, we would figure out what to do next with the intent of staying either in Keelung or Yangmingshan later on tonight. I thought we would return the rental car tonight, but the more we thought about it, the more we realized that we really should return it the first thing tomorrow morning (when we were scheduled to do it).
So by 6am, the car was all loaded up. And then we were going up the car elevator before leaving for the Wufengqi Waterfall. It was nice to drive on the relatively empty streets this early in the morning. And after a relatively smooth drive, we wound up parking at the official car park at 6:15am for the Wufengqi Waterfalls after seeing that we couldn't park any closer to the trailhead or market (they were for handicapped).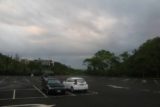 No was there to collect money though I'd imagine that we were supposed to pay some amount to park here.
There were already some people out and about on either hikes, doing morning calesthenics, or taichi. I think of all the countries we've gone traveling, I would have to say that China or Taiwan would have the most early birds out and about before we'd even get started.
So we followed a fairly considerable walk along more roads (for the nearby hotel) before walking towards some small little village area. We would continue following the signs for the Wufengqi Waterfalls, which caused us to go up some steps before making it up to the market where we couldn't park the car except handicapped folks or locals.
Next, after a rock surrounded by pavement, the trail became more of a conventional trail as it narrowed, then crossed a bridge, and reached a junction where the left led to some catholic church while the right led to the Wufengqi Waterfalls. Not far beyond that bridge was what turned out to be the "third" Wufengqi Waterfall, which was fairly small in size. There were a couple of people fishing or doing something before the base of the falls.
We then continued hiking up more steps as Mom and I started to build up a sweat. The air was still yet we felt like we were starting to sweat from the humidity that still remained despite the relatively cold on-and-off rains. It wasn't long before we reached the second Wufengqi Waterfall, which was tall and pretty impressive.
There was a shelter where some locals were doing their taichi thing, and there was one local who was psyching himself up or something (yelling to no one in particular as he was doing some kind of ritual or exercise – just like the folks at the Dajin Waterfall earlier on in the trip).
Mom asked him about going up to the last of the Wufengqi Waterfalls, and he told her that it was possible to go all the way up, but we had to be careful as a result of the rockfall danger (especially with all the unstable slopes resulting from the typhoons) as well as the slippery footing.
After one or two flights of steps, we reached a closure barrier. Recalling what Mom was told earlier by a local, we squeeze between the cliffside and the barricade itself. And thus, we continued on with the main part of this visit, which was for the waterfalls.
We were told that it was about 30 minutes walk from the 2nd Wufengqi Waterfall to the 1st or uppermost of the Wufengqi Waterfalls. At that point, we continued our hike up even more flights of steps. We'd eventually be at nearly eye level with the catholic church at the top of a different trail.
Believe it or not, this catholic church with its white exterior and cross stood out because Taiwan was so full of miaos (temples) with their busy red and gold exteriors. But throughout this Taiwan part of the trip, we've come to realize that these temples were pretty much a dime a dozen.
After climbing what seemed like an endless series of step and switchbacks, we finally got to a ledge where the trail more or less flattened out. Along the way, we could see that there were rock shelters. However, we were also encountering more evidence of unstable earth and landslides in this section.
A couple of sections were noteworthy. One part was where the railings were taken out by some rockfalls, thereby exposing a dropoff hazard. The other was a rockfall shelter that appeared to show signs of buckling as there were landslides that apparently landed atop one of the sheltered rockfall trail cover.
Once we got to the very end of the trail, we were atop a wooden platform with a very impressive view of the third and most beautiful of the three accessible Wufengqi Waterfalls. That wooden platform had some real tricky footing as there were algae atop the moist platform surface. So just maneuvering atop this platform was akin to ice skating as we could take a spill at any moment when our weight distribution wasn't right.
So after having our fill of this waterfall, we returned back to the car park at 7:55am. As tempted as I was to take the spur trail to the catholic church, I decided against it as I knew time was of the essence on this day.
Now, it was 8:10am and it was time to load up on breakfast, which was included in our room rate. We were fortunate that our hike was under calm weather (even though Mom and I were sweating from all the climbing up the steps) because we could see dark clouds coming in the distance, and it was only a matter of time before the rain would come on us once again.
The brekkie at the Jiaoxi City Suites was ok even though they had variety. We'd eventually be back in the car at 9:05am. Mom was trying to figure out how to add minutes to her phone plan as somehow she was running out having only about 1% of her 20GB plan on her sim card, I think. So when we checked out and left the hotel, we took a little bit of a detour to find a place where Mom could figure out how to add some more minutes.
At 9:25am, we managed to find the sim card place. But as expected, it was now raining. It wasn't until about 9:35am when we finally started to leave and continue on with the day. Apparently, Mom's plan still had more free minutes after her current plan would expire so we'd continue on as usual.
Mom actually called the Wulai area and asked if the road was open. Apparently, they said that all the services were open today. And so we decided to head straight for Wulai. Thus, we drove back through the series of tunnels (including the 12km tunnel), and we'd eventually be following the brown signs towards Wulai.
Thus, we were on a winding road following quite a long caravan of cars, taxis, and buses as it was a surprisingly busy drive into the mountains directly south of Taipei. It felt like a long drive, and well, it was for all intents and purposes as we'd finally arrive at the village right at the Wulai Waterfall at 10:55am (after going all the way to the bottom of the village where there wasn't any parking and then heading back up right across the street from the cable car station).
The weather was vacillating between lightly raining and sprinkling when we got out of the car, but we hastily went down the steps and to the very bottom of the village, where there were some lookouts peering directly at the impressive 80m Wulai Waterfall.
Both Mom and I badly needed a potty break, and it turned out that there was a toilet that was one of the more scenic rest stops as it had a viewing area of the Wulai Waterfall right in front of it. Then, after spending a few more minutes documenting the falls from different angles as well as the village itself, we then walked back up the steps and towards the cable car station.
Next, we paid for the cable car and waited for what seemed like at least 15-20 minutes or so before the cable car finally started moving. As we were ascending to the top, we were able to see additional tiers of the Wulai Waterfall as well as up and down the valley in both directions.
When we got to the top, we had some minutes to explore a little bit of the sheltered complex, where we looked upstream at more cascading tiers of the Wulai Waterfall as well as getting birdseye views down the Wulai Valley.
We noticed that there was a huge scar on the opposite side of the valley, and we suspected that after all the typhoons that had happened over the years, that scar must have been a huge landslide that wiped out road access to the falls village.
Well, we expected to get back down to the village at around 12pm but apparently the lady working up there wasn't in much of a hurry. So it wouldn't be until about 12:15pm before we finally made it back to the car so we could back down into the Bitan area so visit the grave of Grandpa on Dad's side of the family. I never got to meet him because he died young in an air force accident at 46 (before I was born).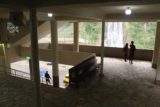 So after driving back north from Wulai towards Bitan, then having a little bit of an adventure driving through the busy streets on the southern edge of Taipei, we'd finally arrive at Grandpa's gravesite. It actually had a pretty nice view towards parts of Taipei, and I saw that there was a building as well as a tower with a logo that looked very much air force like (except I'd imagine it was the Taiwanese Air Force).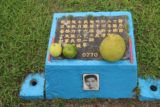 When we got to Grandpa's grave at 12:55pm, sure enough, I saw the familiar photo of Yeye, and there were already candles and a couple of offerings that were probably from Dad. Now, it was our turn to pay our respects and provide offerings though we weren't going to bother with incense sticks nor burning paper money. Those material things didn't matter. But what did matter was understanding my roots while also gaining a better understanding of who Yeye was.
Mom was helping me read out the characters on his gravestone (since I was always keen to learn more Chinese characters), and it read out where he was from, what his squadron was, what his role was, and the event that led to his death. It was actually a surprisingly emotional visit seeing both the family connection, the chain of events that have since happened that resulted in our current lives, and the tragedy that must have been heartbreaking leaving behind Grandma, Dad, Uncle, and two Aunties.
When we were done paying our respects at about 1:05pm, we then headed out towards Keelung, which was where we'd spend the rest of the afternoon before possibly spending the night at Yangmingshan.
And so we next headed northeast towards Keelung. The rain was on and off though it seemed to increase in intensity in spots making me fear for the worst in terms of visiting Jiufen and Huangjin Waterfall in the rain. But we'd eventually make it to a coastal road before heading inland going up a hill and seeing the impressive Huangjin Waterfall up ahead as we were making the switchbacks up towards its base.
Eventually, we'd arrive at the falls where we had a couple of choices to park the car. But just as I was backing up into a spot, a horde of motorcyclists (not scooters) essentially swarmed the car and one of them took the spot I was about to back into. That wasn't a very nice thing to do, but I guess we still had the other spot to back into.
So with a little bit of tricky maneuvering (and being a little more insistent this time before someone else claims that last spot), I finally managed to back into the other spot at about 2pm. Now, we can finally enjoy the falls though the horde of motorcyclists and their loud motors (and one was even flying a drone) kind of took away from the peace a little bit.
Mom was warning me that Taiwan has bikie gangs, and apparently, this was one of them. She told me that it's not wise to start something up with them as we could see their power in numbers. But in any case, we let them do their thing, we did our thing, and when they left, we spent a bit more time simply enjoying the beautifully rivuleted waterfall that was simply too hard to capture in one shot.
We probably had a brief moment of peace before the next wave of taxi drivers, tour buses, and individual drivers rocked up to the falls. Indeed, this was a pretty popular place even though the signage here was all in Chinese as apparently, this place wasn't that well known to the foreign tourist itineraries.
Looking in the opposite direction from the falls, we could see what Mom called Mt Keelung, which was a conical mountain with a small shrine or pagoda near its top. We wouldn't have time to climb up to it for the views, but Mom told me stories of how they'd go up there when she and her siblings were young.
We were also able to see the ocean from here though it was a bit of a partial view. As for the waterfall, although it was very colorful, we knew that there had been a bit of a mining history here so we knew the water was probably polluted as we could smell something in its spray. It had a bit of a sulphur smell though, and I wondered if the coloring of the rocks came from sulphur or if it came from the mining.
Speaking of the mining, Mom was telling me of how during the Japanese occupation of Taiwan, they pretty much took most of the gold and coal from this area (and apparently felled most of Taiwan's trees for their own wooden castles, temples, and palaces back in Japan). This was also where they kept American POWs. Even though she and many Taiwanese felt the Japanese committed war crimes and atrocities, I could see things from the other side where Japan saw what Western countries did in terms of plundering other countries and islands that they managed to occupy and tried to emulate their successes, especially since Japan was resource poor compared to the Western countries whose success they tried to mimick leading up to WWII. So they saw their actions as a necessity as opposed to war crimes. It's yet another example of how it's all a matter of perspective, and there are plenty of these things in the world.
In any case, we wound up back in the car at about 2:30pm. We then headed further up the mountain towards Jiufen. But since I didn't really do my research on this historic mining town, I really had no clue what was worth stopping for. And now that time was running out as one of Mom's older brothers was waiting for us back at Keelung to hang out with us for the evening, our time to visit this place was hence limited as well.
So we ultimately decided that we should check out the Jiufen Laojie (Jiufen's Old Street). When we finally found parking near a cemetery at 2:45pm, we then walked about 5-10 minutes down to the Jiufen Laojie, where we saw hordes of people squeezing their way through the busy yet atmospheric alleyways.
Like with other atmospheric alleyways (like Sanmachi in Takayama, Japan), this one was basically a made-for-tourist marketplace kind of like a yeshi (night market) or a medina in Morocco. It was too bad we had to rush through this and skip the Gold Museum (which apparently was an outdoor museum of preserved mining buildings and homes), but the atmosphere and energy was undeniable.
In fact, there were quite a few foreign tourists here, and we figured that after all the touring we've done for waterfalls (where foreign tourists were few and far between), it seemed like this was tourist central in this part of Taiwan.
When we were headed back to the car, we stopped at a lookout where we got commanding views towards the mountain-hugging town (reminiscent of those Greek towns clinging to the mountains or Las Alpujarras in Spain) as well as towards the Pacific Ocean. The rain was once again coming on and off, but with this essentially the end of our taste of Jiufen, the time was now to head back to the car as it seemed even more buses and tourists were descending upon this place.
I'd hate to imagine how much of a zoo this place would be on the weekends if it was already this crazy on a Thursday! That said, it was fun.
By about 3:30pm, we were back at the car. Now, it was time to head deeper into Keelung, but this time we wanted to take the scenic route along the coastline. So we rebelled against the GPS, which wanted us to head right into central Keelung, and we wound up on the coastal road making a few stops along the way.
One thing I noticed about the coastline here in Keelung was that they had those concrete jacks like what we saw in Northern Honshu near Tottori. I suspected that these were for wave breaks and that they'd help break storm surges (especially during typhoons) and possibly tsunamis.
At 4pm, we made a particular stop at the end of one of the peninsulas where we were able to look back across the bay towards Jiufen and Mt Keelung. At the same time, we were able to look across the other way towards Keelung with Yangmingshan in the distance.
It was quite windy at this spot, but we saw a whole group of school kids having fun running around as well as quite a few lovers and younger folks taking pictures or making out. I guess with so many places we've seen in our Grand Tour of Taiwan having place names like Qingren, having that as a place name here seemed to make a lot of sense.
At 4:15pm, we were back in the car and we continued driving deeper in the Central Keelung. Mom had routed to the Keelung Train Station but in hindsight, it probably wasn't a wise move. Instead, we should have put in Mom's second oldest brother's address directly in the Garmin GPS in Chinese, and then we'd have a better time navigating than using the GoogleMaps, which seemed to be off in our experiences.
So after aimlessly driving through Keelung's rush hour traffic, we'd eventually make it to Mom's Brother's place (whom we called Er-Agu) at 4:50pm, and we'd be parking in his spot after our bit of adventure through the city center.
After chatting it up with Er-Agu and his wife (even having a brief Facetime chat with cousin Nicole whom we last saw in Melbourne, Australia back in 2006), at 6pm, Er-Agu, Mom, and I took a cab right into the heart of downtown Keelung (I should probably be saying Jilong at this point since the Taiwanese Romanization of Chinese was terrible compared to Pinyin) where we'd go to the Miao-kou (Temple Mouth), where there was a yeshi (night market). With a Keelung local (i.e. Mom's older brother), I was confident that we'd be hitting the best or most reliable food stalls in there.
And just as we were getting started with our foodie tour of Keelung's night market (which Mom had built up my expectations for after trying out the yeshis in Taipei, Hualien, Kenting, Kaohsiung, and Tainan and claiming they don't hold a stick towards this night market), we ran into my cousin Jennifer, who was just coming back from her trip to Japan with her family (as one of her sons was working temporarily over there).
What are the odds of this happening? After all, the Keelung Night Market turned out to be about three city blocks so it wasn't exactly a small place. I guess it was just meant to be.
So even though Jennifer had already eaten, now the four of us were touring the night market going from one food stall to the next going after the comfort foods that my Mom had built up my expectations high for. And so we had various soups, oyster omelette, gua bao, some Taiwanese desserts, and more. I even indulged my sweet tooth by having a yangleduo slush, which was something I hadn't touched in many years. This was pretty much our dinner as we had skipped lunch earlier in the day.
It was quite a fun visit, and I even managed to visit a temple within this night market area though I couldn't keep them waiting for me for too long so I had cut my visit short and didn't bother going upstairs.
Eventually, we were totally stuffed and parted ways a little before 8pm. Jennifer walked back to her relative's place while we caught a cab to go back to Er Agu's place. At that point, we regained our cars, and then Er-Agu had us follow his car as he wound up driving us towards his other place, which apparently no one lived in as it was too far outside the city center.
At about 8:25pm, we finally arrived at Er-Agu's bigger place, and Mom had level set my expectations of this place as she told me how Er-Agu decked out this house with a lot of works of arts and used marble flooring, etc. Sure enough, as we went inside, this place was practically a living museum!
I kind of knew that we weren't going to be driving this late at night to check into an onsen place in Yangmingshan as Er-Agu wasn't going to let Mom spend money and stay in some other place when he had this place for us to use. He also wasn't going to let Mom pay for anything when it came to the yeshi food. Indeed, I guess Mom would always be the little sister to all her siblings as she was the youngest.
And so by 9:05pm, we brought in our luggages and got settled after being oriented to the first four floors of this palatial accommodation. Unfortunately, there was no WiFi so I couldn't readily communicate with a classmate whom I hadn't seen in years that I was planning to meet on Friday night and do a hike on Saturday morning.
Thus ended a very eventful day. Tomorrow morning, we were planning to do a waterfall hike in Yangmingshan as well as possibly visiting the Laomei Reef. But afterwards, we'd head right into the chaos of Taipei (pinyin = Taibei) to return the rental car. And then, we'll figure out how to spend the rest of the trip while relying on public transport in the Taipei area…
Day 23 (November 4, 2016 – Taipei, Taiwan): "Independence Movement"
It was about 5:20am when we awoke. To my dismay, it was pouring rain outside, and I started to envision that we'd be having a pretty wet and soggy hike like what we had gone through on our first day of driving in Japan. That soggy day seemed like an eternity ago even though it was only about 3 weeks in the past.
Everyone except me were still asleep as we had all slept a bit late last night. Though in the case of Mom and Er-Agu, it was probably a good thing as they got to catch up and be entertained over one of the Chinese dynasty-era soap operas or movies. I'm sure Er-Agu was very happy to see Mom and so keeping him company here over forcing the issue and checking in late at Yangmingshan was probably the right thing to do.
So it wouldn't be until about 6:20am when everyone was finally up. And for the next 90 minutes or so, we'd be preparing and eating a home-cooked breakfast of watery steamed rice (xifan) with rousong (pork sung), some wrinkled tofu skin, some of last night's garlic shangcang (basically like hot dogs but smaller), and mantou.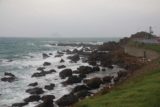 It wouldn't be until 7:50am when we finally got into the car and loaded up our luggages into the car. From that point, we'd eventually catch the Tai-2 in a northwesterly direction (counterclockwise) offering up nice ocean and coastal views along the way even though the day was still very gray.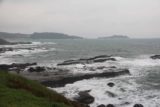 Per the instructions on our Taiwanese Garmin GPS, we'd eventually reach a fairly small road as we left the Tai-2. It wasn't encouraging that we didn't see any signage suggesting that we were headed the right way for the Qingshan Waterfall. Instead, we kept seeing signage for temples.
As we got to a part where the GPS wanted us to make a left turn where there wasn't one, I knew that the GPS took us on the wrong road. So we pulled over to the nearest available sign, popped open an umbrella while rolling down the window on Mom's side (at this point it was pouring rain), then let Mom look at the map sign.
At the same time, I pulled out the laptop and looked at the research notes and saw that there were supposed to be signs leading to Qingshan Waterfall – the target of this morning's hike. Mom kept insisting that we were supposed to turn right here (i.e. away from the direction of the waterfall) to get to Qingshan Road, but I'd been in this situation before, and knew that we should drive back down the mountain to the coastal road and then get back to where we were supposed to go in the first place. I knew this especially since there was no Bei 17 Road on the map that Mom looked at. And this was the key road that the research notes suggested we should be following all the way to the falls. We had been taking Bei 18 or Bei 15 during our GPS-induced joyride.
Mom and I had been through a handful of these events (though we each time, she kept pushing my buttons and driving me nuts as a backseat driver), where she kept insisting she was correct, but I stuck to my guns and went back down the way we came. As we did so, we now started to encounter some kind of disaster preparedness drill (of the nuclear or earthquake variety or something), and the locals with some police were about to close some of the roads we had to take to get back!
Luckily, they didn't stop us, but at Mom's insistance, we asked them where Qingshan Waterfall was. Sure enough, there was nice young man who answered our question and pretty much suggested that since we didn't know the roads, we should go back down to the coastal road instead of taking a more direct local route that cut across the mountainous roads to the North (Bei) 17 Road.
So we thanked him and followed his advice. Eventually once we were on the main road again on the Tai 2 coastal road, we'd finally understood the kilometer markers as well as seeing the brown sign saying Qingshan Waterfall. Now why didn't we see this sign when we were heading west? Perhaps, we were too distracted by the GPS giving us wrong directions again though we didn't know it at the time.
Well, at least we now we saw the sign and now we were headed back up the mountain on the North 17 Road. It was a little worrisome that Mom noticed there was some kind of closure or something pertaining to the trail we were about to do, but we were going to push forward regardless.
And as we drove up, at least Mom admitted that I was right in this instance, but those instances where she kept pushing my buttons more and more made me realize that we probably needed a break from each other after these 8 days of self-driving. That was going to happen tonight when I was planning on having dinner with a friend whom I hadn't seen since high school.
So as we continued up the pretty well-signed road, eventually at 9:45am, we finally made it to the trailhead parking for the Qingshan Waterfall. By this time, the rain had calmed down and was now either sprinkling or lightly raining. There were also mozzies buzzing around so I took the time to put on DEET in addition to my waterproof pants (knowing that they weren't very breathable and might make we wet from sweat internally more so than the wetness of the rain externally).
And with that, we walked past the little sheltered food stand and was on the trail which immediately started ascending. As the trail started to level out, we noticed a farm growing veggies by the trail as well as a ditch running alongside the concrete/stone trail. We were pretty sure this ditch was taking some water from the stream responsible for the falls and feeding the veggies here.
Anyways, the trail climbed high enough (inducing us to sweat again despite the relatively cold rain) for us to clearly see that we would be able to see and view the ocean from here though we were hindered by high foliage and the gray skies making the ocean kind of harder to photograph. And as we continued, the trail even had signage that said something like "Falling Rocks. Drive Carefully", which made me wonder whether this was a bad literally Chinglish translation (quite infamous in China) or whether this was once a road, which I somehow doubted (but you never know).
About 1km into the 1.5km trail, the relatively flat trail started to give way to a rocky scramble alongside the stream. The trail was still pretty obvious to follow, but the boulders were slippery and required a bit of care when making our steps. So this took a little longer than earlier on. Plus, the trail climbed somewhat moderately again.
But eventually, we'd make it to the lookout for the Qingshan Waterfall. By the standards of some of the best waterfalls we had seen so far, this one was pretty small though it was pretty decent (I'd give it a 2 or 2.5 tops). It was one where pictures wouldn't do it justice.
I also noticed that there was a continuation of the trail beyond this waterfall. I think those closure signs that we had noticed earlier on pertained to wherever this trail continuation was going. So we were glad that we did this falls, but now I couldn't wait to return the car and get back to not having to deal with vagabonding it as well as dealing with the Taipei traffic, which I knew we'd be facing on this last bit of driving adventure ahead of us.
After having our fill of this waterfall, we went back down the trail (luckily, the weather had held up and decided not to pour on us the whole time). Now, we started to see more and more people on the trail. Some were asking Mom about the trail closure, and she set them straight. And by 11:20am, we were back at the car where we now saw that the lot was full with at least a half-dozen or more vehicles from the two (including us) when we got started. And there were still more than a handful of more cars pulling in! Clearly, this place was popular.
Now, we drove back to Taipei (Taibei), but we finished the drive around Yangmingshan and headed west instead of east back the way we came to the expressways. This wound up being more of a scenic route, but the drive was initially enjoyable until we started to enter the sprawling Taibei suburbs and then the city center.
Eventually at 1:10pm, after circling the main Taipei train station a couple of times (with Mom calling the office a couple of times), we would finally try to enter the underground parking lot at the main station. It turned out that this lot only let in people as spots became available (I had dealt with this before in Annecy, France), and so this would take quite a while as the line felt like it never moved forever.
I kept thinking to myself, there'd be no way a foreigner wanting to rent a car would know what to do here because there was no signage suggesting that this place was where we were supposed to return the rental car. We definitely would have been screwed if Mom hadn't been here with me. I guess if you were a foreigner driving here, it'd be best to NOT return the car to Taibei, and I kind of knew that we shouldn't have done this, but somehow Mom thought this was the most convenient way to do this (in terms of taking the train to get back to Auntie's place).
Clearly, this was a miscalculation and it was causing me stress and frustration since I was driving through these chaotic streets while circling the same blocks over and over again. Mom kept pushing my buttons saying I had Dad's mannerisms in these moments, but that was easy for her to say since she got us in this mess by insisting that we return the car in the city center.
The delays were compounded when we got into a queue waiting to even get into the underground car park since it wouldn't let people in until someone had left the car park. I had experienced something like this before in Annecy, but that wait only lasted a few minutes. This one took at least 15 minutes by the time we were finally allowed in (even though we had no intention of parking the car).
Regardless, it was 1:25pm when we finally were inside the car park and waited for the car rental guy to show up. That wouldn't happen until another 5-10 minutes later or so. So in the end, we'd finally be done returning the car and now we had a bunch of luggage to bring around to a place to eat before returning to Auntie's place in the Songshan part of Taibei's east (we were in the west of the city).
So we lugged our belongings around onto the metro (good thing it wasn't rush hour), and then we stopped at this place that was all Chinese but I think was pronounced Jianxianjiajuiandian at 2:20pm. It was apparently a famous Taiwanese snacks place (xaochi) and we had our awkward little lunch of soups, rolls, rice, bamboos, and other things while keeping our belongings close to our side in the small cafe.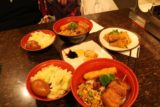 Eventually, we'd be done with this place and then we walked several city blocks until we'd finally return to Auntie's place by 2:55pm. Both of us were sweaty messes from all the walking and carrying luggage, but at least we could finally say we were settled now.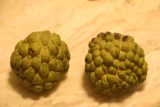 After getting cleaned up and regaling our relatives with stories from the past 8 days while also snacking on a Buddha head, I then went back downstairs and with the help of Auntie, took the Xindian line bus to Taipei 101 where I'd meet my friend Fannie at the DinTaiFung there.
When we met up at 4:45pm, she had already gotten a number to get into the restaurant (where the wait wasn't bad), and we got caught up on each others' lives since we last saw each other in high school some 20+ years ago.
When we were done with the dinner, she had to meet up with her husband in a different part of Taibei so we parted ways. But before doing so, she gave me some night market recommendations to check out, which inspired me to allow myself to get lost a bit, be on my own, and figure out the Taibei public transportation system.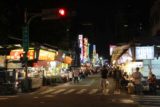 So I started off using the subway, which was pretty easy especially since Mom had me use a youyouka with a decent balance in it. At first, I got off the Songshan station, but when I realized that it was for Raohejie, which was a night market I had seen earlier on with Mom (i.e. the Raohe Night Market), I changed course and checked out Liaoningjie's Night Market.
When I got there at about 7:50pm, I saw that it was pretty small though it was more for food. Since I was stuffed from dinner at DinTaiFung, I didn't eat anything here, but in terms of atmosphere, it was definitely lacking. Then again, perhaps that was what some people prefer more anyways – quality food over the touristy eye candy and lesser quality foods.
I then took the subway and walked to the next night market after seeing on Mom's phone that the Linjiang Night Market was comparable to Raohe Night Market in terms of atmosphere. And when I'd finally rock up to Linjiangjie at 8:25pm, I knew I was in the right place as it was crowded and full of stalls of knockoff stuff as well as lots of foods.
Seeing that this night market was not far from Taipei 101, I had a sense of direction once again though I knew that I'd need to use the bus to get back to Auntie's place when I was done. Nevertheless, I stayed in the moment, and allowed myself to walk in the crowd trying to capture the scene by photos and soak in the sights and sounds that stimulated the senses as only a Taiwanese Night Market could do.
There were quite a few foreigners here though not nearly as many as what Mom and I encountered at Raohejie.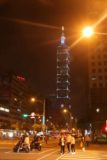 At 8:50pm, I had made the rounds of the Linjiangjie, and then started heading back. At first, I tried to take the 207 bus back from the nearest bus stop, but when I saw the 207 bus skip the station, I knew that I shouldn't bother with this line. And instead, I relied on Mom's phone using GoogleMaps and walked nearly a kilometer to a stop where I knew there were more frequent buses on Xinyi line going back to Auntie's place.
Eventually at 9:35pm, I was back at the apartment a pretty sweaty mess again, but at least I was back where I needed to be, and I regaled my parents and relatives of my little adventure in Taipei's night markets as well as my dinner with Fannie. And so ended this day where I looked forward to the last waterfall(s) of the trip tomorrow, but this time, we'd rely on Mom's oldest brother to bring us around, who knew the Sandiaoling area like the back of his hand…
Day 24 (November 5, 2016 – Taipei, Taiwan): "First Time, Long Time"
It was about 5am when I awoke to the alarm. Although we had been habitually waking up at this time every morning, it seemed like as the days passed on this trip, I needed the alarm more and more. I think my body was about done flipping towards Asian time, but tomorrow, we're going home, and I'd have to switch my body back to Pacific Time.
After getting ready for the day and getting caught up on blogging, we were picked up by Mom's oldest brother (Da Agu) at 7am, and now our troop consisted of Dad, Mom, Da Agu, and myself. We were now headed to Shifen Waterfall, which we were anticipating to be the main waterfall attraction (possibly the last one depending on how much time we have to do other things).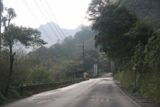 I had brought the Taiwan GPS unit to track where Da Agu was driving since I was no longer driving. This allowed me to take photos from the passenger side of the car, and so I was able to photograph weekend cyclists on the road as well as some of the scenery along the way.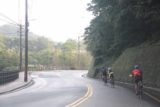 It seemed like the GPS unit was having trouble acquiring the satellites for a good chunk of the beginning of the ride, and I wondered if this had to do with me trying to operate the GPS on battery power instead of bringing along the car charger and GPS mount. It wasn't until I had picked a route for the Shifen pubu that the GPS finally started to track, but even then it had easily lost the signal. So my suspiscions on the poor performance having more to do with the unit operating on battery power instead of alternator power from the car, and I guess we'll have to live with this as I would hold the GPS up to the window whilst riding shotgun.
During the drive, Da Agu was socializing with us, and we learned that he had never visited the Shifen Waterfall after all the years he had been living in Taiwan. He mentioned something about the coal mining heritage of the place and that he was familiar with the area due to his involvement in coal mining and coal exports. But when it came to the falls, he never would have the chance to visit it until now.
At about 8am, we arrived at Lot #3 by the visitor center. But upon realizing that the Shifen Waterfall entrance was not going to open until 9am, we had some time to kill. And when we saw signage saying that there was some "Eyeglasses Waterfall" or Yanjingdong Pubu" nearby, we figured that we mind as well go visit that waterfall while killing time before the Shifen Waterfall opening.
So we promptly got out of Lot #3 and drove over to the lot for the Yangjingdong Pubu, where Da Agu parked on the red line. From there, we walked onto a suspension bridge where the Eyeglasses Waterfall was hard to photograph given the suspension bridge infrastructure.
We'd eventually get to the other side of the bridge where we then went downstairs and saw there was a more interesting view from underneath the suspension bridges framing this Eyeglasses Waterfall, which wasn't particularly big, but it had side distractions to keep us busy admiring the scenery.
We would rock up to what would turn out to be the exit of the Shifen Waterfall Trail (as apparently they encouraged us to hike the trails in one big loop going counterclockwise), but going backwards the way we did seemed to be the way to go. After all, we got to look down at the top of Shifen Waterfall from the exit's closure gate while Dad was showing me on his iPhone
comparisons between Luoshan in Henan province of China versus the stuff we had been seeing in Japan earlier on this trip (as apparently they claim the Japanese bit off of China lots of their culture).
When 9am rolled around, there was some annoyingly repeating announcement pertaining to the opening of the Shifen Waterfall complex. And we immediately went in and started taking pictures of the falls from different positions starting from its brink, where we already started noticing a rainbow.
Then, we followed a Japanese tour group down to the best overlooks providing direct views of the wide falls, where we were seeing an even larger and bolder arcing rainbow. This got us to spend lots of time simply taking pictures of the waterfall and its multi-colored partner. The timing seemed to have been perfect during our visit.
Next, we continued along the walking path providing yet more frontal views of the Shifen Waterfall along with rainbow. There were already lots of people within the shelter lookout, but most of the people came from the Japanese tour group, and when they left, we had a brief moment of taking photos in relative peace until the next big tour group showed up.
Then, the sun started to get blocked by clouds that appeared to be threatening rain. But the rain never delivered. In a way, this event caused some of the tour groups not to linger longer. So we did have stretches of enjoying the falls in relative peace until the next horde showed up. That said, I took advantage of the sudden even lighting from the cloud cover and started taking long exposure shots of the falls.
During our visit, Mom was telling me that the water in the Keelung River was practically black back in the days of Japanese occupation and the subsequent coal mining exploitation. And this was the primary reason why hardly any of Mom's side of the family visited this falls. With this being Da Agu's first ever visit to the Shifen Waterfalls despite he being a resident of Taiwan all his life, I guess you can say that he was a long time resident, first time visitor.
At about 10am we were essentially about done with visiting the waterfall. At that time, there were even more people descending upon the Shifen Falls. Mom, Da Agu, and Dad wound up walking back the way we came via the exit and then walking the road for around 1km or so to get back to the parking lot 3.
Meanwhile, I solo'ed going back up the opposite direction from the official entrance. And upon doing this, I could see that it was non-trivially long. Clearly coming in from the exit was the better way to go than coming in from the official entrance.
Eventually by 10:40am, I made it back to the car park before the parents did. I noticed that it was still hot and muggy on this day, but these were small issues as Mom and I had gotten used to coming back all drenched in sweat throughout this trip. And so it was no different here but at least I didn't have to move as much as I now just waited for the rest of the family to show up.
By 10:45am, the rest of the family showed up with some Taiwanese kebabs (kind of like skewered sausages), and then we got back in the car with its AC and moved towards the Jiufen area, where we sought out the Gold Museum since we didn't have time to do it two days ago. We also decided to skip on the Jiufen Laojie (Old Street) because it was Saturday and we knew it would be crazy crowded there.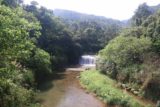 By about 11am, we made a random stop at Randong Xiagu. We were curious to see what it was, and we walked briefly over to a map sign. But when we saw that it was a 40-minute walk to go see some rocks, we skipped this place and kept on ten minutes later.
It wouldn't be until about 11:55am that Da Agu dropped off Mom and I at the Gold Museum entrance. It was crowded and parking at the closest spots was prohibited. So Da Agu and Dad kept each other company at a more distant lot while Mom and I would visit the Gold Museum.
The Gold Museum was really a series of exhibits that you had to pay extra to visit particular sites. Since Mom didn't want Dad and Da Agu to wait for us for too long, we decided to visit just three of the sites. We started off with some kind of four-unit Japanese style living quarters that was reconstructed and restored it.
We actually had to wait for a bit to get in, and then once we were in, we had to watch a video before we were finally able to walk amongst the premises. After having been to Japan, this looked like one of those places where we should take our shoes off, but the staff said that it wasn't necessary. And the reason why was because they had put some kind of rubber mat over the wooden floors.
It was an interesting visit just to see how efficiently the limited space was used, though we had already gotten this sense after making our visit to Japan and seeing how better preserved their heritage sites were (probably because their attitude was to preserve their sites by making you take off your shoes and keep things simple). The Taiwanese take on this was a little less careful. Mom said that some of the thing we saw might not be genuine recreations.
When we were done checking out this four-unit Japanese style dorm, we then walked up towards a different complex where we saw some kind of palace from the outside looking in (another Japanese style unit), and then we walked into a mining tunnel where the footpath essentially followed some tracks (a different paid attraction).
We had to put on hard hats and walk through the tunnel that essentially exhibited statues or dummies of workers engaging in various parts of mining activities. The takeaway from this display was that they worked in difficult conditions and I'm sure safety was not a consideration.
Something that was particularly striking to me was that Mom told me Da Agu was a direct involvement in these mines. Apparently, he once worked in these, but then when we was heavily involved in the coal export industry after the Japanese occupation was over (as the gold was mostly gone), he then was involved managing the logistical operations as an entrepreneur.
So that kind of put a bit of a personal spin to something that would otherwise be a distant historical thing of interest to check out. Now all of the sudden, I was imagining how Da Agu was sharing his stories of how this entire area was once mining focused before it became the tourist attraction that it was now. And it might also explain why he never really bothered to sightsee places in his own backyard as his memories were probably associated with labor and economics.
Places like Shifen Waterfall were something that was a bit of an eye opener for him. Mom told me that for sure he was going to share his experiences with the rest of the family, and that perhaps they would start seeing some of the beauty of Taiwan that they might not have realized all these years.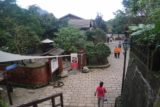 When we were done with the mining tunnel visit, we returned the hard hats and then went into a different exhibit where we went into a building showing off various gold artifacts and trinkets. The main attraction there was a huge gold bar that they let you touch.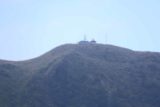 At 1:10pm, we were done with the visit. Da Agu picked us up and then he drove us towards Keelung (Jilong). We would take the scenic route back to the coastline passing by the Huangjin Waterfall once again (though we wouldn't actually stop for it) and then we'd make a couple of random stops along the coastline now that the weather was way better than it was two days ago when we last drove by the coastline here.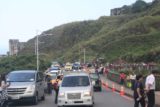 With the afternoon creeping up quickly, we wanted to return to the Miaokou Night Market for a late lunch though this time, it wasn't night time. We'd eventually get back there by about 1:50pm though Da Agu was having trouble finding parking given how busy it was on this Saturday.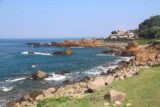 So what he did was drop us off, and then he'd go find an official car park on his own. And as we strolled around the familiar Miaokou Yeshi, we immediately saw that it was a bustling place and still had a similar vibe to its night market version as the focus here was primarily on eating.
And so we went in there getting the familiar treats of some kind shrimp cake, bawan, soups, gua bao, and even a yangleduo (yogurt drink) slush that I indulged in for old times sake.
In addition to eating, I also spent more time checking out the miao (temple), but this time I went upstairs, which like the Ciyou Temple at Raohe Market in Taipei, it was atmospheric in that it got quieter the further into the incense-filled temple I went.
Eventually at the top 2-3 floors, it was pretty much just me and the decorative figurines, walls, doors, etc. It seemed like no space was left untouched in terms of decorations.
Eventually, we had our fill of the eats, and then waited for Da Agu to pick up the car and pick us up. We actually had to wait for a bit because apparently, he was unused to their underground parking system where you had to go through a process of paying for the token before trying to leave, but I guess he thought you could do that right at the gate. And with a chaotic scene down there of people blocking parking spaces and lanes, I'm sure that must've taken forever.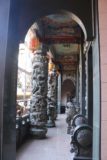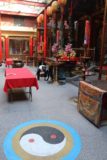 Still, he said it was the first time he had to deal with one of these things (I guess this was another one of those first time experiences for him) and then we were back in the car at 3:10pm.
At 4pm, we were back at Auntie's place in Eastern Taipei. We didn't want to trouble Da Agu anymore as he still had a 45 minute drive back to Taoyuan. So we were dropped off and then perhaps we might see him again one last time tomorrow before we fly out.
As the afternoon progressed, it turned out that the weather was improving and was quite good. And as much as we wanted to just crash for the rest of the day, Mom wanted me to hike with her to Xiangshan, which was where she told me she'd go hiking first thing in the morning by herself pretty often whe she'd stay here.
The payoff? A good view of Taipei 101 building as well as the rest of Taipei.
So I was game to seize the moment and use this late afternoon start as an opportunity to catch the sunset. After all, we were already sweaty and we could clean up and settle down afterwards. So we slapped on the 100% DEET as I knew mozzies would be there, and we promptly started hiking further up a side street near Songshan Lu, and then started going up a series of steps through a park behind a middle school.
Eventually, we'd start to see an area where we could see Taipei 101 and parts of the city between foliage with the setting sun. But the sun was setting behind the hills quickly so when Mom said we should keep going up the steps to a different viewpoint, we did that but I knew that we would not be seeing a setting sun anymore.
In my mind, that was ok because the best time for photos was often the magic hour after the sun had set.
The hike turned out to be quite the sweaty affair as we kept going up steps and eventually arrived at this place called the 6 Big Rocks or something like that. But when we got there, we were surprised to see how packed it was with people. I couldn't believe that with such a long hike to get here, there were this many people, especially foreigners!
Clearly, this was a TripAdvisor or guidebook spot that we had stumbled upon. I never knew Xiangshan was such a place. Nevertheless, Mom was asking some of the youngsters in Chinese why so many people were here. The girl she asked shrugged, but said it must be the sunset and the view (pretty much the obvious). But the more I saw people climbing on the rocks to take selfies or that "I was there" shot with Taipei 101 building behind them, I knew this was a social media magnet spot to indulge in that photo op to make friends jealous.
Neither Mom nor I was into that so we didn't feel the need to queue up for one of the big rocks to pose at. So we went down from this spot and ultimately stumbled upon another viewing area which was probably more superior as a photo spot than the 6 Rocks, but this place was also crazy crowded!
But just as we got there, the color of the skies were changing to more purple and pink while the Taipei 101 building was lighting up. Indeed, the timing was right here, but now we had to squeeze our way into the proper photo spots while also contending with mosquitoes that suddenly wouldn't leave me alone even though I had DEET on (I suspected that my sweat might have washed some of it off).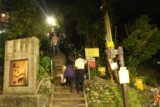 And so without a tripod and lots of shoulder-to-shoulder tightness with young strangers, I took my best long exposure shots to get that sunset shot of Taipei before it was too dark for me to hold my breath and stay still for too long.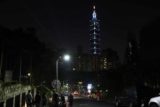 Then, we continued walking back down the endless stairs making sure we don't stumble and take a nasty fall, and it was pretty much all people going in both directions throughout these steps. When we got to the bottom, there was no more twilight as the skies were now black. And at 5:55pm, we caught a cab ride back to Da Gugu's apartment.
By 6:05pm, we were back at Auntie's all exhausted and sweaty and sticky. And so ended this eventful day, where we skipped dinner and pretty much snacked on fruits (kiwis, grapes, and Buddha heads) and pineapple figs while my cousin's family (with Katie, Da Gugu's daughter) came by and we all socialized a bit before it got too late for Katie's daughter Joy to be staying up.
As I was sleeping, Julie and Tahia initialized a Facetime chat at 11:30pm. I was a groggy mess, but I was game to indulge them in the chat as we looked forward to seeing each other. Though I suspect that Tahia was more interested in seeing that Kimono Hello Kitty doll that I had bought for her than she was in seeing me. So I was messing around with her asking what would happen if I donated that Hello Kitty or gave it to Joy?
Finally after that, I was sound asleep. With no planned activities tomorrow other than packing, it was going to be a day where I could finally sleep in for the first time on this trip…
Day 25 (November 6, 2016 – Los Angeles, California): "Unexpected Treasures"
It was 6:35am when I finally awoke on my own. There was a bit of daylight already in the room, and it felt unusual to not be waking up to darkness. But with no sightseeing activities planned for the day (I originally thought that we might pay Mom's late parents a visit), it was pretty much all packing and reminiscing about our experiences with Da Gugu's family.
It wasn't until about 9:05am when I was done packing. It was decided that we would pretty much have an early lunch before being sent by Mom's oldest brother to the airport. Breakfast was pretty much the familiar Taiwanese fare of saobing youtiao with doujiang (heated soy milk) along with some leftover fruits, including an unconsumed Buddha head.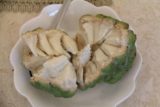 Finally at 10:40am, I went with Da Gugu's husband to take the bus over to the lunch spot somewhere closer to the center of Taipei. The weather was gorgeous, and I wondered to myself why the weather always seemed to be the best on travel days.
When we got out of the bus, what struck me about our walk towards the restaurant was the amount of department stores. I was never a fan of malls, and this brought me back to the days when Julie would take me to these before she finally realized how much I hated shopping. Lots of employees were standing outwards towards a would-be customer anticipating business, and it was a posture you never see in the malls back at home. Must be a cultural thing or something their bosses made these employees do.
Anyways, we got up to the top floor of the building where there was a food court. The restaurant we were about to eat at (called Kaifun) was empty at the time, but we were trusting that the rest of the crew would show up soon enough so as to not create an awkward situation where we'd be occupying a large table with just two people while the rest of the tables were being filled up.
By 11:50am, the parents showed up with Da Agu and Da Gugu. During the lunch, I had just learned from Mom that Da Agu gave her a historical journal written by her Grand Uncle about Keelung. Apparently, he was a journalist writing with the permission of the Japanese government (who was ruling Taiwan at the time) about Keelung. This sounded like we had stumbled upon a historical document, and I wondered if this was better off being given to a museum or university where they can make better use of this. But in the mean time, Mom was going to make copies and try to learn as much as she could from this work. Apparently, Da Agu had other volumes as well.
We wound up with one of those multi-course set lunches, a