Day 6: THE LABYRINTH OF SENSORY OVERLOAD
It was 8am when we awoke. Once again, the 7am alarm was largely ignored so our streak of late wake-ups continued. But in this case, we pried ourselves out of bed since we had read about the good brekkie at this riad. So we were looking forward to it. That said, these late wake-ups would continue to be a problem as we have the ferry to catch on the last day after leaving Chefchaouen, plus we'd have to jump ahead by an hour when going back into Spain.
So we got ready and headed downstairs for our brekkie in the courtyard or atrium at 8:30am. And as anticipated, the brekkie was easily the best of the trip. It consisted of cheese omelette, an assortment of breads including those that reminded us of cong-you-bing, various fruits, and more. All this washed down with milk (for Tahia), freshly-squeezed OJ, and of course Moroccan tea.
It wouldn't be until about 9:45am when we met up with our guide at the riad named Karim. Abdul was also there as he would act as our personal taxi to minimize the amount of backtracking while touring the medina of Fes today.
First up, we walked right to the Medersa Bouinania, which was said to be the most famous and beautiful of the medersas in Fes. We arrived at 9:50am, and it was really a simple visit consisting of a very ornate atrium or courtyard where one end had a praying area that was closed off.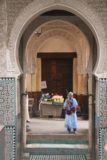 There was some water in the fountain, but with the overcast skies, it seemed like the colors weren't really brought out. But other than that, there wasn't much more about the medersa than the atrium so our visit was very short after hearing about the intricacies of the medersa from Karim.
At 10:10am, we left the medersa when we were greeted by this street busker wielding a lot of instruments. He was playing all sorts of pop songs that westerners would recognize with these Moroccan instruments, and it was clear that this guy knew was he was doing to get a generous baksheesh.
Karim even said that this guy was a YouTube phenomenon, and if that's true, I guess I could see why.
Anyways, we then continued through the familiar souks that we had seen last night. Except this time, instead of going through the Bab Boujloud, we continued walking along some imposing medina walls passing by numerous souks selling fruits, veggies, and meats among other things.
Eventually, we'd continue straight to the Place Baghdadi, which now seemed to have a little more life than last night, and it helped to provide wus with a sense of grandeur as we were surrounded by impressive medieval walls and gates dating back over a thousand years or so.
We then rejoined Abdul at the car park, where we were then driven towards the Royal Palace gate. We couldn't go inside the palace itself, and we were only able to photograph the front of the gate but none of the other gates where soldiers could be seen. We also were able to take photos towards the opposite side of the large courtyard fronting the palace.
Next, we walked along what was called the Jewish Quarter, which had some kind of Andalucian-style homes characterized by wooden balconies overlooking the street. They really stood out since this seemed more European than North African, and hence they drew camera clicks from us but it wasn't easy to try to take a meaningful photo of them given their width and all the parked and moving cars tending to get in the way.
That ultimately led us towards and past some elaborate gate that Karim said was the "Blacksmith's Gate" (I forgot its name in Arabic). Karim reminded us that Fes was the oldest city in Morocco, and we could totally see why just based on what limited action we experienced in the medina so far.
At 11am, Abdul picked us up again and we were driven up to a fortress overlooking the medina of Fes. We got up there ten minutes later, where there were armed guards. But they were pretty much minding their own business as they knew the majority of folks up here were out and about soaking in the panorama of the ancient city. And if anything, we could appreciate from this vantage point that indeed the medina of Fes was crazy big!
Unfortunately, the bright gray skies kept the colors muted so the green tiles on the roofs of some of the buildings as well as the green tiles on the sides of some minarets and buildings didn't really stand out. It was really one big jumble of buildings where it was hard to comprehend the magnitude of the walled city, especially since we were only walking in a small section of the northern part to this point.
At 11:30am, we were back in the car where some five minutes later, we were getting the sell on as we were taken to a ceramic-making facility. We've been through this drill before so we figured we mind as well let Tahia learn a little about how difficult and laborious the making of the ceramics and especially the tiles were.
At least the guy who was showing us around was pretty reasonable and didn't employ any high pressure sales tactics. He was pretty respectful about our lack of desire to pay a lot of money for some of the huge works (e.g. fountains, big tables, etc.) that would have to be shipped back home if we were interested in buying them.
So at 11:55am, we were done with this part of getting the sell on, and then ten minutes later, we were back in the medina. But this time, we would be touring parts of the southern side of the medina, which we hadn't explored yet.
The next hour was pretty much spent meandering through one narrow series of souks after another. If we didn't know any better, we'd probably think the entire city was one big souk collective. But then Karim took us on some less traveled alleyways where some tall buildings were so close to each other that they could almost touch each other. In some cases they were actually leaning towards each other.
Indeed, it was almost like a Moroccan version of the Shambles in York, UK, except in the Moroccan instance, it was on a far larger scale. Karim said that some of the alleyways he took us to were the narrowest passages in the medina itself. Indeed, I barely fit through carrying the child carrier (just in case Tahia would insist on getting a ride as we were touring).
After the narrow off-the-beaten-path parts, we then managed to walk alongside and over the river running through Fes. For the most part, it was unseen and underground, but we happened to show up near a bridge crossing over the river where we could catch a glimpse of a small urban waterfall as well as some minarets nearby in the distance. It was too bad that there was more construction work going on here at the time. Otherwise, I'm sure we could've spent even more time here trying to take photos.
Walking through this labyrinth of alleyways and souks was once again sensory overload. It seemed like every corner was an opportunity to take a photo. And Karim was right when he said that Fes was pretty much like a photographers dream.
It was efficient that Karim was guiding us because for first-timers like us, there'd be no way we could do the kind of navigation that Karim was doing without wasting a lot of time getting lost. Of course, the competing school of thought would be to allow ourselves to get lost, which would all be part of the Fes experience. However, we only had this full day to tour Fes so we had to be efficient. Tomorrow, we'd have another full day but outside of Fes and towards Meknes, Volubilis, and Moulay Idriss.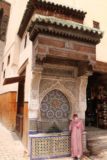 Eventually, we would reach the Nejjarine Fountain and Museum. But before touring it, Tahia was complaining about being hungry so we opted to go right to the Nejjarine Restaurant at 1pm. Once we were inside, we could instantly see that the dining area was in a giant atrium that once again totally reminded us of the riads we'd been staying in. One of the restauranteurs said this indeed used to be a riad which then became re-purposed for dining.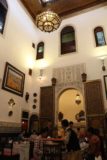 And judging from how many tourists were being brought here by their guides, it seemed like it was big business.
At this point, Karim left us alone so he could to go a mosque and pray. He'd time his return to us when we'd be done eating at the restaurant. Meanwhile, Julie and I ordered a single dish of chicken tagine with some kind of chicken pie, which was the specialty of the house. But first came an assortment of veggies, which included some delicious eggplants in some kind of spicy tomato sauce. There were also lentils, rice, olives, potatoes, etc.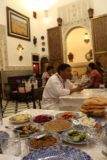 But when the mains started coming out, the chicken pie was something everyone enjoyed. It was basically some kind of baklava-like crust enclosing seemingly curried meat with cinnamon on the crust. I think this was our first taste of a b'stilla. Part of me thought that we could have gotten another one of these pies, but we refrained from overeating.
Shortly thereafter, we had the chicken tagine, which seemed like it was authentic and fresh, and therefore it was pretty good. Based on last night's experience, we wondered with such high turnover of the food, whether the tagine was really cooked in it or if it was cooked in something else before being put in the tagine to meet the rate of demand (as opposed to waiting for 45 minutes for the whole fall-off-the-bone and flavor-infused meal).
Another thing we noticed while at the restaurant as well as in other parts of the medina was that we encountered a lot of Americans here. We even met other Californians from San Francisco and San Diego. What a small world!
But we also overheard other Americans eating at the same restaurant. That was kind of a trip that Morocco was that popular of a destination amongst Americans (or so it seemed that way). It was definitely something we really weren't expecting.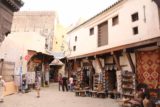 At 2:20pm, we were finally done eating. Karim actually had to take us out of the restaurant and pay at some other shop with our credit card since the machine in the restaurant wasn't connecting. Then, Julie baksheeshed the table in cash before we made our way over to the Nejjarine Museum. Meanwhile, Tahia said she was tired so we insisted that I carry her for the rest of the afternoon, and seeing that it would typically be her nap time, I obliged.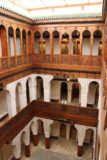 Inside the museum, there was another tall atrium surrounded by wooden columns and balconies. Karim left us to our own devices to do our own exploring of the place though we couldn't take photos of any artifacts in any of the side rooms. But taking photos of the atrium as well as the rooftop was fair game.
And so that was what we did. We quickly checked out the interior before spending more time at the Tea Salon on the rooftop. Up there, we managed to get a few more rooftop views of the neighboring parts of the medina as well as some mosque with green minaret, but with the high walls, it was a bit difficult to truly get the kind of photos we were hoping for. Plus, the construction that was going on around the minaret also left a lot to be desired.
At 2:55pm, we went back downstairs and rejoined Karim. The sun was coming out and I was starting to get a little hot, especially carrying Tahia around. And so we would continue walking through more souks and weave our way through the sensory overload labyrinth where once again it seemed like every corner tempted me to stop and take more photos.
Once again, the weaving through the alleyways made it seem like we had gone through more surprising nooks and crannies of the medina of Fes. Some parts seemed like deja vu, but yet other parts didn't. I guess it was reaffirming that if we were on our own, we would've been hopelessly lost.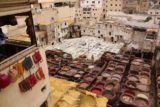 But eventually at 3:20pm, we'd enter some humble shop that made us go up and down some steps until we reached a balcony overlooking a bunch of vats. Indeed, this was the famous tanning quarter that we had seen photos of in the past in guidebooks and on the web. And it sure smelled like all the stuff in here probably wasn't going to be good for the health.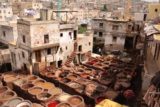 After taking our obligatory photos of the very interesting scene down below of white vats, colored vats, yellow skins and hides drying on the rooftops, and people hard at work in all the action, Julie was browsing around for leather shoes or other leather goods. We knew it was another opportunity to get the sell on, but in this instance, it seemed like we might walk out of here with something Julie would actually care about as she was spending a lot of time here examining leather jackets.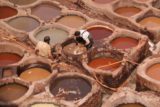 It wouldn't be until 4pm when we would finally be on our way out, but not before Julie paid about 2200dh for a leather jacket as well as a thrown-in belt for me (since my jeans needed a belt that I happened not to have brought).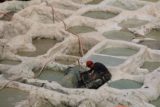 Ten minutes later, we were about to meet up with Abdul before we reminded Karim of one last item on our itinerary – the Attarine Medersa. So we went into this attractive and compact courtyard, which was every bit as ornate as the popular Medersa Bouinania. But in this instance, there was more cedar work combined with tilings to make this place a bit different from the medersa we saw earlier.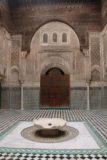 We had our fill of this place by 4:20pm, and then we continued in the labyrinth of souks in pursuit of Abdul's rendezvous spot. By now, Julie and I were getting pretty souked out, and I was starting to wear down from carrying Tahia everywhere.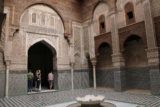 By 4:35pm, we were back with Abdul again. And now that we were back, Tahia was once again awake. About 15 minutes later, we were back at the riad, where for once, we could call it a day at a pretty reasonable hour.
So we fought off sleep with a little bit of an afternoon tea in the riad's courtyard, but then Julie wanted to go back into the souks near our riad in search of the Souk El Henna as well as the Bab Boujloud in daylight (we only saw it in darkness last night).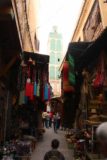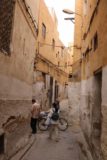 So at 6:45pm, we headed back down. And about 10 minutes later, we were back at the familiar gate, which as Julie anticipated, it was much more scenic than last night given that we could see more things and they'd turn out better in photos. Indeed, on one side, the tiling around the ornate three-arched gate was green, but on the opposite side, the tiling looked purple.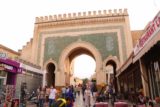 Plus, on the purple side, we could see a pair of towers (one of them a green minaret) popping up behind the action through the tall center arch.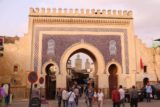 Then, we quickly made our way back through both the Tala'a Kbira before going downhill on the same road due east towards the Souk El Henna near Attarine.
We weren't sure if we had already seen this around before during Karim's guidance, but we'd get to a real busy part of the medina where there seemed to be a lot of fabrics. We weren't sure if this was the Souk El Henna so we did a little more exploring of the vicinity.
It wasn't until we asked some shop owners before we'd figure out that we weren't quite at the Souk El Henna yet. And eventually at around 7:30pm, we'd finally wind up finding Souk El Henna, which wasn't really anything that special.
However, it seemed to be different because there were a pair of trees growing in the middle of its quiet courtyard surrounded by a few shops. Apparently, those trees were important for this souk, which largely consisted of medicinal and herbal shops.
At 7:40pm, we then headed back to our riad. But since we had to go downhill just to get down here, we had to go uphill to get back to where we wanted to go. Julie stopped at a few spots to look for some Moroccan clothes for Tahia, but in the end didn't buy anything.
By 8pm, we finally made it back to the riad, where we showed up just in time for our 8pm dinner. And with that, we were finally treated to the excellent dinner that we had read was top notch. And indeed the expectations that were built up were totally met. In fact, I thought that the staff here was giving us that personal touch probably because they loved Tahia.
In fact, Abdul was also quite fond of our little girl and he was also giving us a bit of a personal touch in the time that we got to spend with him being driven around.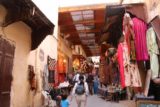 So in the end, we'd ultimately leave the dinner fully sated off our familiar Moroccan salads as well as the chicken tagine in lemon and olives. There was also Moroccan tea as well as a watermelon dessert. I think we might be coming back here for tomorrow night's dinner just so we could try different things like couscous or even a lamb tagine for myself (something I've been meaning to try since Julie and Tahia don't like lamb).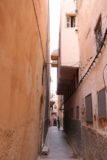 We were back in our room at around 9:15pm, and finally we could call it a day to unwind and recover from the intense stimuli of our senses. And for once, we could finally go to sleep at a more reasonable hour than 2am…